Jane's Restaurant – Red River College Paterson GlobalFoods Institute kitchen
Peer into the classroom kitchen of Jane's Restaurant

By Dunja Kovacevic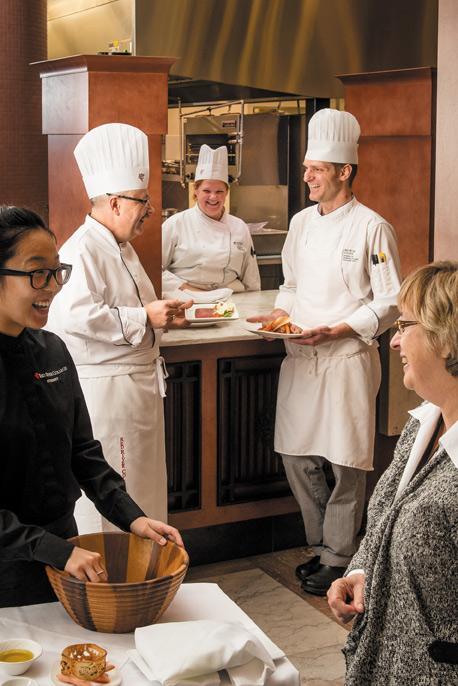 Allowing your eyes to glance upon the marble floor and trace the massive columns up to the delicately moulded ceiling of the more than century-old space that houses Jane's Restaurant, sets the scene for an unforgettable dinner in what is arguably the city's most enviable dining room. The open concept kitchen reveals an alarming number of highly coordinated white chef hats scurrying at their respective stations.
And though common logic would dictate that if it looks like a restaurant, and talks like a restaurant, a restaurant it must be — the story behind Jane's is anything but common.
What appears to be a kitchen modelled after the brigade de cuisine system, is really a group of chefs cum second-year culinary students that staff Red River College Paterson GlobalFoods Institute kitchen. Students rotate stations daily, each taking their turn at Chef for the Day and expediting dishes from the line. When rotating through a new station, students look to one another for guidance and share learned wisdom.
A trained eye might spot a few pockets of collected calm amid the hustle and bustle: these spots belong to the instructors of the culinary arts program, who alternate the supervision of lunch and dinner service at Jane's, and oversee each dish that leaves the kitchen.
Chef Tim Appleton is one such pool of steely nerves. Not even an interview and tasting session with Ciao! could deter this man from his calling: molding young minds and nimble fingers to culinary perfection. His highly developed third eye can detect, in mid-conversation, an unsightly splash on the rim of a soup bowl yards away.
Armed with an impressive arsenal of experience, Appleton, along with his peer Luc Jean, and hospitality instructor, Karen McDonald, are the heroes at the heart of this operation. Do they miss the excitement of working on the front lines of the industry? Jean replies, "the more money I was making in the industry, the less I was cooking."  By his estimation, "[teaching has] brought me closer to the craft of cooking."
____________________________________________

"[Teaching has] brought me closer to the craft of cooking." – Chef Luc Jean
____________________________________________
The instructors collective commitment to education resonates and reveals itself throughout Jane's, beginning and ending with the eclectic, but intentionally crafted, dishes. Unlike most menus, which reflect the particular food philosophy of one creative mind, Jane's "is not a standard industry menu, it's a menu for teaching." Dishes are designed with a dual purpose: first, to stretch the skill of the students in the kitchen, second, to please the palates of paying customers.
Pick apart any dish and witness the array of intricate techniques on display: the pork tenderloin alone is brined, seared, roasted, served with risotto and braised vegetables.  In an effort to engage the students, the instructors encourage them to regularly submit dish ideas. And when a new semester rolls around, so does a new menu—featuring student-influenced contributions.
On the hospitality side, instructor McDonald is priming students for dinner service. Her group, which is comprised partly of culinary students in their hospitality rotation, is being grilled on the possible allergens contained within the specials and recommended wine pairings. "What do you taste," McDonald implores. Again, the onus of ownership is placed on the students. This is real-time learning fully committed to discovery through practical application.
Perhaps the biggest distinction between the kitchens of our favourite upscale restaurants and Jane's, is the noticeably larger margin for error at the latter. "Mistakes are going to happen," laughs Jean. Here, instructors recognize that students are paying for this experience, and afford them equal opportunity. On nights when a student struggles at a particular station, it is up to the rest of the class to pull together to make up for any deficiencies. When a dish gets sent back, the chef responsible for the error is called up to face the unsatisfied customer.
In an industry kitchen, a chef who makes too many errors is a liability at risk of losing a job. At Jane's, however, the cost of mistakes are attributed to learning. Specials double as practical exams, and instructors will even order them up to ensure enough practice is given. Appleton remarks that problems will always be a part of Jane's because "no student is ever at 100 per cent."
Every day is an intricate game of checks and balances. It is an institution that consistently serves two clients: students and diners. And it is a school that demands its students to be both learner and instructor, in order to adequately prepare for life beyond the hallowed school walls. In the words of Chef Luc Jean, "every good chef is teaching and always learning."
Below are four recipes from Jane's Restaurant and can be found in the latest issue of Ciao! magazine.
Celery Root and Arugula Salad


Peppery arugula balances tart apples in this stunner of a salad.

Herb-crusted Bison Carpaccio
with Tomato Chutney


Bison, with its assertive flavour and natural tenderness, makes a great regional alternative to beef.

Grilled Teriyaki Game Hen


Serve these plump pieces of poultry slathered in a delicious sticky-sweet scratch-made teriyaki with seasonal vegetables of your choice.

Caramelized White Chocolate Mousse
Wow your holiday guests with this intricate dessert that doubles as art.
Check ciaowinnipeg.com for help sourcing those hard-to-find ingredients.