Paul Vocadlo – Bistro Dansk
Chef Paul Vocadlo soothes souls with down-home
Eastern European comfort food

by Erin Bend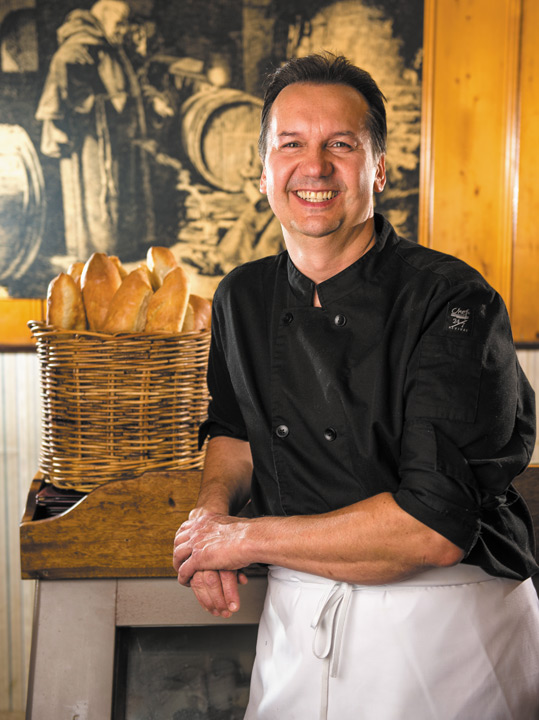 There's no place like home, but for decades many have found Bistro Dansk a comforting facsimile. This cozy, enduring Sherbrook Street spot, with its heaping portions of European comfort food, plucks the same emotional chord as going home to mama (or your equivalent childhood emotional haven).
A not-so-secret recipe, that folds feeling into flavour, has earned the 44-seat bistro a loyal following of diners. For high school sweethearts Paul and Pamela Vocadlo, who purchased the place at 19 and 22 years-old respectively, there has never been a separation between home and work life. Pam recalls the challenges of raising two kids while managing the front of house, bookkeeping and maintaining laundry duties, particularly the memories of passing her fussing baby girl off to a regular customer. The Vocadlo's warm, inviting nature has blurred the lines between purveyor and patron, and cultured an extended family of customers. In return, many visit routinely  with their own kin.
The couple's decision to buy the restaurant in 1989 was a homecoming of sorts. Paul learned to cook here at his mother, Jaraslava's, side (Paul's parents owned and operated Bistro Dansk between 1977 and 1982). Her legacy endures through recipes, including frikadeller and puff pastry.
Paul's cooking was further developed at Tiffani's Restaurant under the mentorship of Chef Helmut Markert. Here, he refined his technique, learned kitchen management skills and mastery of a dish that has proven the most rewarding: schnitzel.
This pounded, breaded and fried meat  along with Czech specialties of his heritage, like palachinkas, was among the initial additions Vocadlo made to the Danish menu he inherited. The German dish is easily  the top seller, which for busy nights can translate to upwards of four dozen portions, plus take-out orders.
Amid the legion of longtime converts, Bistro Dansk has entertained a wave of plugged-in young diners these past few years that can be attributed to its appearance on  Food Network Canada's You Gotta Eat Here and West Broadway's upswing.
Over three decades, the pine panelled and press clipping clad bistro has witnessed dramatic change. In its early days the neighbourhood was a network of small, family-run businesses that withered as subsequent generations lost interest. Recently, a new wave of hands-on entrepreneurs have set up shop. Paul,  buoyed by the resurgence of small business, shares wisdom that's led to his longevity, "You've got to be a specialty restaurant, and you have to be good at what you do."
And Chef Paul Vocaldo is very good indeed. Evidence of this wafts from the kitchen, emanating the scent of fresh-baked bread. Forty loaves are baked daily, including a dark and dense Danish rye, a requisite of the special cold herring plate, and small loaves of braided egg bread, a salute to Czech culture.
_________________________________________

"You've got to be a specialty restaurant,
and you've got to be good at what you do."
_________________________________________
Any sort of modern dinner pacing strategy is moot here, the notion of stepping out from under the landmark yellow awning without leftovers (enough for at least one lunch) is utterly absurd.
Vocadlo takes pride in his portions, as each entrée is heaped with sides, including a sweet and sour bacon imbued cabbage medley tasty enough to convert sour krauts. He considers 'giving more on the plate' to be his number one marketing strategy. This simple approach aligns with the restaurant's honest, hardworking ethos.
Above quantity, it's quality that drives the animated chef to 7 am market pilgrimages to hand select produce. It's a lot of work, but it's all part of Paul's "fresh, fresh, fresh!" food philosophy, and he's not alone. Each morning at nine o'clock, he is joined by the sunny and sometimes saucy Pamela.
As his attention turns to soup, she preps starters, garnishes and salads, including a crave-worthy kosher pickle-studded potato salad. For some, working in close quarters with a spouse might spell marital demise. Yet, these two are still enviably in love  nearly 25 years later.
During service, they function in sync. The Vocaldo's communicate silently. Paul plates proteins,  and Pam is prompt with each garnish. Their secret  to harmony? "You have to learn that there's no right or wrong, you just have to let go of that."
Pam is also in charge of the borscht call list, which, she divulged, can be the couple's one point of contention. Though the Slavic standby is not a permanent fixture on the menu, it is a part of the soup rotation. And when the time comes to whip up Pamela's Ukrainian Baba's recipe, the list represents those customers with a standing order. Naturally, the commitment to upholding such a list can become a prickly issue on an already busy night.
The list, handwritten, timeworn and taped up behind the pass, stands as a symbol of  devotion between  the restaurant and its customers. Tradition, time honoured values, and love ladled is into every bowl.
Below are four recipes from Chef Paul Vocadlo of Bistro Dansk and can be found in the latest issue of Ciao! magazine.
Walnut Apricot Stuffed Roast Chicken


Our cover depicts a whole roasted chicken, in the restaurant kylling portions are a healthy half bird as this recipe instructs.

Chicken Vegetable Soup


Like a warm embrace on a cold day, this simple standard envelopes with its full-bodied chicken stock and chewy dumpling morsels.

Dansk (Pork Schnitzel)


Chef Paul swears the secret ingredient of his famous schnitzel, that artfully counterbalances crisp and tender texture, is housemade bread crumbs.

Cream Puffs


This divine wonder tastes just as good as it looks, thanks to a refined balance of fresh and rich flavours, with dense and light textures.