295 York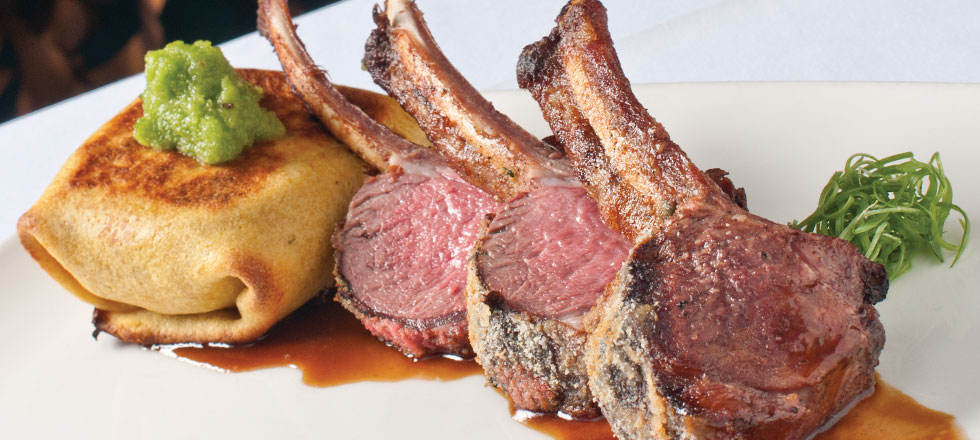 Neighbourhood: Downtown                                                                                                          Lamb Duo
Address: 295 York Ave
Phone: 204-986-7275
Entrees: $24-$43
The menu bills 295 York as a "modern steakhouse", a perfectly fitting description for the stylish downtown spot. Those looking for classic fare will not be disappointed by a selection of cuts including filet mignon and New York Strip Loin with signature sauces and sides, as well as riffs on steakhouse staples, such as the tomato salad with a smoked buttermilk dressing.  A selection of sides, from the omnipresent mashed potato to hip offerings like a high brow mac n' cheese with truffle and herbs, can be added to the meal.
However, other menu selections take up the "modern" mantle with gusto. Appetizers are a collection of culinary adventures, wild collisions of cuisines and tastes that come together seamlessly on the plate. The pulled duck quesadilla, a show-stopper by the first course, arrives in a row of sushi-sized rolls, each piece topped with cilantro crème fraîche. The deep, earthy meat, slathered in hoisin sauce, is in perfect harmony with the herbaceous topping, as well as the spicy aioli smeared across the plate.
Korean beef shortribs, imbued with flavour from a ponzu marinade, pull from classic bibimbap flavours with fiery red chili sauce and cool cucumber. The crab cakes, crunchy and dotted with black sesame seeds, play on fusion food, plated between duelling dollops of spicy mango chutney and caper tartar sauce.
Entrees are equally impressive. Grilled Alaskan lingcod, encased in a salty crust, flakes into soft white layers that melt into the pillow of rich wild mushroom risotto below. Bright, grassy shaved asparagus, heaped on top of the fish, lightens the effect. The lamb duo, a house specialty, perfectly encapsulates the blend  of traditional and contemporary. Supremely tender bulbs of lamb, smacking of tangy tamarind, are laid on top of a pillowy roti stuffed with spiced chickpeas and braised lamb, and topped with a green chili puree.
Complementary, house-made, and very fluffy focaccia accompanies the meal, with a pat of herb and olive oil butter.
Conscientious and knowledgeable servers spell out the lowdown on a changing crème brûlée and sorbet flavour, but dark chocolate torte is a constant that shouldn't be skipped. Rich but light mousse draped in velvety ganache and accented with a trail of crumbled cookie sits across the plate from a ball of caramel gelato with an addictively salty twist.
295 York is open for lunch Tue-Fri 11:30 am-1:30 pm, for dinner Tue-Thu 5 pm-9 pm, Fri 5 pm-10 pm, and Sat 5 pm-11 pm.