A longstanding culinary tradition in the United States, particularly in southern states, barbeque has taken on new meaning in recent years. Regional styles and a fair share of midwestern influence has changed the game. Barbeque has become a full-fledged culinary movement, and Winnipeg has welcomed the transformation with opens arms. Forget the backyard. This is flame-cooking craftsmanship and the art of grilling at its finest.
Nuburger – Blueberry Yum Yum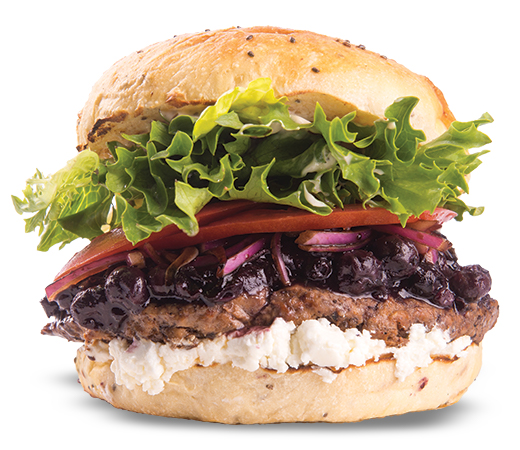 It's all in the sauce. Inspired by blueberry pie, made with fresh berries and infused with liquid smoke, Nuburger's house-made blueberry barbeque sauce draws eyes to the Blueberry Yum Yum (above). But it's the first bites, the contrast between the sweet sauce and salty, creamy goat cheese, that co-owner Scott Reimer says makes it a fan favourite. It doesn't hurt, either, that these high-quality toppings are slathered over locally sourced buns and one of Winnipeg's best burger patties.
---
Bindy's – Jerk Chicken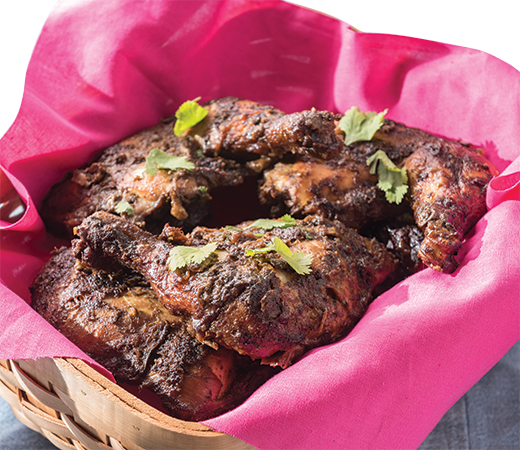 Under the guidance of his daughters, who have taken the helm since his retirement, Bindy Tiwari's longstanding operation at The Forks has expanded its horizons. That doesn't mean it's out with the old. Rather, chef Andrea Tiwari has put to use the secrets of Caribbean cuisine passed down by her father and grandmother. Using a signature jerk seasoning–a spice combination so good it has literally been bottled–Bindy's produces smoky, spicy jerk chicken (above) with accents of chile pepper, paprika and ginger.
---
Famous Dave's – Legendary Feast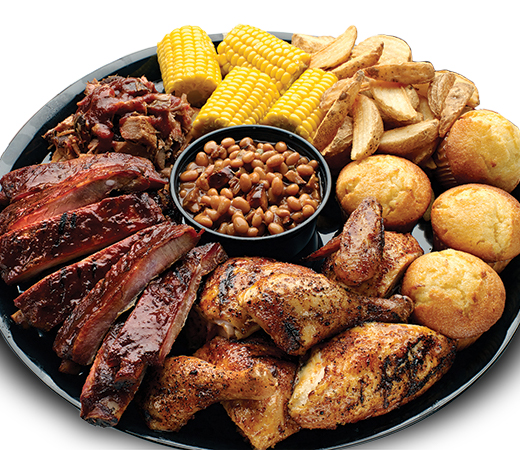 The secret at Famous Dave's is that there is no secret. It's old-fashioned barbeque done to founder Dave Anderson's specs. Scratch-made at the only Canadian location of this American export, raw proteins–of which as much as 1,000 pounds can be prepared in a single week, according to owner Glenn Yoshino–are seasoned and smoked in house to deliver backyard barbeque taste. The Legendary Feast (above) lets carnivores run the gamut. Sweet and saucy St. Louis-style spareribs star alongside roasted chicken, a choice of tender brisket or chopped pork and all the fixins.  
---