A longstanding staple of the diner and fast-food experience, our current era of elevated dining has inspired new takes on classic fried chicken. Most recently, the temperature has been turned up–in some instances, way up–as the hot chicken trend establishes its foothold. But be it mild or spicy, this crispy, breaded and tender fare has been checking all the boxes (or should we say buckets?) for decades and isn't giving up its seat at the head of the picnic table anytime soon.
Brazen Hall – Fried Fricken Chicken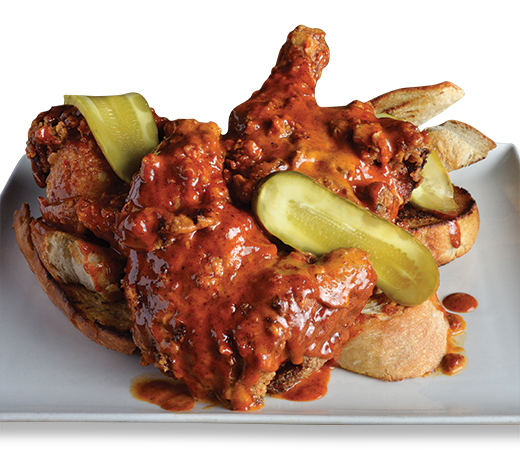 Order it cajun. Order it crispy. Order it Nashville. No matter the style, order chef Jose Noboa's Fried Fricken Chicken (above). Served in a half or whole order, the latter for those whose eyes and stomach are directly proportional, these big, slathered-in-sauce birds are multi-napkin endeavours with a flaky exterior that breaks away to reveal juicy meat. And don't worry about a single, solitary drop of the dressing going to waste. A healthy helping of thick house-cut fries is perfect for sopping up every ounce of stray sauce. Most clever is the draping of thinly sliced dill pickle atop it all. They offer some sour-sweet tang that plays in perfect contrast to the palate-pleasing spice provided by the Nashville seasoning's heat.
---
Tallest Poppy – Fried Chicken

With creamy and extra-cheesy grits, smooth and fluffy mashed potatoes and warm, delectable biscuits as available sides, the influence of the Deep South is evident in chef Talia Syrie's creations at this Sherbrook stop. And all of that is even before one gets a whiff of Syrie's fried chicken (above). The well-battered pieces give off a scent that eliminates the need for any further evidence justice is being done to soul food classics at The Tallest Poppy. If that isn't enough, though, one bite into a juicy piece removes all doubt this is an upper-echelon dish. Its pleasing and distinctly peppery accents are on point and ensure no serving is here to stay.
---
Red Top Drive-Inn – Chicken Dinner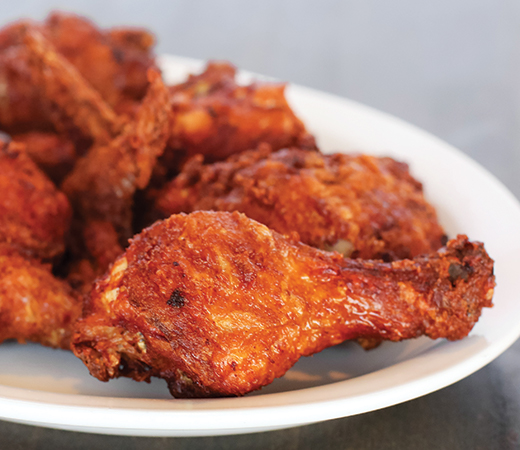 Call it fried chicken with a twist. At Red Top, the chicken dinner (above) goes its own route. A "broasting" process, which combines pressure cooking and deep frying, results in extremely tender and juicy meat with the same crispy hallmarks of conventional fried chicken. There's no overpowering the natural flavours of the bird on this fried-to-order fowl, either. Seasoning is light and right. Owner Stavros Athanasiadis vowed to remain in lockstep with the processes put in place by former owners, the Scouras family, when he took the reins in 2019. This can't-beat classic is proof he's sticking to his word.
---
Magic Bird – Fried Chicken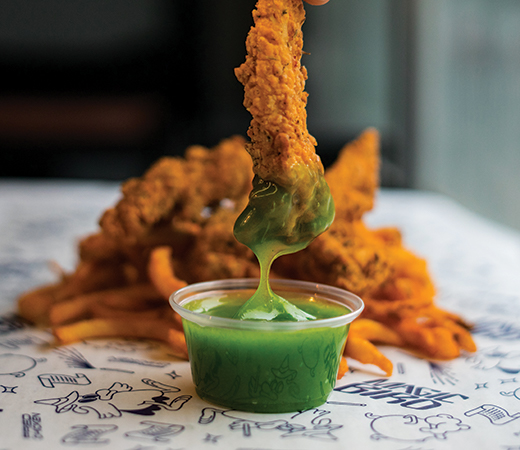 From the first crunch through this fried chicken's (above) golden-battered exterior to the last finger-licking bite, Magic Bird makes good on its namesake: it fries up one fine fowl. This joint won Winnipeg's 2019 Fried Chicken Festival and it takes one bite to discover why. Country fried and mild options are accessible for any eater, but those unafraid of working their way up the Scoville scale can kick it up a notch with hot or scorcher seasoning. Chef Mike O'Connell's pièce de résistance is his spin on a comfort-food classic. Tender chicken strips, served with curly fries and unique topping combinations, accompany an eye-popping and tastebud-tingling house-made honey dill sauce. O'Connell's dill steeping process turns this Manitoba honey staple into a new shade of green.
---