This 21st-century food trend has gone beyond craze to become a grab-and-go staple. Often bright and beautiful, this serving style's roots lie in Hawaiian and Brazilian cultures, but it rose to ubiquity by way of breakfast and smoothies. Now, bowls sporting bold flavours, veggies and fruits are a gourmand go-to for any meal.
Chosabi – Poke Bowl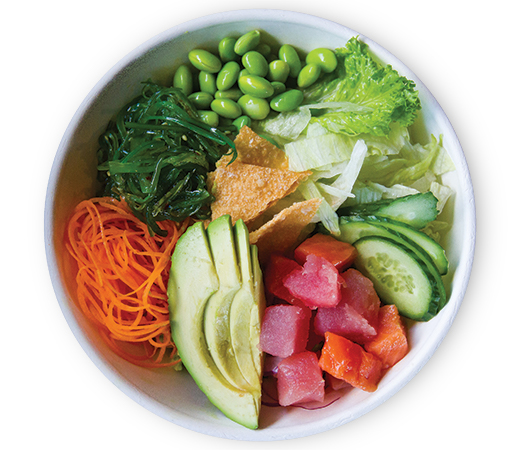 Chef Cho Vengavongsa has changed the city's fast-casual game by combining Japanese and Korean cuisine with Filipino and Hawaiian influences. Emblematic of his approach is Chosabi's poke bowl (above), which places beauty in the eye of the bowl holder. Piled high and protruding from this traditional Hawaiian dish are cubes of salmon, tuna, tofu or shrimp, while a certain snap comes when biting into fresh cucumber. But it's the distinctly Asian elements that elevate the dish. Furikake, a Japanese seasoning, flavours rice. Seaweed-based wakame salad garnishes the bowl. Wonton chips add crunch. Depth and a pleasing kick comes from the horseradish-esque heat of a wasabi aioli.
---
Fortify – Curry Bowl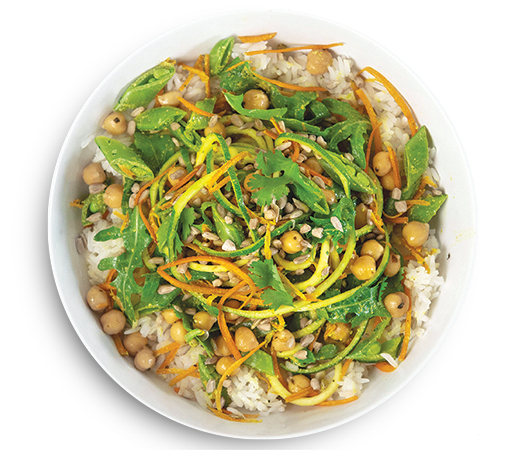 This green eatery's protein-packed curry bowl (above) meets operations manager Jared Vanderveen's goal to provide plant-based options for all, and Indian influence flavours this bowl. Marinated chickpeas sing atop a fluffy bed of jasmine rice. Woven throughout are strands of ribboned zucchini and carrot. Peppery leaves of arugula add subtle spice to any forkful. The zip of a garlic creme and citrusy pops of cilantro brighten the bowl.
---
Poke Mono – Tropical Mango Bowl

Chinese-born and Japanese-trained chef Zhehong Wen has taken the skills and refinement he picked up in Tokyo's kitchens and is bringing that influence and artfulness to his first Winnipeg foray. Wen takes special care to hand-select mangoes and carefully cube pieces for the Tropical Mango Bowl (above) to ensure unrivalled freshness. Topped with shrimp, this electrifying dish whisks one away to sun-soaked lands with its natural freshness and flavour. Drizzles of house-made teriyaki and sesame sauces add depth. Wen's desire to tell a story through the dish and passion shines through in every palate-pleasing bite.
---