The crisp crunch of fresh greens harmonizes with a summer setting, but salads can go beyond the basic bowl of roughage and encapsulate the variety and multiculturalism existing in Winnipeg's food scene. An impeccably made classic and protein-based option bring familiarity to our menu, while cultural standouts featuring beets and papaya demonstrate how even supposedly simple ingredients can be turned into the stars of a dish.
Cafe Carlo – Poached Salmon Salad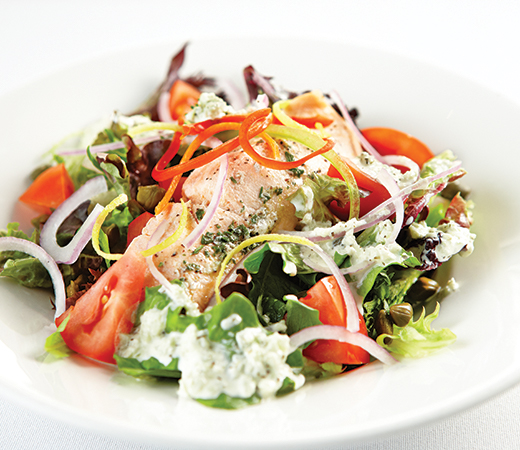 A beautifully poached serving of salmon rests atop a bed of leafy greens and tenderly flakes away when speared with a fork. Strands of cucumber and thinly sliced red onion make this poached salmon salad (above) visually stunning. Substance beyond the dish's star comes from lemony-fresh capers. But the unsung hero of this Cafe Carlo staple is a creamy dill dressing, which comes as no surprise given chef David Hyde's penchant for creating stunning sauces. Every dish is informed by global influences at this traditionally Cal-Ital focused eatery, and this salad's Mediterranean mark is evident
---
Shawarma Khan – Beet and Apple Salad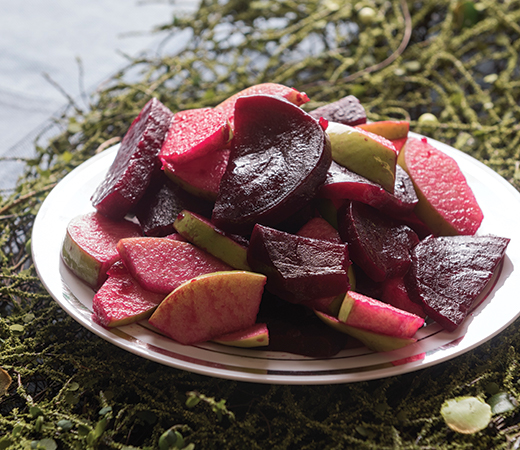 Simplicity mixes with sweetness to give this fan favourite its signature flair. Though this beet and apple salad (above) is the culmination of a scant few ingredients (hence the name), beets' natural sweetness and green apple zing play together to make a dish that's more than the sum of its parts. Chef Mohamed Ali Ben Ahmed turns this from any old beet salad into a must-add to any order by topping it with a so-called secret dressing. But guess what? We've got the scoop. Icing sugar is the unexpected secret ingredient in the red wine vinegar-based mixture, which helps make the salad's sweet-tart contrast even sharper.
---
Bangkok Thai – Som Tumm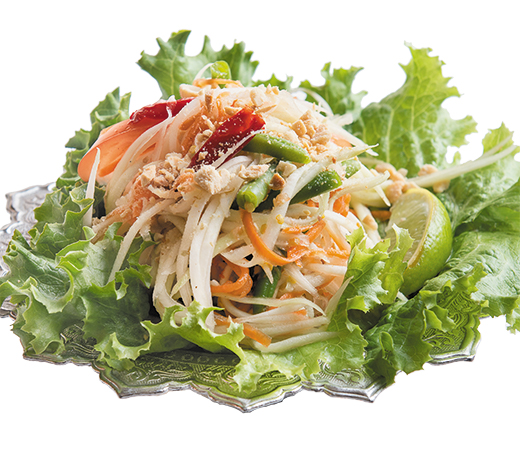 Few dishes provide opportunity to explore regional flavours like a Thai Som Tumm (above) and chef Toui Savangsengouthay has an ability to transport Bangkok Thai diners to the culinary soul of the country. Inherently, unripened papaya is the standout of the dish, but it is given sweetness by way of a palm sugar syrup and turned up a degree by the spice of ground green chiles. Hints of garlic come through, as does the acidity of lime, but the addition of salty fish sauce allows the salad to touch every tastebud. It's in this way chef Toui achieves a harmony of taste, which is the trademark of Thai cuisine.
---
Hy's Steakhouse – Caesar Salad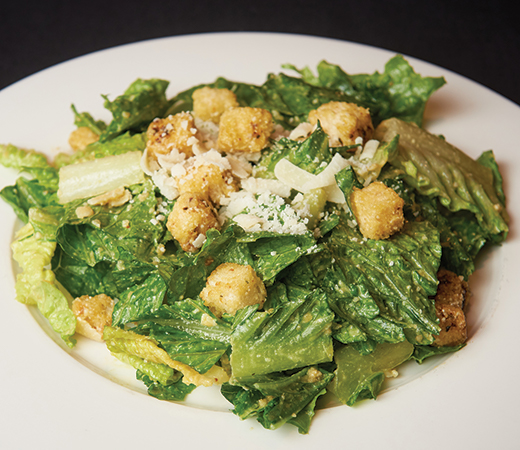 A career spent in the Hy's kitchen ensures chef Jackie Hildebrand will do right by the classics, and such is the case with Hy's Caesar (above), which turns a seemingly simple salad into a superstar. A meticulously choreographed dressing is brought together with pinpoint particularity and gives every element its moment to shine. Its bold, garlicky punch fuses seamlessly with red wine vinegar, Worcestershire sauce and lemony zest. A slight hint of tabasco gives the dressing a very subtle heat. The pleasure taken in this Caesar's preparation and level of careful consideration given to its individual ingredients has resulted in it remaining a house favourite.
---