One of the undisputed champions of the lunchtime grab-and-go game, few takeout options can top a well-made sandwich. It's for that reason there is no bigger flub than choosing a prewrapped sub. From longstanding and traditional Jewish-inspired delicatessens to new-school shops, Winnipeg has its share of two-handers demanding to be devoured. Eschew cutlery and forget about a plate. This is park-bench eating at its finest.
Oscar's Deli – Smoked Salmon Club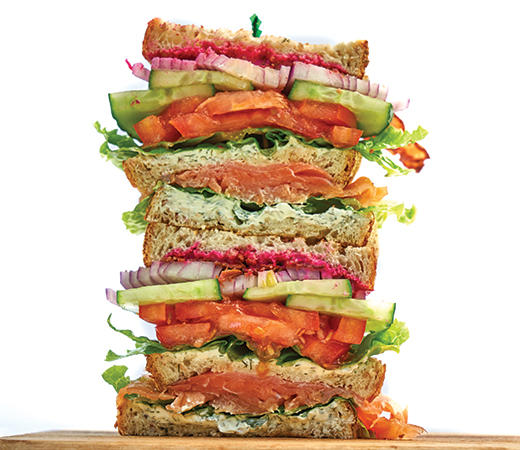 Deli clientele are creatures of habit, but as Oscar's Deli co-owner Rachel Brown explains, one bite of this smoked salmon club (above) possesses the ability to alter an order forever. With three slices of rye, this sandwich is towering in its height, as is any club worth its salt, and balances the distinct saltiness of salmon with two fan-favourite spreads. House-made lemon honey dill cream cheese plays on a provincial mainstay and provides a soothing zest, while an eye-catching fuchsia beet horseradish dressing amplifies the prairie flavour.
---
Viva – Banh Mi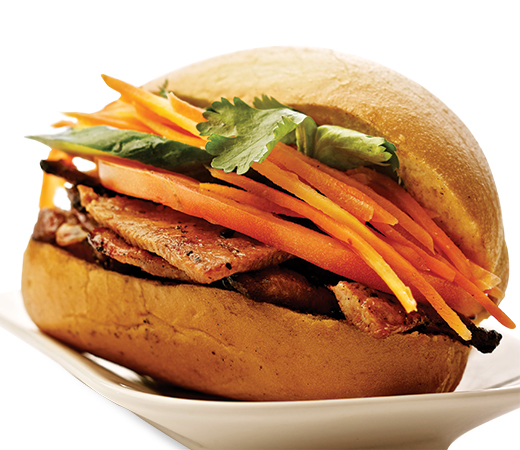 At Viva, chef Lihn Tran prides herself on making lighter, less-oily fare and this traditional bánh mì (above) slides seamlessly into that category. Far healthier than a beefy burger, this Vietnamese classic combines charbroiled pork, infused with saltiness from hints of soy and fish sauce, with crisp, fresh vegetables. Pickled and finely julienned carrots and slices of English cucumber provide snap, while cilantro is a refreshing reminder of this sub's cultural roots. In keeping with tradition, the ingredients are wedged between two slices of baguette, itself a nod to France's culinary influence in Vietnam.
---
King + Bannatyne – River City Brisket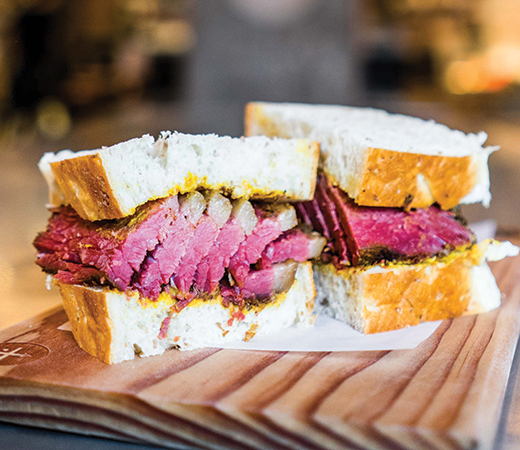 Chef Matt Cooney is patient, and every tender bite of pink-tinged beef brisket expertly layered onto King + Bannatyne's River City Brisket (above) rewards that patience. To transform this generally tough cut into a melt-in-your-mouth delicacy, the brisket–a cut from the lower breast of cattle–is brined for seven days and cured in a pastrami-style rub. As with any sandwich, though, it is only as good as its bread, and two thick, hand-cut slices of City Bread rye provide the perfect pillowy cushion and soak up a house-made yellow mustard that adds extra zip to an already outstanding sandwich.
---