now open
bold brews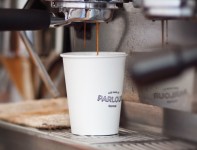 Coffee connoisseurs are clamouring for the one-of-a-kind brews offered at Parlour Coffee. This Exchange District coffee house gets 49th Parallel and Phil & Sebastian beans roasted and shipped in weekly from Vancouver and Calgary. Chemex and pour over are some of the unique brewing methods used here. Tea, hot chocolate and some pastries are also sold. 468 Main St.—GL
_________________________________________________________________________________________________
all that jazz
Downtown's newest live music venue Juss Jazz serves up jazz with a sassy side of Caribbean spice. Rice and peas, moderately spiced jerk chicken, and flavourful chickpea rotis are just some of the Caribbean-influenced dishes offered on the concise menu. A small stage up front creates an intimate atmosphere for evening concerts. 468 Main St,
791-5255.—GL
_________________________________________________________________________________________________
chic chick
The Closet Chick has a new roost. The Portage Avenue location of the second-hand, women's clothing store recently moved down the block to make way for De Luca Fine Wines'  expansion. Customers will love the new, bright and airy space filled with trendy, gently loved clothing, shoes, bags and accessories. 956 Portage Ave, 774-2442.—RS
 _________________________________________________________________________________________________
food news
battle of the buns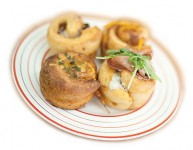 So it's not exactly Iron Chef, but that doesn't mean creating one-of-a-kind sticky buns can't push culinary limits. That's the thinking behind Jonnies Sticky Buns' Bun Battle Royale, a month-long contest pitting some of Winnipeg's top chefs against each other. Chefs Scott Bagshaw of Deseo Bistro, Alexander Svenne of Bistro 7 1/4, Eric Lee of Pizzeria Gusto and Adam Donnelly of Segovia each created their own bun to sell at the Portage Avenue bakery. Ingredients include duck, fig jam, chorizo, smoked bacon and beer, to name a few. Two winners of preliminary rounds face off in the finals, running Oct. 11-15. During the final week, Oct 18-22, the winning bun will be sold exclusively. For more information go to jonniesstickybuns.com. 914 Portage Ave, 415-7287.—RS
_________________________________________________________________________________________________
chef change
Corydon Avenue favourite Bonfire Bistro has a new head chef. After almost three years as sous chef, Sean McKay recently took over the helm. While many tried-and-true items remain, Chef Sean is planning a new fall menu to take advantage of seasonal produce. Look for lamb shank in cassoulet braised in the restaurant's wood-fired oven. 1433 Corydon Ave, 487-4440.—GL
_________________________________________________________________________________________________
sweet move
Bigger is better. That's the drive behind Sweet Impressions' upcoming move from Taché to Taylor Avenue. The new location is double the size and will open in early October. A bigger kitchen, more retail space and a new wedding section are in the works. An expanded studio will accommodate large birthday parties and decorating classes. 669 Taylor Ave,
237-0743.—GL
_________________________________________________________________________________________________
spanish osborne south
Deseo Bistro has a new home in Osborne South. The two-level space boasts a larger kitchen and an expanded menu. Additions include gourmet Spanish eats, like roast of lamb loin with smoked yogurt, eggplant caviar and chile jam. 696 Osborne St, 452-2561.—GL
_________________________________________________________________________________________________
stellar expansion
With another new location in the mix and one recently opened, Stella's Café and Bakery is on the brink of restaurant supremacy. By the end of October, the locally owned company will have opened three new locations in the last 10 months. A bakery opened next to the Sherbrook Street location in late 2010. In August, a new 80-seat downtown location opened inside Plug In Gallery at 460 Portage. And at the end of October, another 80-seat location will open inside the new airport terminal. The airport location will be the seventh in the city.—RS
_________________________________________________________________________________________________
culinary calendar
autumn eats
• Oct 13, 20: Learn to bake mouth-watering bread, cinnamon buns, pretzels and bagels from scratch at Aurora Farms' fall workshops. Take home recipes and samples to impress friends and family. Session: $30 per workshop. 4265 Waverley St, 261-6279 or aurorafarm.ca for information.
• Oct 15: For the first time, guests of the Winnipeg Art Gallery's Gallery Ball will dine in the magnificent permanent collection galleries. This black-tie event features the exhibition of Manitoba-raised artist William Kurelek: The Messenger. Entertainment; a live auction and a multi-course meal catered by Storm Restaurant round out the evening. Tickets: $225. 300 Memorial Blvd, 789-1765 or email Doren Roberts at events@wag.ca for tickets.
• Oct 14-16: The International Wine Festival of Manitoba celebrates 20 years. Held at The Forks Market, wine lovers stroll through the market courtyard and sample from hundreds of wines from more than 100 wineries. Take a nibble or two from the more than 750 types of cheese at Fenton's Gourmet Foods' booth. Free admission. Sampling tickets 50¢ each. 1 Forks Market Rd, 957-7618 for information.
• Oct 27: Watch nine of the city's top chefs battle it out for bronze, silver and gold at the 2011 Gold Medal Plates culinary competition. This gala wine and dinner event is held in nine cities across the country with proceeds going to Canada's Olympic and Paralympic athletes. The winner moves on to the national competition. Tickets: $368. Winnipeg Convention Centre, 375 York Ave, 947-9766.
• Nov 5: The grand ballroom of the Fort Garry Hotel will be decked out for the 29th annual Black and White Gala Ball in support of Manitoba Theatre Centre. Guests enjoy an enchanting evening of creative cocktails, a three-course meal catered by hotel chefs, dancing and a live and silent auction. Tickets: starting at $200 each. 222 Broadway, 956-1340 ext. 214 or mtc.mb.ca for tickets and information.
•  Nov 5: Take a virtual culinary tour of the Mediterranean during the 3rd annual Best Banting Evening 2011 held at the Red River College's Princess Street Campus. Food and wine stations will represent five countries. Delectable eats like paella, roasted rack of lamb and calamari ripieni will be served. Event includes a live and silent auction. Ticket proceeds benefit the Canadian Diabetes Association. Tickets: $100. 160 Princess St, 925-2800 ext 224 for tickets and log on to www.diabetes.ca for a menu preview.
_________________________________________________________________________________________________
hot bites
burger bliss
When it comes to veggie burgers about town, local chefs let their imaginations run wild, creating unique and exotic burgers even the most avowed meat lover would adore. We eagerly offered our appetites and found some of Winnipeg's best veggie burgers:
• Head to Underground Cafe on Arthur Street for the Sun Burger. This toasted sesame seed, rice, vegetable and mushroom patty is baked to perfection. Mozza and cheddar cheese are added for extra flair. No mere bun will do here. Inside a toasted bagel, the patty is topped with a citrusy fresh lime dill sauce, romaine lettuce, tomatoes and green peppers. 70 Arthur St, 956-1925.
• The vegetarian burger at Dessert Sinsations is a must-try. Seeds and grains are mixed in with its thick veggie patty, well-flavoured with a secret blend of herbs. All the favourite fixings, including tomato, lettuce, onion, mayo, white cheddar and portobello mushrooms add fresh flavour between the bun. 505 St. Mary Ave, 284-4662.
• If all you're serving is veggie burgers, you better do them well. That's certainly the case inside Sherbrook Street's Boon Burger. There are nine burgers on the menu. Dig into the Buddha Burger for sweet and spicy East Indian influences. The Boon Burger—a mushroom and rice patty  burger topped with dollop of peach chutney—is a meat-free masterpiece. 79 Sherbrook St, 415-1391.—RS & GL
_________________________________________________________________________________________________
wine news
oh canada
In honour of October wine festivals in Nova Scotia and the Okanagan, here are some top picks from these regions available locally:
• Perfect with seafood, Jost Beaver Creek Geisenheim ($13.75) from Nova Scotia is a white wine with Reisling parentage. This dry vino is available at Grant Park Fine Wine Boutique and has complex and elegant floral and citrus notes.
• Kenaston Wine Market is the exclusive carrier of Sperling Vineyards Old Vines Foch, VQA Okanagan Valley ($27.99). Pair this rustic wine with hearty braised dishes to go with its intense, bold flavours.—GL