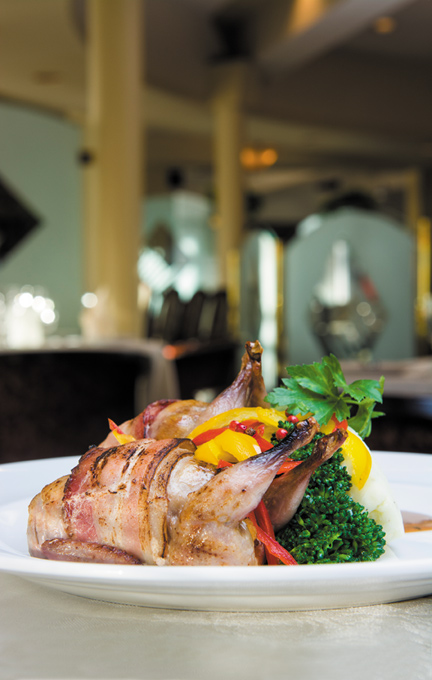 Neighbourhood: Downtown
Address: 326 Broadway
Phone: 204-943-4997
Entrees: $22-52
(2014 review)
If there's one restaurant that indisputably deserves a place in the city's culinary canon, it's Amici. The establishment that set the gold standard for Italian fine dining in Winnipeg is still in top form after 27 years. Pioneered by maestro Heinz  Kattenfeld, and his wife Joanna, the legacy is now in the hands of  Chef Patrick Shrupka and restaurateur Brian McKnight. Flawless execution, professional-grade service, and a commitment to Tuscan flavours that simply pair well together,  cement the reputation of this long-standing downtown monument.
The white tablecloth dining room, painted in deep red and cream tones, is the epitome of old-world elegance. Journey through Northern Italy with the refined menu, traditionally divided into Primi, Secondi and Pesce courses. Take the opportunity to try classic Italian dishes as they should be,  such as  gnocchi, in an herbed brie cream and topped with succulent pieces of beef tenderloin. Weekly specials sometimes offer a contemporary twist, like pillowy sweet potato gnocchi dressed in brown butter, proving that it can innovate with the best of them.
Kattenfeld was one of the first chefs in the city to introduce offals onto the menu, long before nose-to-tail cookery took off. A salad featuring chicken livers, over a bed of mixed greens, and rounded off by the divine combination of poached pears, blue cheese, and toasted walnuts is a nod to that lore.
The jewels of Mediterranean cuisine are prized proteins, like lamb or veal. Both are given occasion to shine in classic renditions, like veal scallopine and herb-crusted  fall-off-the-bone racksof lamb. Plump pieces of stuffed, bacon-wrapped quail are frequent specials, and serve to elevate poultry.
A proven history and long-standing reputation go a long way. Amici is the sort of place that inspires trust in its patrons: order dinner with eyes  closed, at random, and still be delighted, which is why this eatery has stood the test of time.
Amici is open Mon to Fri 11:30-2:00, dinner 5:00-10:00; Saturdays 5:00-10:00, closed Sundays.
© 2014 All rights reserved. Reproduction in whole or in part is strictly prohibited.