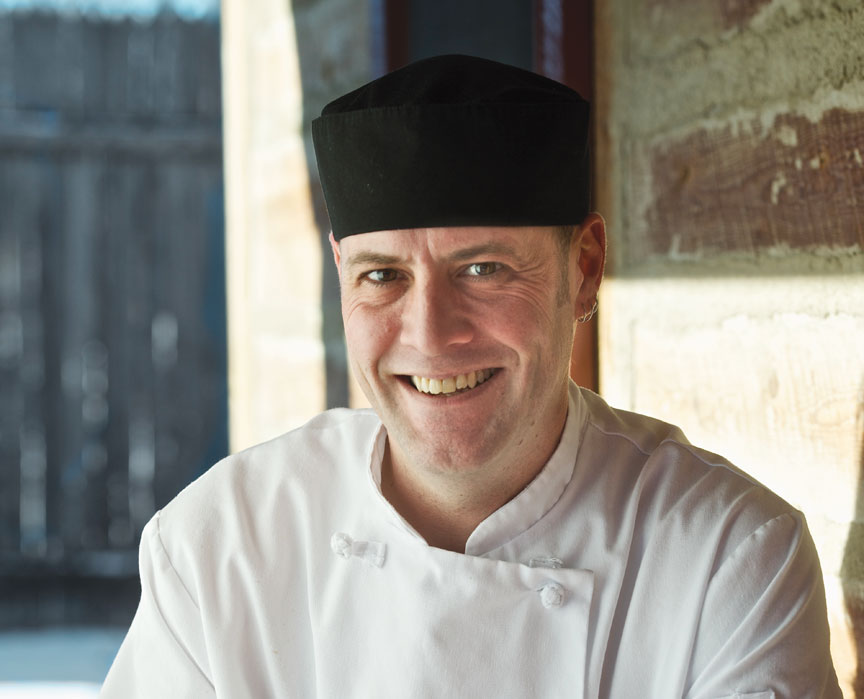 Chef Neil Higginson marries the past with the present at Fort Gibraltar
by Robin Summerfield
Axe-throwing contests, musket gunfire and blacksmith demonstrations don't typically top wedding-day rituals.
But at Winnipeg's Fort Gibraltar, historical recreations set inside a 200-year-old replica trading post are just what the bride ordered.
Since 1978, countless couples have embraced this out-of-the-ordinary wedding venue for its romantic setting and rustic charm.
"It celebrates the joie de vivre of the French culture of the city," says Shawn Brandson, owner of Gibraltar Dining Corporation, the exclusive caterer for the Fort. "The venue is unique and amazing."
Set on the banks of the Red River in Saint Boniface, the wooden fort is a recreation of the circa 1815 Fort Gibraltar, a North West Company fur-trade post which was located at Broadway and Main Street. Every February, the fort is invaded by Festival du Voyageur for the winter celebration. It also plays host to many conferences, business meetings and private parties throughout the year.
The walled fort, which is owned by the Festival du Voyageur, includes a main house, outlying buildings and a log cabin, all made from rough-hewed logs in the style of the era.
From ceremony to photographs to dinner and dancing, the Fort connects guests with its rich, local history.
Chef Neil Higginson's modern menu embraces Manitoba regional cuisine and adds dashes of French flair, all elegantly presented.
Traditional French pea soup, for example, gets the glam treatment with bacon brittle and horseradish crème fraîche.
The 41-year-old chef, often with just two cooks assisting, pumps out plates from the wee commercial kitchen inside la maison du bourgeois, the grand, two-storey, centrally located main house.
Volume service doesn't always lend itself to extraordinary flavours and pretty presentation yet Higginson's dishes each come out as refined and thoughtful as anything served at any upscale dining room in the city.
"He's in it because he loves food
and he loves pleasing people."
"I'm a total perfectionist. It's a little annoying," admits the  father of three.
That attention to detail is at play inside Promenade Bistro, where Higginson also helms the kitchen.
Brandson bought the Tache Avenue landmark in December. The restaurant will get a new name and menu in the spring.
Back at Fort Gibraltar, the vast catering menu, including the highlighted dishes here, features a wide array of hot and cold hors d'oeuvres, signature salads, soups and entrées which are served by the plate or buffet style.
Brandson says Higginson is the perfect man for the menu.
"The mark of a great chef is the subtleties of flavour," he says.
Anyone can put ingredients together but it takes real finesse to add ingredients at the perfect moment to elevate the food even more, Brandson adds.
"Neil's got really amazing flavours in his food."
Higginson's talent in the kitchen comes from hard work and passion.
"He's a chef who's always on the line, always cooking, always working with the food," Brandson says. "He's in it because he loves food and he loves pleasing people."
Higginson has been in the business more than 25 years. He started as a bus boy at Chi Chi's and quickly marched up the ranks, taking over as kitchen manager by age 17.
By 1991, Higginson began working with restaurateur and chef Heinz Kattenfeld, a local legend in the business who owned Amici, Bombolini and Pepoli, among other properties. Higginson also worked at the University Club at the University of Manitoba and most recently at Provence Bistro at Niakwa Country Club.
Higginson, who never went to cooking school, was close friends with Heinz's son. That friendship bought a lot of good will from Heinz, who mentored the novice chef.
"I learned so much from (Heinz) just from watching him. I basically worked right beside him for years," Higginson says.
"He was so patient with me."
When he was learning something new, Higginson wouldn't let it go until he mastered it, he says.
Back at Fort Gibraltar, Higginson and Brandson want to eventually host cooking classes and themed tastings.
In the meantime, Higginson stays the course: Marrying history with the land and food and ultimately creating memorable wedding days and private parties in the rustic, yet refined elegance of a fur-trading fort.
Read the 2009 Restaurant Review here.
Below are three recipes, included with this article, from Chef Michael Day of Hermanos and can be found in the latest issue of ciao! magazine.
Wild Mushroom and Gruyère Tartlets


Fresh from the oven, these rich and earthy, smooth and silky bites are a warm winter treat. Use a mèlange of mixed wild and button mushrooms to enliven flavour.

Voyageur Stuffed Chicken with Cranberry Maple Sauce


Savoury roasted chicken pairs perfectly with sweet and tangy cranberry maple sauce

Maple Sugar Pie


This classic dessert is a true slice of French-Canadiana. Serve this sweet, rich treat with a scoop of vanilla ice cream or a dollop of fresh whipped cream.