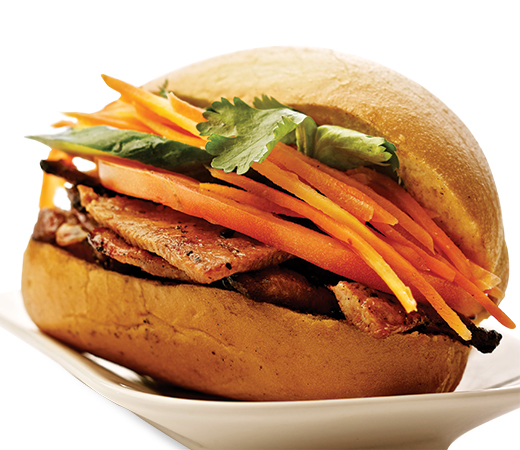 Linh Tran,
Viva Restaurant
This traditional Vietnamese sub—with its snap-fresh vegetables, a hit of cilantro and juicy, charbroiled pork slices—has earned a huge following in North America. A healthy alternative to a burger, bánh mì is a great on-the-go option.
INGREDIENTS
4 crusty buns (6-7″ long each)
1 Tbsp mayonnaise
2 lbs charbroiled pork (see deluxe vermicelli recipe pg. 16)
1 large tomato, cut into 1/4″ slices
1 English cucumber, cut into 1/4″ slices
1 large carrot, julienned
1 small bunch fresh cilantro
salt and pepper to taste
METHOD
1. Preheat oven to 400°F.
2. Slice buns in half lengthwise, without cutting all the way through.
3. Place bun open face on baking sheet.
4. Toast for 3 mins until slightly crispy.
ASSEMBLY
1. Spread each bun with mayonnaise.
2. Add slices of pork, tomato and cucumber, carrots and a few leaves of cilantro.
3. Sprinkle with salt and pepper.
Yield 4 servings