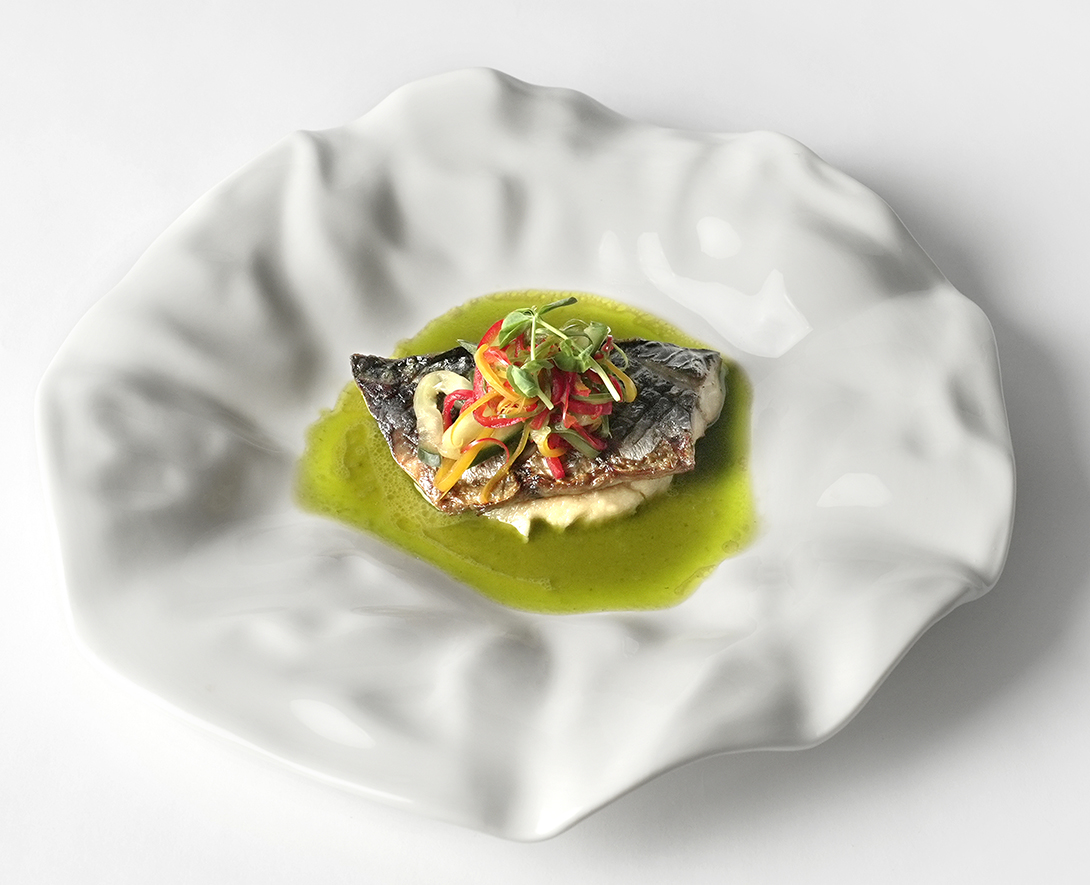 BBQ Saba, Smoked Umeboshi Broth
Courtesy of Chefs Edward Lam and Jil Osias – Saburo Kitchen
INGREDIENTS
BBQ Saba (Mackerel)
2 whole Japanese Mackerel, filleted
salt
Mackerel Bones and trimmings
1 whole white onion, quartered
8 cloves garlic, peeled
1 inch piece ginger, sliced
1 cup wood chips, soaked in water for 30 min
Umeboshi Broth
6 cups water
8 dried shiitake mushrooms, soaked in water
1/4 piece dried kombu
1/4 pack umeboshi (Japanese pickled plums)
1/2 cup cream
Parsnip Purée
1 piece parsnip, peeled and diced
1 cup milk
1/4 cup cream
1/4 stick unsalted butter, diced
salt and pepper, to taste
Chive Cilantro Oil
1 bundle cilantro
1 handful chives
1/2 handful spinach
1/3 cup canola oil
Sweet Ponzu Peppers
1/4 piece each of green and red bell pepper, cut thinly
Sweet Ponzu Sauce
3 Tbsp ponzu
1 1/2 Tbsp sugar
2 Tbsp water
METHOD
BBQ saba
1. Score the skin into a diamond pattern then season both sides with salt.
2. Place on a parchment lined, oil coated baking sheet.
3. Preheat the oven to 400°F and set aside.
Smoked umeboshi broth
1. On a baking tray lined with aluminum foil, place drained wood chips evenly.
2. Place a rack on top then lay the mackerel bones and trimming, garlic, onion, and ginger.
3. Cover with aluminum foil and place on stove.
4. Turn on the heat and wait for smoke to appear on the sides of the tray.
5. Lower the heat and let it smoke for 30 minutes.
6. After smoking, transfer to a large saucepan and add water, shiitake mushrooms, dried kombu, and umeboshi. Bring it to a boil, then reduce to simmer for an hour.
7. Drain broth and transfer to a new pot, discarding the bones.
8. Add cream and simmer for 5 minutes.
9. Salt and pepper to taste.
10. Keep it warm and set aside.
Parsnip Purée
1. Boil the parsnip in milk until fork tender.
2. Transfer to a food processor and add cream and butter. Process until very smooth. Check for seasoning and adjust with salt and pepper. Keep warm and set aside.
Sweet Ponzu Peppers
1. Combine all ingredients and stir to dissolve sugar, set aside.
2. Marinate the sliced bell pepper in the sweet ponzu sauce for half an hour, drain then set aside.
Chive cilantro oil
1. Blanch the chives, cilantro, and spinach in boiling salted water for a minute.
2. Remove and place in ice water.
3. Drain and squeeze out excess water.
4. Roughly chop before transferring to a blender.
5. Add canola oil and blend until smooth.
6. Drain through a fine strainer lined with a coffee filter.
7. Transfer oil to a saucepan and over medium low heat, cook until the water and scum have evaporated to the surface.
8. Strain again.
9. Transfer to a squeeze bottle and set aside.
Mackerel
1. In the preheated oven, bake mackerel for 7-9 minutes skin side up.
2. Remove from oven and torch the skin to crisp it up a little.
Assembly
1. In a shallow bowl, place a heaping Tbsp of the parsnip purée.
2. Top with two slices of the bbq saba.
3. Garnish the saba with a small mound of the sweet ponzu peppers.
4. Gently ladle the broth around the sides of the saba and parsnip puree.
5. Drizzle some chive cilantro oil around the surface of the broth.
Yield 4 servings