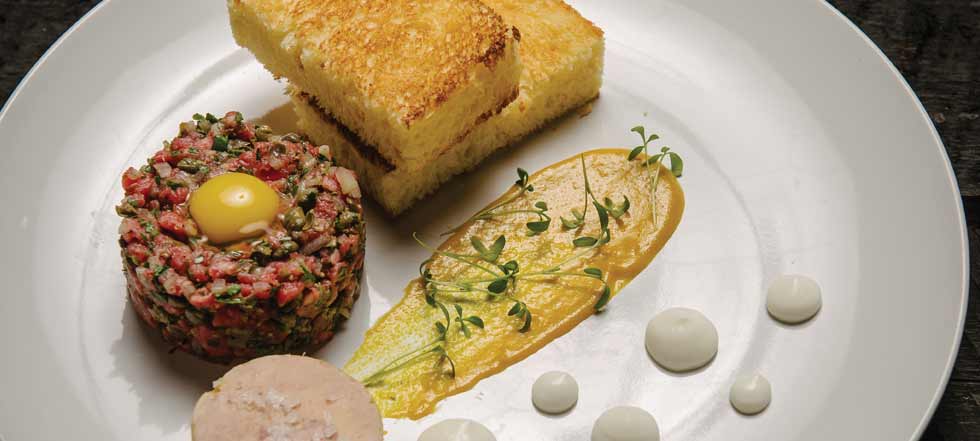 Chef Scott Bagshaw
Enoteca
Decorate your plate with a smear of hot mustard and dabs of yogurt to cut the richness of foie gras. Use high quality beef and keep the meat covered and refrigerated until use.

Ingredients
Foie Gras Torchon
1 lobe foie gras
sugar
salt

Beef Tartare
4 oz chopped beef tenderloin
1/4 Tbsp chopped shallots
1/4 Tbsp chopped capers
salt, to taste
pepper, to taste
Tabasco sauce, to taste
liquid smoke, to taste
1 quail egg
hot mustard
yogurt
2 pieces brioche, toasted
Method
Foie Gras Torchon
1. Place foie gras in a mixture of equal parts salt and sugar, enough to cover. Cure for 24 hours.
2. Wash off cure and bring to room temperature.
3. Roll in cling film, shaping into a tight cylinder.
Beef Tartare
1. Mix beef, shallot, capers, salt, pepper, Tabasco, and liquid smoke.
2. Place mixture in ramekin on a plate. Top with a quail egg yolk.
3. Decorate the plate with the torchon, mustard, yogurt, and brioche.
Yield 1 servings