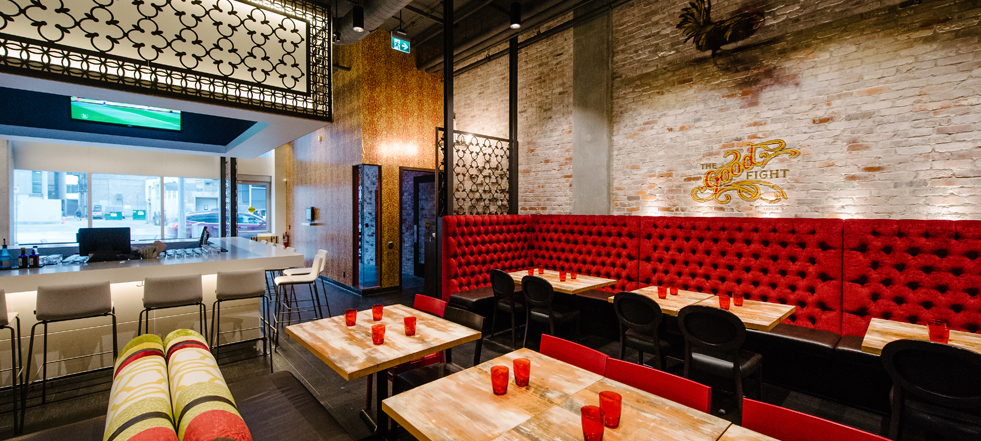 THE MERCHANT KITCHEN
Neighbourhood Downtown
Address    314 Donald St
Phone    204-615-2278
Entrées    $12-$45
Fusion food is hot right now. In a time of globalization, the borders between culinary cultures have made chefs into pioneers exploring a whole new world of flavour. The Merchant Kitchen is pulling Winnipeg along on its frontier journey, taking downtown's multicultural core by storm with Asian-Latin mash ups not yet seen in our prairie city.
Owner Bobby Mottola and chef Eric Lee of Pizzeria Gusto have built a cohesive menu that matches complementary flavours, creating vibrant dishes that capitalize on the high points of South American and Asian cuisines – spicy, salty, briny, and herbaceous flavours – without crossing into gimmicky territory.
The space itself, set inside the new ultra-cool Alt Hotel, is loud and proud, popping with blasts of red, colourful print banquettes, and a brick wall dominated by a giant rooster mural, courtesy of local artist Pat Lazo. Worn-wood communal tables and speckled ceramics set the stage for family style eating, while the sleek bar and clean white open kitchen churn out drinks and plates with energetic efficiency.
Shareable plates pay respect to street food executed with elegance. Lahp, Thai "good luck salad", can be found in lettuce wrap form: savoury braised pork well matched by earthy peanuts, cilantro, and pickled onions wrapped DIY style in silky butter lettuce leaves. Grill-charred, golden ears of corn sport all the fixings found at a Mexican street vendor – crumbly cotija cheese, mayo, and lime – and are ceremoniously carved off the cob tableside.
Crisp Szechuan-style dry fried green beans go authentic with preserved mustard stems before taking a turn with burn from Mexican arbol chiles. Grilled rare tuna abandons the sushi roll for a tortilla, piled with smoky jalapeno salsa and kicky kimchi in a two bite taco.
Trendy ingredients get the fusion treatment as well, like charred Brussels sprouts in a saline soy sauce with a hit of chile. A scattering of crispy-fried garlic completes the city's best version of this popular veggie. Downtown cart favourite, the humble hotdog, gets an upgrade with Japanese flavours from sweet kewpie mayo and toasted nori.
The talk of the town is Merchant's fried chicken. The dish's popularity necessitated adding an individual size order to the menu, but trust us and tackle its original form: a mountainous 3 lbs of chicken presented on a painted ceramic platter. Fried Korean style – meaning double fried and extra crispy – the crust cracks away to reveal juicy breasts, wings, and legs rendered ultra-tender from a brining stint.
Plenty of lighter fare is on hand to break up the parade of fried, meaty, and spice-punched eats, including a refreshing line up of salads. A twist on som tum featuring wide orange ribbons of papaya tossed with cool cucumber, mint, and cilantro is touched with acidic burn from chile-lime vinaigrette. Super food salad is a colourful jumble of legumes, grains, and seeds enlivened with sweet pops of pomegranate and salty cotija, chased with unexpected fire from minced jalapeños.
The kitchen's wild spirit is good to the last drop, with sweets like towering chile chocolate cake with soy chocolate sauce putting the finishing touch on the mash up of tongue tingling flavour and hip flair that keeps us coming back for more.
The Merchant Kitchen is open Mon-Wed for lunch 11:30 am-2:30 pm, dinner 5 pm-11 pm, Thu-Fri 11:30 am-1 am, Sat 5 pm-1 am.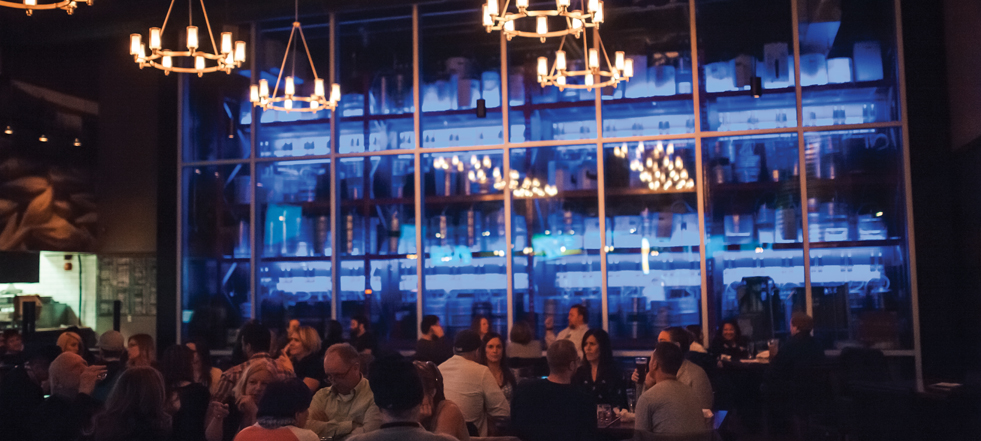 BARLEY BROTHERS
Neighbourhood Fort Richmond
Address 2005 Pembina Hwy
Phone    204-691-3300
Entrées    $12.75- $26
It was two years ago that Barley Brothers' first location opened its doors, setting the stage for a beer revitalization in Winnipeg. While our hop-happy town has always loved a good brew, Barley Brothers is leading the way for beer aficianados, with two locations across the city turning former chain restaurants into an extensive showcase for craft and microbrews. Barley Brothers Stadium ups the ante with 150+ varieties, supported by a menu of prairie comfort food that reads not as an afterthought, but a tribute to the land and good brews.
A grain bin as the entrance and a backdrop of beer kegs act as the space's visual manifesto. A cue is taken from sports bars, with a view of one (or three) strategically placed television screens easily accessible from handsome leather seats or the bar. There's a convivial come all vibe welcoming jersey-wearing sports fans and families alike. Boisterous game day fans cheer on a play, adding excitement to the chilled atmosphere. At each table, a craft beer flavour wheel informs diners of beer flavours from tart to alkaline, as affable waiters offer pairing suggestions along the way.
A scan of the menu shows how food pays homage to traditional sports bar grub, while reflecting the range of Manitoba. Winnipeg renditions of bar snacks and mains such as the Manitoba social board, a spread of cheeses, cured meats and pickles, ooze familiarity and nostalgia. Late night staple poutine is delivered in a classy rendition that pairs rich peppercorn gravy with house cut fries.
The excess of ales gives way naturally to hearty European influence. House made doughy pretzels are perfect vehicles for smoky beer-spiked cheese dip and tangy, peppery beer mustard. Continue an Oktoberfest inspired feast with the sausage party, a choice of kielbasa or bratwurst paired with sauerkraut. Locally made potato and cheese perogies, smothered in sour cream and cloaked with bacon and chives is comfort in a bowl.
Pub grub like hearty burgers, sandwiches, and comfort food round out the spread. The Benson Brother's Brewery burger's toasted bun supports a juicy sirloin patty piled high with cheddar, bacon and crispy onion rings. Sides include a healthy pile of reddish-purple braised cabbage. The earthy flavours are star players in this main. Favourites like mac 'n cheese are elevated with confit pork belly and smoked jalapenos.
Lighter items balance the selection, offering salads and flatbreads. A sprinkling of quinoa in lemon buttermilk dressing a bounteous pile of kale slight nuttiness. Crisp flatbreads are decked out with gourmet ingredients like spicy chorizo and chilli garlic oil.
Hop heads and game day crowds may flock to this zealous brewhouse, but underneath the suds is a big-hearted dedication to cooking from the prairie land.
Barley Brothers is open Mon-Sat 11 am until late. Sun 11 am-11 pm.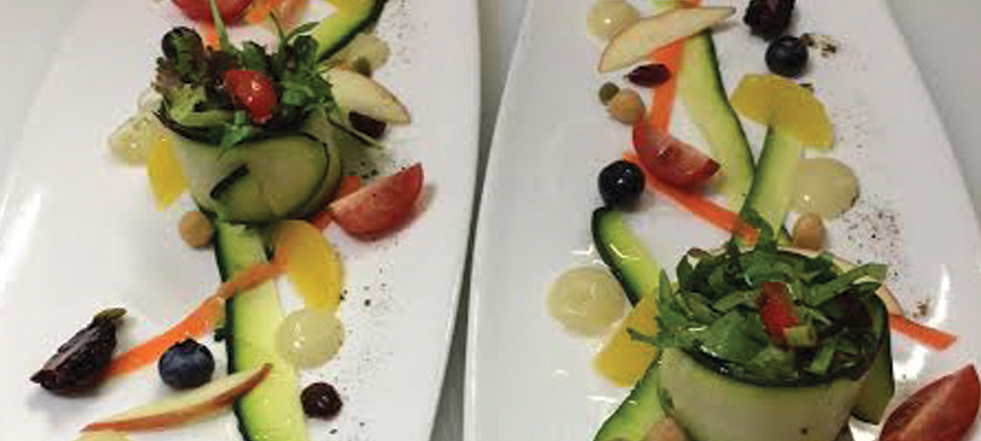 RIPE BISTRO
Neighbourhood Corydon
Address 842 Corydon Ave
Phone 204-284-7916
Entrées $12-$19
Manitoba's nutrient-rich soil is ideal for the wide variety of crops that have traditionally earned our province the title of Canada's bread basket.  Out of this same soil springs Ripe Bistro, using time-honoured traditions and prairie product to create a menu of edible odes to Manitoba ingredients.
Inside the former Mise location on Corydon Ave, décor is minimal, with chalkboard specials and deep red walls creating cozy bistro atmosphere. Dinnertime brings romance to the dining room with the help of flickering candle light. Adding to the warm ambiance, friendly waiters promptly serve drinks and chat with customers.
Bringing the outdoors to the table, the menu celebrates nature with vegetables and fruits that are fresh from the garden. Plump tomatoes and aromatic herbs grown on-site surround patio diners during warmer months.
Pitt's dedication to from-scratch cooking and comfort food brings back memories of good eating. Meals that have been enjoyed through generations get a shout out, like fluffy French toast, amped up with star anise marinated figs and sautéed bananas. Ingredients that have been part of family traditions, such as bannock, pickerel and sauerkraut, are fused with globally-influenced interpretations that are part of our changing food landscape. Immigrants from diverse cultures have brought their cooking styles to the city, and chefs like Thomas Pitt re-imagine those dishes with techniques that create something fresh, from flavourful shakshuka to a curry-punched chicken wrap.
For a refreshing starter, opt for a salad of grilled zucchini, roasted red peppers and heaping greens, which give contrast to an unexpected bite of grapes, tossed in a white balsamic dressing. Other beginnings that embrace the localvore spirit are matzo ball soup and popular wild rice latke fries.
House smoked meats imbue campfire flavours into the chicken quesadilla, accented with zingy lime sour cream. Sandwiches nod to Winnipeg diner culture with tried and true favourites, given playful names. The Jewish cowboy packs a hearty bite that requires a fork and knife. A mountain of tender brisket is piled high on a soft bannock bun(Pitt's mother's recipe). "You gotta have this on rye" and the reuben, filled with house made corned beef, are equally meaty, with the former accompanied by hot mustard aioli igniting a kick of heat.
Chicken n' gravy is comfort food, but better than you'd make at home. Liberally sauced, a scone-like bannock bun soaks up every last drop. For a taste of the lake, the pan-fried pickerel in the shore lunch reigns supreme. Flaky and tender flesh is accented simply by sautéed potatoes, onion and crispy bacon.
Pitt and his team have successfully  created an homage to Manitoba cuisine, blending fresh local flavours with homey comfort.
Ripe Bistro is open for lunch Tues-Fri 11 am-2 pm, brunch Sat & Sun 10 am-2 pm, dinner Tues-Sat 5 pm-10 pm, Sun 5 pm-9 pm.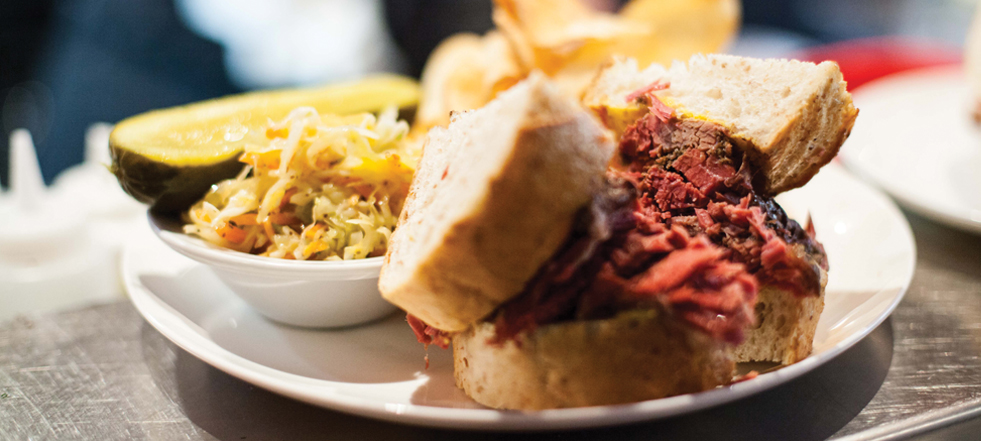 Sherbrook St. Deli
Neighbourhood W Broadway
Address 102 Sherbrook St
Phone 204-615-3354
Entrées $8.75-$14.25
Sherbrook Street Delicatessen opened its doors in March of this year, leading the way for Winnipeg's love affair with meaty sandwiches, and the small spot has been bustling ever since. However popular things between bread may be, this neighbourhood eatery is more notable for its revival of one of the staples of the city's dining scene which has dwindled in recent years: the traditional Jewish deli.
Springing from the multicultural hotbed of New York in the early 20th century, delicatessens spread like wildfire over North America, becoming hubs for communities to gather and gab over succulent steaming cuts of meat. With the rise of processed food, such hubs have become rare, and with few members of younger generations taking up the mantle, Winnipeg's deli contingent has shrunk. It is against this current that Sherbrook St Deli owner Jon Hochman has decided to swim, drawing on a family history of kosher style cooking. It's not a cool market, or an easy one – scratch made fare is high cost and labour intensive – but tradition runs deep, and so does Hochman's passion for the delicatessens of yore.
Bucking the trend has paid off, as a wide cross section of the city can now be found crowding through the front door for a taste of tradition. Food is straightforward and comforting, with items like matzah ball soup showing the power of simple ingredients like onions, garlic, and salt to make up more than the sum of their parts. Housemade latkes, golden ropes of potatoes bound by an expertly crispy fry, and warm knishes graced with a hearty dollop of sour cream and scallion are other kosher style favourites with the inviting comfort of home cooking.
Sandwiches made with thick slices of City Rye bread are piled high with house cured cuts of meats. The market is a notoriously picky one, made up of deli fanatics who know just what they want, but surely none will find fault with exquisitely marbled and lightly tangy corned beef, or meltingly tender smoked meat accented simply with a layer of mustard. The menu sticks to tradition, and includes the often overlooked specialties pickled tongue and chopped liver.
Bottomless refills of coffee and housemade soda encourage staying awhile, as do homey Yiddish classics like gribenes, chicken skins fried to a crackling crunch, and schmaltz, the gloriously bad-for-you spread of rendered chicken fat. Indecisive diners can opt for deli staple mish mash soup, a heaping bowl with a little of everything – corned beef, matzah balls, veggies – thrown in.
From photos of Winnipeg landmarks on the wall to sandwiches named after 'Peg icons – from Kelekis' Jim Pappas (corned beef) to Izzy Asper (beef salami) – local influence is easy to spot. Manitoba favourites like beet borscht, smoked goldeye, and Imperial cookies find natural homes on the menu.
The deli's walking neighbourhood location lends well to the homey vibe, keeping in step with delicatessens' long history as gathering places for community. Servers bounce from packed table to packed table, slinging sammies with the teasing familial affection that turns diners into regulars. Sherbrook St Deli is open Mon-Sun 10 am-8 pm.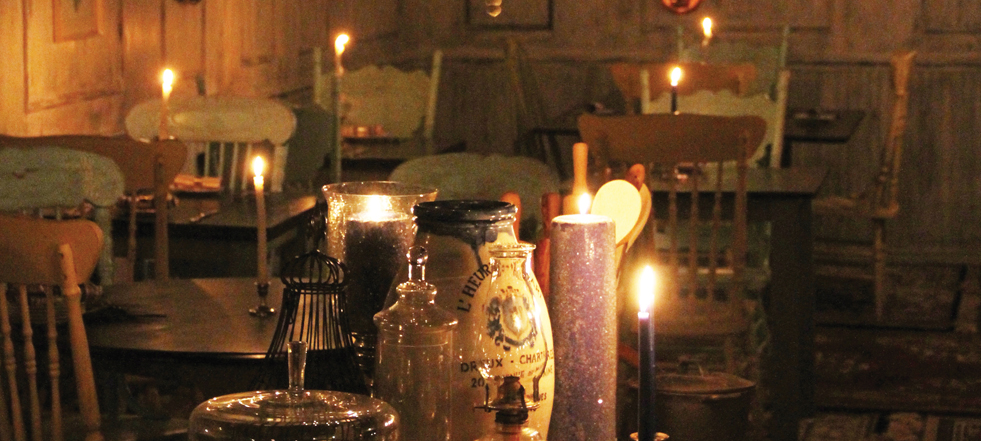 Sous sol
Neighbourhood Osborne Village
Address 22-222 Osborne St
Phone N/A
Entrées $14-$17
Down a set of steps under an unmarked awning and past double doors reading "Vandelay Industries", a nondescript swinging door opens onto a dreamy, charming world. Besides a few electric wall sconces, the romantic lighting is courtesy of wax-dripping tapers on every table and a curlicued chandelier. Mismatched antique chairs, reclaimed wood, and fussy patterned china play off winking touches like a back corner wallpapered with vintage recipes, or the hollowed-out novel that brings the cheque with an auspicious flourish.
With no phone, no reservations, and a social media presence that only Seinfeld fans will hunt down, Sous Sol may frustrate the modern diner's need to digitally scope every aspect of an experience before making the trek to eat out. Cheekily doling out a liberal dash of mystery, this neo-speakeasy creates a dining experience that thrives on hush-hush theatricality but warmly welcomes those who seek it out.
Speakeasies have been trending in hubs like New York and Chicago for years, playing to Jazz Age aesthetic by hiding chic cocktail spaces behind unmarked doors and fake businesses. Libations raise the ante on their Prohibition Era counterparts, with craft cocktail lists as carefully curated as the menu. Sous Sol hits all these marks, serving creative drinks, stellar food, and unbeatable atmosphere.
Helmed by some of the minds behind Sydney's at the Forks (including head chef Michael Robins), fine dining influence shines through the ever-changing menu. Though updated weekly, the collection of cheffy French classics is always sure to raise the bar on cuisine while keeping the familiar feeling of comfort food – like all French menus, there is no fear of butter here.
Meat is showcased in divine preparations that follow the tenants of haute cuisine, from surpassingly rich duck confit to perfectly seared and juicy beef noisette, topped with a decadent round of foie gras and served, on one visit, atop a dreamy sherry demiglace. Lean horse tartare finished with an orange orb of yolk gains a light briny note from chopped capers, accenting the richness of the jewel-pink meat.
Fish is also handled deftly. An exquisite piece of pan fried sea bream on one visit was crisp and flaky, served skin-on. A scattering of kale, sautéed leeks, plump capers, whole hazelnuts and chopped eggs cloaked in a light, zingy mousseline delivered a perfectly balanced complement.
Indulgence is the name of the game for sides like thinly sliced potatoes dauphinoise, (a popular recurring menu item) bathed in rich cream sauce, or pillowy ricotta dumplings, redolent of brown butter.
The restaurant's sense of humour (you may find rubber chickens hiding throughout the room) makes its way onto the menu in the form of playful appetizers and wild cocktails, like addictively tender frogs' legs, fried until crisp in airy herbed batter, or a tall rum-based concoction lit on fire and delivered to the table with a housemade marshmallow and mini roasting stick.
With a charming blend of craft, elegance, and playfulness, it's clear that despite its best efforts, this gem won't stay hidden for long. Sous Sol is open Fri-Sun 5 pm-2 am.