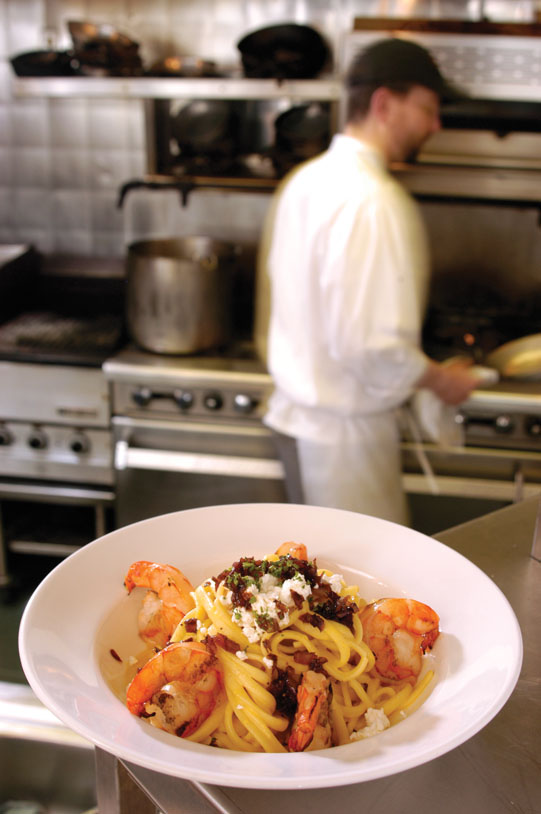 Neighbourhood: Downtown
Address: 326 Broadway
Phone: 204-943-5066
Entrees: $12-$23
Tucked beneath the wing of its upscale sibling Amici, Bombolini is the master of bistro fare. Over the past two decades it has built a distinctive identity with its authentic, yet affordable, gourmet Italian cooking.
The secret is consistency. And that comes from the top. Executive Chef Patrick Shrupka floats between Bombolini and the upstairs kitchen of Amici. He and Bombolini Chef Todd Bjornson have both been here for 15 years. They work in the open kitchen with a practiced precision that results in an exceptional dining experience.
It all starts with the scallops. The plateaus of these creamy white giants are crusted with garnet flecks of sun-dried tomato. A stream of balsamic reduction adds a sweet sharpness to the buttery shellfish.
The mussels' deep violet shells jut out from a generous pool of cream as if coming up for air. Garlic, fresh parsley and tomato infuse the silky sauce with the essence of a true Italian kitchen.
All pastas are available in small and large portions, making it fun to share dishes with your tablemates. Most pasta is made in-house and the linguine is a testament to this high standard: thick tendrils that give the slightest resistance with each bite. The generous knot of pasta is bathed in a velvety roasted butternut squash cream sauce. Dollops of goat cheese melt to create a creamy tang throughout the pasta. Perfectly seared meaty shrimp adds a subtle taste of the grill to this mild, earthy dish.
Veal scaloppini has the substantial presence of red meat, but is richer and far more delicate. A lemon, white wine and butter sauce is served with the pan-seared cutlets. Its citric sting mellows quickly to complement the smooth texture of the meat. Most mains are served with vegetables and a side of fettuccine, thoughtfully allowing everyone a taste of Bombolini's exceptional pasta.
The large dessert selection is made in-house and ranges from traditional Italian treats like cannoli, to upscale mainstays like cheesecake doused in lip-puckering sour cherries.
Bombolini is open Mon-Thu 11:30 am-10 pm; Fri 11:30 am-11 pm; Sat 4-11 pm.