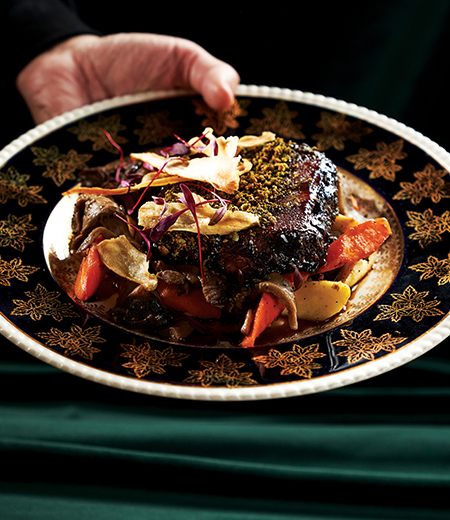 Sous Sol – Chef Kurt Kolbe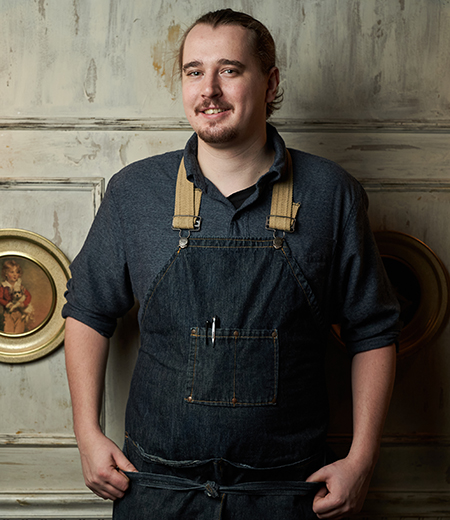 Braised Beef Short Rib with Mushrooms, Roasted Veg & Pistachio Persillade
INGREDIENTS
Braised Beef Short Rib
500g beef short rib
3 cups beef stock
3 cups red wine
2 carrots
1 large white onion
3 ribs celery
1 star anise
1 cinnamon stick
3 cloves garlic
6 sprigs thyme
Roasted Root Veg
3 carrots
3 parsnips
1 Tbsp olive oil 
Mushrooms
2 cups mushrooms
1/2 cup white wine
1 Tbsp butter
1 clove garlic, sliced
Pistachio Persillade
1/4 cup toasted pistachio
1/4 cup fresh parsley
METHOD
Braised Beef Short Rib
1. Sear the short rib.
2. Reserve 1/4 cup of red wine. In an oven safe dish pour remainder of wine and the beef stock over beef, which should be half covered. Add mirepoix, garlic, thyme, star anise and a cinnamon stick.
3. Bake covered for 4-6 hours at 375°F.
4. Take short rib out of the oven, carefully remove it from the stock and allow to rest.
5. Strain the liquid and return to a pan. Reduce by 3/4. Near the end of the reduction add 1/2 cup of sugar and reserved red wine. The sauce should be just thick enough to coat the beef.
6. Once the beef has rested and cooled, slice into serving sized portions. The beef is easiest to slice when it is fully cooled. Sear portioned beef in a pan with olive oil, and add the sauce to the pan. 
Roasted Root Veg
1. Reserve one parsnip. Peel and oblique remaining parsnips and carrots.
2. Toss in olive oil, salt and pepper.
3. Roast on a baking sheet for 30 minutes at 400°F, or until al dente.
4. Thinly slice remaining parsnip and fry.
Mushrooms
1. Clean and slice mushrooms.
2. Sear in a hot pan.
3. Add white wine, butter and garlic and allow to cook down.
Pistachio Persillade
1. In a food processor, process toasted pistachios & parsley.
2. Lay on a flat surface and allow mixture to dry.
Assemble roasted root veg and mushrooms in a bed on a plate. Place the short rib on top, and pour the sauce from the pan over top. Garnish with pistachio persillade. Serve and enjoy.
Yield 2-4 servings