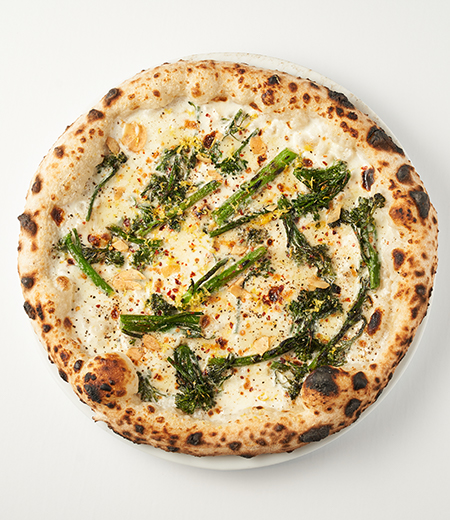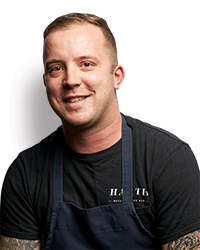 Harth – Chef Brent Genyk
It takes hours for the wood-burning oven at Harth to reach its optimal, 900-degree temperature, but the resulting fast-fired Neapolitan pizzas possess a distinctly crunchy crust and slight, smoky char. Sweet, earthy broccolini plays in heavenly contrast with the slight spice of chili flakes and a rich crème fraîche sauce.
Broccolini Pizza
INGREDIENTS
Dough
4 cups bread flour, preferably Italian-style "OO"
4 tsp kosher salt
2 tsp instant yeast
1 2/3 cups water
Toppings
8 spears broccolini
1/3 cup fior di latte
1/2 cup crème fraîche
cracked black pepper, to taste
chile flakes, to taste
zest of 1 lemon
1 Tbsp garlic oil
pecorino, for grating
METHOD
Dough
1. Combine flour, salt and yeast in a large bowl and whisk until homogenous. Add water and incorporate into flour using hands until no dry flour remains on bottom of bowl.
2. Cover bowl tightly with plastic wrap and allow to rise at room temperature for 8 to 12 hours.
3. Turn dough out onto lightly floured surface and divide into four even balls. Place each in a covered quart-sized deli container or in a zipper-lock freezer bag. Place in refrigerator and allow to rise at least 2 more days, and up to 4.
4. Remove from refrigerator, shape into balls, and allow to rest at room temperature for at least 2 hours before baking.
Yields dough for 4 pizzas
Pizza
1. Place pizza stone on middle rack and preheat the oven to 450°F.
2. Lightly flour work surface and stretch pizza dough into circle with a 12-inch diameter.
3. Spread even layer of crème fraîche on base of dough, followed by cracked pepper, chile flakes, lemon zest and grated pecorino.
4. Arrange broccolini and fior di latte so that it isn't overlapping.
5. Move to the pizza stone with pizza paddle and bake 15 minutes, or until cheese is melted and crust is cooked.
6. Cut into 6 pieces and enjoy. 
Yield 1 pizza