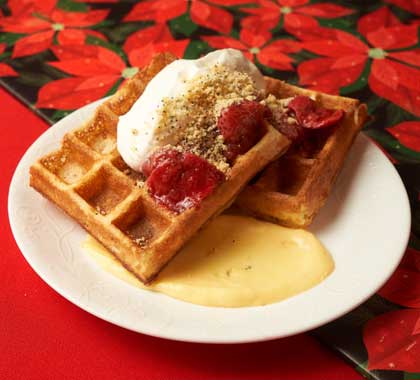 Brussels Waffle with Lemon Curd,
Roasted Strawberries and Lemon Poppy Seed Crumble
Start a new Christmas morning tradition with these decadent waffles. Find the roasted
strawberry compote recipe on ciaowinnipeg.com
INGREDIENTS
Lemon Curd
1/2 cup lemon juice
zest of 1 lemon
1/2 cup sugar
2 whole eggs plus 2 egg yolks
3/4 cup butter
pinch of salt
Lemon Poppy Seed Crumble
1/2 cup plus 1 Tbsp butter
1/2 cup flour
1/3 cup non-fat milk powder
1/2 tsp salt
1 Tbsp poppy seeds
zest of 2 lemons
Brussels Style Waffle Batter
2 large eggs
1/2 teaspoon vanilla extract
1 3/4 cups whole milk
1/2 cup half-and-half cream
8 Tbsp unsalted butter, cut into 1-inch pieces
3 Tbsp sugar
1 1/2 cups, plus 2 tablespoons, all-purpose flour
3/4 cup semolina flour
1/4 cup cornstarch
1 1/4 tsp kosher salt
1 tsp baking powder
1 1/2 tsp instant yeast
nonstick cooking spray
METHOD
Lemon Curd
1. In a stainless steel mixing bowl, whisk together lemon juice. sugar, lemon zest, eggs and yolks until smooth.
2. Place the bowl over a pot filled with 2 inches of water simmering over medium high heat. Whisk constantly until mixture thickens and coats a spoon.
3. Remove the bowl from heat and whisk in butter and salt. Pour curd into a container
and let cool overnight.
Lemon Poppy Seed Crumble
1. In a food processor, blend all ingredients into a coarse crumb.
2. Spread mixture evenly on a parchment lined sheet. Place in oven at 325°F. Bake for 18 minutes, then stir and bake for an additional 15-20 minutes or until mixture is golden brown.
Brussels Style Waffle Batter
1. In a large bowl, whisk together the eggs and vanilla. Set aside.
2. In a small saucepan, heat the milk, cream and butter over low heat until the butter is almost melted. Remove from the heat and whisk in the sugar, then slowly pour the milk mixture into the egg mixture, whisking until smooth.
3. In a large bowl, whisk together all-purpose flour, semolina flour, cornstarch, salt, baking powder and yeast. Slowly pour the egg mixture into the flour mixture, whisking simultaneously until smooth. Cover the batter with a kitchen towel and let sit at room temperature until it almost doubles in size, about 1 1/2 hours.
Assembly
1. Preheat oven to 225°F.
2. Preheat waffle iron and when the iron is hot, grease the grids with nonstick cooking spray. Ladle some batter into the centre, about 1 cup for a large waffle iron. Close the iron and cook until the waffles are golden brown and crisp, around 5-7 minutes. Transfer the waffles to the wire rack and keep warm in the oven. Repeat with the remaining batter.
3. Top each waffle with your desired amount of lemon curd, strawberry compote, lemon poppy seed crumble, whipped cream and maple syrup.
Yield 6 servings