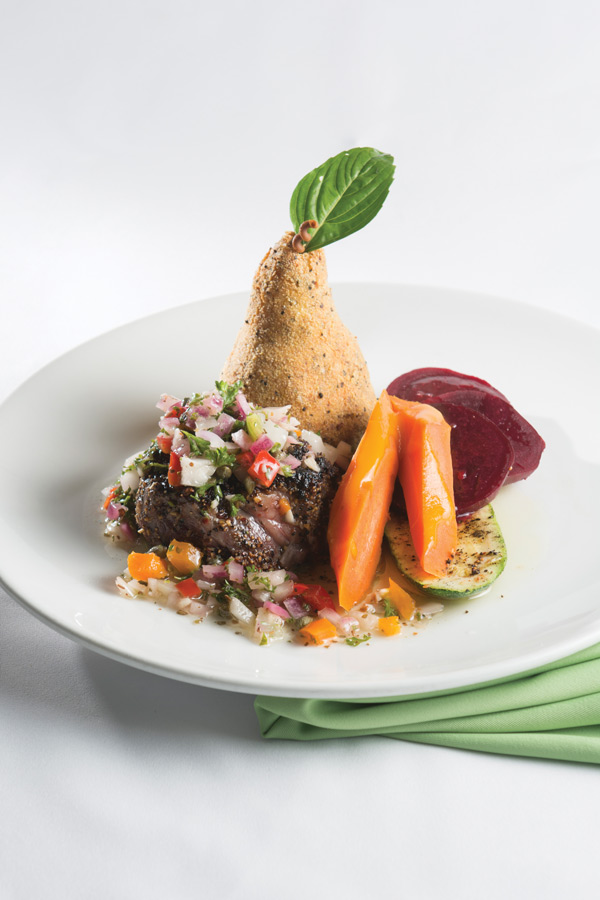 Neighbourhood: West End
Address: 1390 Erin St
Phone: 204-783-2813
Entrees: Prix fixe (5 Courses) $39
(2014 review)
Tourists in South America are often surprised by the continent's gastronomic diversity; savory and spicy roasted meats, tropical fruits and fresh seafood share the dinner plate with staples like corn, rice, beans and potatoes. That bold and broad palate has found its way to Winnipeg thanks to Chef Dario Pineda-Gutierrez, a native of Colombia who has been sharing Pan American flavours at Café Dario since 2006.
Once the Executive Chef at Manitoba's Government House, cooking for celebrities and royalty, Chef Pineda-Gutierrez's culinary playground is now a canary yellow house on Erin Street whose principal rooms are divided into a cozy,  40-seat restaurant and adjoining patio decorated with earthy colours, folk art and indigenous wooden masks. The fixed price menu for dinner offers five course meals ($39 per head) which change nightly. Sunday-Tuesday, two can dine for $95, including a bottle of wine.
Pineda-Gutierrez shares the kitchen with Chef Matthew Yuen, who helps deliver a north-south fusion through ingredients, sauces and seasonings. When a local meat supplier offered a cut of water buffalo, Yuen made it into chorizo and paired it with three cheeses in a mac n' cheese croquette—a creamy, smoky mound served on a bed of aioli and tropical fruit. Beef tenderloin is anointed with Pineda-Gutierrez's signature chimichurri sauce, bright and refreshing with oil and basil, garlic and capers. Barbequed pork ribs tango with a rum infused pina colada glaze, tangy with citrus notes of lemon and lime. Salmon comes cloaked in a banana leaf, a steamy parcel of roasted fish piquant with sautéed onions, peppers and celery, topped with sweet, creamy corn and hint of heat from jalapeño.
South American cooking techniques coax new flavours out of Manitoba's regional specialties. The elk osso buco, prepared sancocho style, reveals a thick and meaty broth swimming with aromatics like onions and cilantro, and thickened with potatoes, yucca and corn.
Lunches served a la carte are equally exotic: hand cut fries are paired with a venison hotdog wrapped in a flaky Indian onion flatbread. Soup is house made daily, and desserts, like the silky coconut chocolate mousse served in a puddle of refreshing mango puree, are sweetly satisfying.
Cafe Dario serves lunch Monday to Friday 11:30 – 2 pm and dinner nightly from 5 pm onwards.
© 2014 All rights reserved. Reproduction in whole or in part is strictly prohibited.