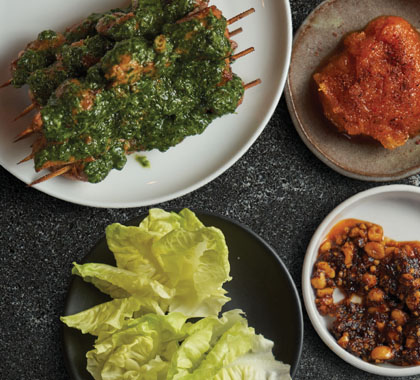 This Trinidadian dish is a harmonious mix of spicy, sweet and savoury.
INGREDIENTS
Marinated Pork Skewers
2 pork tenderloins, thinly sliced
4 Tbsp fish sauce
4 Tbsp brown sugar
1 tsp ancho chile
1 tsp all spice
1/2 tsp clove
1 Tbsp paprika
Green Sauce
1 bunch parsley, chopped
1 bunch cilantro, chopped
1/2 cup vinegar
1/2 cup olive oil
2 garlic cloves
1 Tbsp sugar
1 tsp salt
1 tsp black pepper
Pineapple Jam
1 pineapple, cleaned and cubed
1 Tbsp Korean gochu chile powder
1 pickled habanero, finely chopped
1/2 cup honey
Peanut Salsa
1/2 red onion, finely chopped
4 garlic cloves, finely chopped
1/4 cup olive oil
1 cup peanuts, crushed
1 Tbsp ancho chile
1 Tbsp chipotle in adobo, minced
1/2 cup honey
METHOD
Marinated Pork Skewers
1. In a large bowl, mix all ingredients. Marinate for at least 1 hour.
2. Evenly skewer meat in a zig zag fashion.
3. Roast skewers at 450°F until browned.
Green Sauce
1. Combine all ingredients and blend until smooth.
Pineapple Jam
1. Combine ingredients in a pot, simmering until pineapple is tender and falling apart.
2. Leave as is for a chunkier jam. For a smoother texture, blend half of jam then incorporate other half.
Peanut Salsa
1. In a heavy bottomed pot, fry onion and garlic in olive oil until golden.
2. Add peanuts, frying to pull out natural oils.
3. Once well toasted, add remaining ingredients and bring to a simmer. Remove from heat.
4. Allow mixture to cool in pot, occasionally mixing to evenly distribute oil.
ASSEMBLY
1. Spoon pineapple jam and peanut salsa into side bowls.
2. Layer large leaves of lettuce on a side plate.
3. Spoon green sauce onto hot pork skewers.
4. Wrap in lettuce and enjoy.
Yield 12-16 skewers