Micro-Distillery Tour and Tasting – $25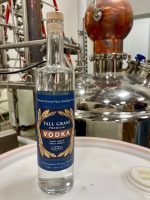 Experience an interactive tour of Capital K Distillery, a state of the art facility producing locally made spirits. Learn the details of the distilling process and see custom-engineered equipment, then enjoy a tasting session of the hand-crafted spirits in the on-site tasting lounge. Savour each sip and discover new flavour profiles at the same time.  
The visit concludes with a craft cocktail of your choice, made by a master bartender. This is a great edu-taining event for couples and groups looking for a new way to embrace Winnipeg's local beverage scene.
Tour Dates and Times
Feb 11, 5:30 pm – 7 pm
Feb 15, 5:30 pm – 7 pm
Feb 17, 5:30 pm – 7 pm
Feb 18, 5:30 pm – 7 pm
Feb 22, 5:30 pm – 7 pm
Feb 23, 5:30 pm – 7 pm