Corrientes Last Course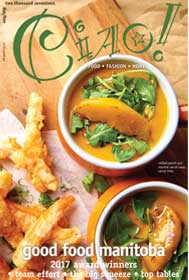 Era Bistro Verde Juice Bar & Green Carrot Juice Co Last Course
Granola Leaf Cookies These bars are great packed for an on-the-go energy boost. INGREDIENTS 2 cups extra thick rolled oats 1 cup whole almonds, roasted and roughly chopped 1/2 cup pumpkin seeds 1/2 cup dried cranberries 1/3 cup honey 1/4 tsp vanilla 1/4 cup peanut butter METHOD 1. Preheat oven to 350°F. Line an 8 […]
The Nook Diner Neighbourhood: West Broadway Address: 43 Sherbrook St Phone: 204-774-0818 Entrées: $5-$15 Fashion moves in cycles, and it's not only vintage dresses and antique typewriters that are back. In the food world, the classic diner has experienced a renaissance as gourmands turn back to no-fuss food and the simple pleasures of a so-called greasy spoon. At […]
Rudy's Eat & Drink Neighbourhood: Downtown Address: 375 Graham Ave Phone: 204-421-9094 Entrées: $18-$26 It's in with the old and in with the new at Rudy's Eat & Drink. Equal parts classic steakhouse décor—leather club chairs and wood paneling—and sleek tech touches blend to welcome patrons stepping in from the Manitoba Hydro building. In the last five years, […]
Monticchio Neighbourhood: Osborne Village Address: 684 Osborne St Phone: 204-477-4773 Entrées: $10-$19 For those without Italian grandmothers to nourish souls and stomachs, there's Monticchio Ristorante Italiano. For more than 30 years, this south Osborne mainstay has been serving up Nonna-approved dishes worthy of old-country kitchens. For the last decade, it has done so in an elegant setting that […]
InFerno's on Academy Neighbourhood: Academy Address: 414 Academy Rd Phone: 204-475-7400 Entrées: $15-$22 When InFerno's Bistro on Des Meurons opened in 2003, Winnipeg was introduced to the delights of French bistro cooking. The elegance of French cuisine in the comforting style and price point of a cozy bistro was such a winning formula that it eventually spawned a […]
The VG Restaurant Neighbourhood: Downtown Address: 2 Lombard Place Phone: 204-957-1350 Entrées: $25-$40 For those who explored Winnipeg's dining scene before the era of cheffy fast casual and tapas style menus, The Velvet Glove holds cherished memories of lofty dining and recollections of flaming crepes Suzettes served tableside. Today, the elegant room is still wrapped in the original […]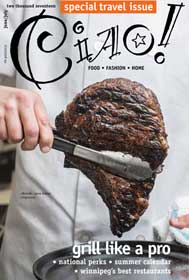 Baileys Carnaval Brazillian BBQ Piazza De Nardi Lovey's BBQ Carne Italian Chophouse Sherbrook Street Deli Last Course
Khao House Neighbourhood: West Broadway Address: 126 Sherbrook St Phone: 204-783-3642 Entrées: $9-$14 So called "comfort food" has taken over the food world in recent years. Yet the conception of what constitutes a crave-able dish has begun to change; veggies can be just as indulgent as carbs and gooey melted cheese. Kicky spice and funky fermentation have been […]
Blufish Neighbourhood: Exchange Address: 179 Bannatyne Ave Phone: 204-779-9888 Entrées: $11-$23 For more than a decade, Blüfish has been an oasis of relaxed, sophisticated cool in the Exchange District. High quality ingredients make this a spot for sushi purists looking for traditional delights, but the other side of the menu offers playful specialties, with unexpected ingredients and creative […]
Bison Berry Restaurant Neighbourhood: North Main Address: 865 Main St Phone: 204-949-1338 Entrées: $5-$11 Breaking bread is the easiest way to create a community—there's nothing like coming together over a warm, steaming bowl of food. At Bison Berry Restaurant in Neechi Commons, this community ethos becomes the basis for a filling, comforting menu of North End classics. Inside […]
Asian Hot Pot Neighbourhood: Corydon Address: 740 Corydon Ave Phone: 204-615-8878 Entrées: $11.95-$25.95 Hot pot is a traditional dish believed to have originated Mongolia, and popularized in China,Thailand, Japan. The basic premise is simple: a boiling pot of stock to which a variety of ingredients can be added, crafting and instant and every changing soup. Like fondue or […]
Clay Oven Neighbourhood: Downtown Address: 1 Portage Ave E Phone: 204-982-7426 Entrées: $15-$18 Like the wood fired pizza oven or the Brazilian churrascaria, the tandoor is a tool singular to its cuisine. At Clay Oven, char-touched, blistered flatbreads and smoky curries show that traditional Indian cooking methods inspire more than the name. The restaurant's three locations in the […]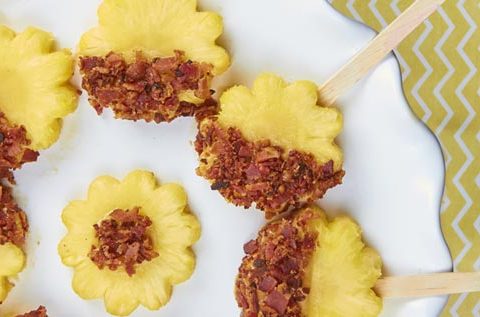 Bacon Dipped Pineapple Pops Shape pineapple slices with a cookie cutter. Brush with caramel sauce and dip in (or spoon on) finely chopped crisp bacon.  
Falafel Place Neighbourhood: River Heights Address: 1101 Corydon Ave Phone: 204-489-5811 Entrées: $6-$15 In the yearly surge of trend forecasts that hit at the end of 2016, it was clear that the food world had spoken—Middle Eastern flavours are hot right now. While chefs are busy incorporating za'atar and zhoug into their dishes, flavours from the Middle East are […]
Park Cafe Neighbourhood: Assiniboine Park Address: 330 Assiniboine Park Dr Phone: 204-927-6080 Entrées: $6-$12 Set inside the beautiful Qualico Family Centre, with its wall of windows giving a lush view of Assiniboine Park, dining at the Park Cafe is as close to a picnic as one can get while still eating indoors. The serene, nature-steeped experience begins before even […]
Pineridge Hollow Neighbourhood: Oakbank, MB Address: 67086 Heatherdale Rd 25E Phone: 204-777-3881 Entrées: $14-$26 To pull off truly impeccable regional cuisine, two elements must be at play—a commitment to and understanding of the land and the creativity to transform every ingredient into a culinary masterpiece. At Pineridge Hollow, where ingredients can come not only from within the province but […]
Across the Board Neighbourhood: Exchange Address: 211 Bannatyne Ave Phone: 204-691-3422 Entrées: $12-$17 In the current age of smartphones and instant entertainment, cafes remain bastions of face to face fun. At the newly expanded Across the Board Cafe, analog entertainment isn't going anywhere. Board game cafes began trending in major cities less than five years ago, and Across the […]
Peg Beer Co Neighbourhood: Exchange Address: 125 Pacific Ave Phone: 204-416-2337 Entrées: $12-$60 The flood of new craft breweries putting our city awash in local suds has made this the year of beer in Winnipeg. While interest in local beer has been steadily growing for years, one of the first restaurants to capitalize on the brewpub concept in Winnipeg was Peg Beer Co. Setting itself apart […]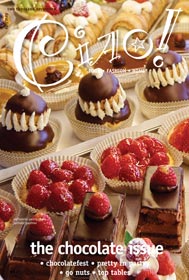 L'epi de Ble OhDoughnuts & Bronuts Last Course
Shannon's Neighbourhood: Downtown Address: 175 Carlton St Phone: 204-943-2302 Entrées: $9-$14 The term "public house" has a certain romantic ring, conjuring up images of quaint towns across the pond, pints of Guinness, jovial laughter. For the quintessential pub experience, airfare is not required—the simple way is to visit Shannon's Irish Pub. The convivial space is […]
Hermanos Neighbourhood: Exchange Address: 179 Bannatyne Ave Phone: 204-947-5434 Entrées: $19-$50 Hermanos Restaurant and Wine Bar opened to rave reviews in 2009, earning a top spot on Ciao!'s list of best new restaurants. Years later, this sultry enclave in the Exchange District has continued to maintain its status as a destination restaurant. The current menu […]
The Dancing Noodle Neighbourhood: Fort Garry Address: A-1393 Pembina Hwy Phone: 204-691-0205 Entrées: $9-$13 Ever since chefs like David Chang and Danny Bowien burst into the global culinary scene in an explosion of spicy, tangy, oily, funky flavour, Asian tastes have become the go-to for chefs looking for flavour inspiration. Techniques, built over decades or […]
Cafe Carlo Neighbourhood: Corydon Address: 243 Lilac St Phone: 204-477-5544 Entrées: $29-$36 Avid eaters are always on the look out for the ever-elusive perfect neighbourhood restaurant, the kind of place with stellar food, an intimate, comfortable setting, and service that easily leads to customers developing a "usual". This trifecta is difficult to achieve, but when […]
La Roca Neighbourhood: Downtown Address: 155 Smith St Phone: 204-615-9605 Entrées: $16-$22 Two tables over, a server ceremoniously slides two brimming shotglasses across the table's surface and begins describing the flavour profile of an aged tequila. Nearby, a circle of jerseyed Jets fans crowds closer to their table to "ooh" and "ah" over the racks of […]
Ciao! magazine's latest digital edition is NOW ONLINE!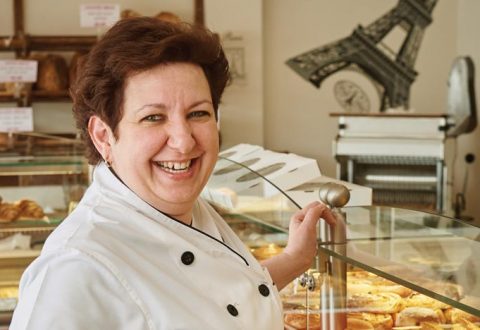 By Arvel Gray Sweet delicacies are having a moment in the sun, from the macaron explosion originating in Europe to SoHo's towering, candy crusted shakes. Yet for Nathalie Gautier and her husband, Gilles, Instagram-worthy desserts are not a fleeting trend but a representation of years of hard work mastering time honoured techniques. Their bustling Main […]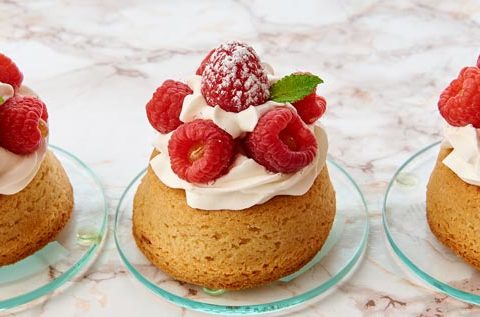 White chocolate ganache is whipped until light as air and used to top this dreamy treat. Nathalie imports gold glitter glaze to fill the raspberries for a luxurious look. INGREDIENTS Almond Crust 2 cups flour 2/3 cup salted butter 3/4 cup and 1 Tbsp icing sugar […]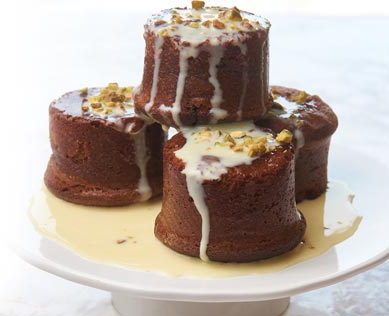 These rich morsels break open to reveal a gooey truffle centre. Crème anglaise, poured on just before serving, is the final flourish ingredients Cake 7/8 cup chocolate 1/4 cup butter 3 eggs 1/4 cup sugar 1/2 cup flour Truffle Centre 1/2 cup dark chocolate 1 tsp whipping cream (35%) pistachio, to taste Crème Anglaise 1 […]