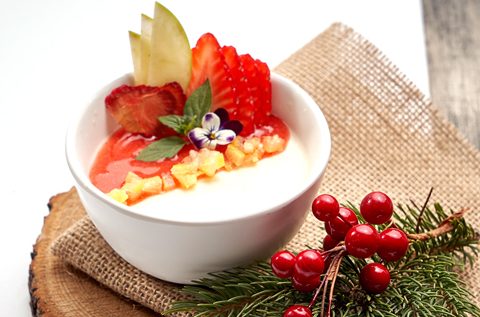 Lavender Panna Cotta with Preserved Lemon Fresh berries beautify and preserved lemon perks up this sweet and creamy dish with an unexpected hit of salt and sour. INGREDIENTS Panna cotta 2 1/2 gelatin sheets Water 2 Tbsp lavender (dried or fresh) 1/4 tsp rose water 1/2 tsp vanilla extract 2 cups heavy cream (or coconut […]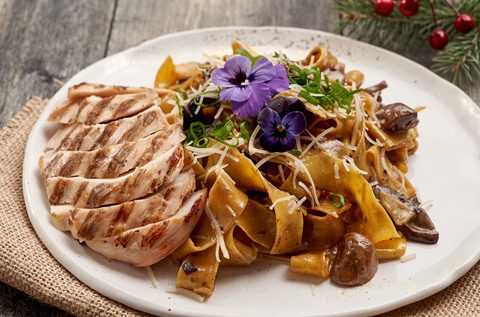 Creamy Black Garlic Pappardelle Black garlic adds sweetness reminiscent of balsamic vinegar. INGREDIENTS Sauce 4 cups whipping cream 1 bulb black garlic, available at De Luca's Specialty Foods 1 cup of mushrooms per serving of pasta Salt and pepper to taste Assembly Pappardelle or pasta of your choice 1 chicken breast per serving of pasta […]
Pesto Tomato Baked Brie The savoury topping pairs well with gooey baked brie and a fresh baguette. Purchased pesto can be used. INGREDIENTS 1 cup chopped tomatoes 3/4 cup pesto 1 1/2 cups olive oil Pepper to taste 3/4 cup shredded parmesan cheese 2 cloves garlic, minced 1 wheel of brie cheese METHOD 1. Mix ingredients […]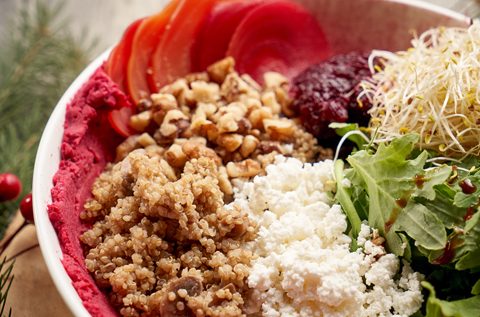 Beet Bowl This hearty dish uses beet four ways,  including powdered. One XL bowl makes a festive and colourful starter for four. INGREDIENTS Beet hummus 1 medium beet 15 oz can of chickpea, drained 1 tsp toasted sesame oil 1 small clove garlic, minced 1 pinch chopped parsley 1/2 pinch cayenne 1 pinch cumin […]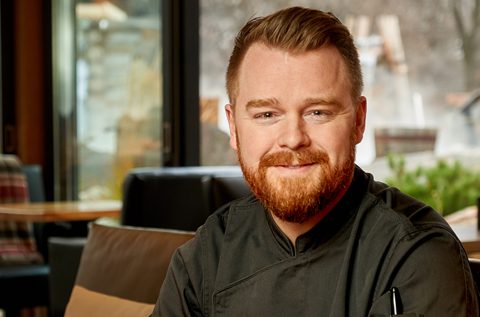 Nurture in Nature Chef Thomas Stuart rounds out a day of relaxation with soul-nourishing comfort food. By Matthew Kruchak Chef Thomas Stuart strolls through the dining room of the restaurant at Thermea by Nordik Spa-Nature, leading the Ciao! team on a visit to sample his inventive dishes. They pass diners in plush white bathrobes enjoying […]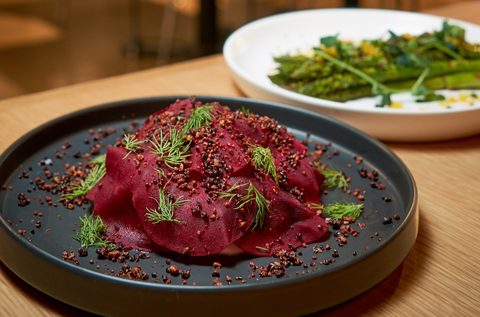 Passero Neighbourhood: The Forks Address: 147-1 Forks Market Phone: 204-219-7300 Entrées: $14-$25 Food halls have surged in popularity the world over. Like their cousins, mall food courts, they offer an abundance of casual eats in convivial settings, with the added bonus of local ownership and chef-crafted menus. In this city, the Forks Common answers this […]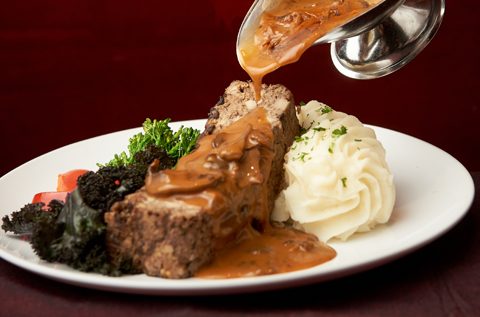 In the Kitchen chef Jackie Hildebrand of Hy's Steakhouse menu: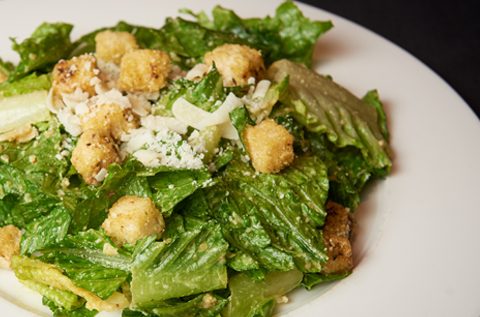 Caesar Salad This recipe reminds us never to settle for a bottled dressing. Bold, garlicky flavour is what makes the Caesar a superstar. INGREDIENTS 1 lb Romaine lettuce (washed, dried and cut into 1.5 inch by 1.5-inch pcs) 2 egg yolks 1 Tbsp Dijon mustard 2 Tbsp canola oil 1 Tbsp olive oil 1 tsp […]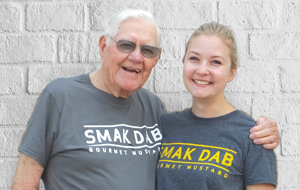 the magic of mustard Manitoba mustard adds flavour to the market. By Kelsey Schaefer Many of Manitoba's culinary products are born because of small-town cooks-turned-entrepreneurs. But when a Red Seal Chef transforms a commonly overlooked crop into a food production business like nothing before, it's worth taking a deeper look. Carly Minish-Wytinck saw an opportunity […]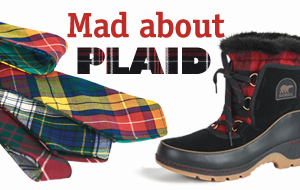 Fall in love with check and tartan prints for this Fall fashion trend!
Steve's Bistro Neighbourhood: Sturgeon Address: 3123 Portage Ave Phone: 204-831-5531 Entrées: $13-$35 It's clear why the Mediterranean diet has gained immense popularity after a glance at the menu at Steve's Bistro. Fresh vegetables, pungent herbs and lean proteins are the building blocks for light, elegant dishes that celebrate fresh flavours. Head chef Steve Kandilakis came to Canada from Greece, […]
Le Garage Neighbourhood: St Boniface Address: 166 Provencher Blvd Phone: 204-237-0737 Entrées: $11.50-$26 St. Boniface is undoubtedly a must-visit for historic, trend-setting and culinary treasures, and when it comes to classic French-Canadian fare, Le Garage is the hidden gem of the trove. This blink-and-you'll-miss-it café is one of Winnipeg's musical hotspots, wedged in amongst Provencher's variety of bustling businesses. […]
Indulge Bistro Neighbourhood: Linden Ridge Address: 1765 Kenaston Blvd Phone: 204-285-4068 Entrées: $17-$34 Stylish hip eateries are generally associated with trendy or up and coming neighbourhoods that we all want to visit. This is a bias food snobs certainly perpetuate, anyway. Sometimes savvy business people turn that thinking on its ear by opening something that zhuzhes up a cement […]
East India Company Neighbourhood: Downtown Address: 349 York Ave Phone: 204-947-3097 Entrées: $15-$18 These days, Indian food can be delivered to your home in plastic containers, or bland butter chicken can be picked up from the grocery store. While these simple solutions to your Indian food fix may cheat your five senses, there's a superior way to enjoy this […]
Bellissimo Neighbourhood: Linden Woods Address: 1-877 Waverley St Phone: 204-489-0495 Entrées: $11-$30 Sitting in the Linden Woods suburb is an Italian eatery that has become a Winnipeg institution over the past 19 years. Co-owners Greg Anania and Greg Gagliardi opened Bellissimo in order to bring fine Italian dining beyond downtown and Little Italy while retaining both sleek sophistication and […]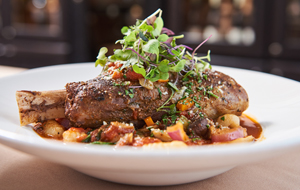 New Restaurant Reviews Bellissimo Sitting in the Linden Woods suburb is an Italian eatery that has become a Winnipeg institution over the past 19 years. Read more…  East India Co. These days, Indian food can be delivered to your home in plastic containers, or bland butter chicken can be picked up from […]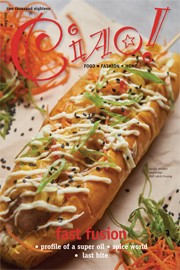 Kyu Bistro Les Saj Clay Oven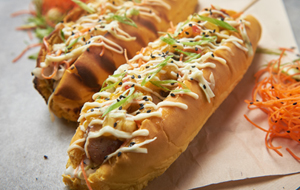 In the Kitchen chef/owner Calvin Truong and KYU Team menu: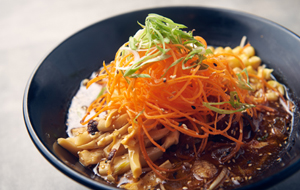 Spicy Peanut Ramen This dish runs on the spicier side, so adjust chilli amounts depending on preference. INGREDIENTS Ramen Broth 1 stewing hen 1 large onion 15 cups water 5 tsp salt 3 tsp sugar Spicy Peanut Sauce 1 cup peanut butter 1/2 cup hot chilli paste 1/4 cup oyster sauce 1 cup mirin 1 […]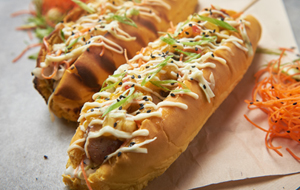 Mango Chicken Heroshima This multilayered sub sandwich uses a 7" egg bun, available at KUB Bakery. INGREDIENTS Chicken Skewers 2 lbs white chicken breast, ground 1/2 lb chicken thigh, ground 1/2 tsp salt 1/4 cup sugar 1 Tbsp garlic, minced 1 tsp black pepper 1 tsp chilli flakes 2 Tbsp potato starch 1/4 cup water […]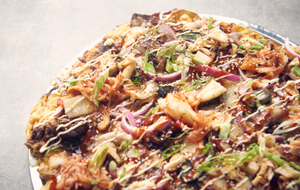 Spicy Bulgogi Pizza Korean-inspired bulgogi beef, packed with flavour, adds spice while tangy kimchi brings the kick. INGREDIENTS Bulgogi Beef 1/4 lb beef, thinly slice 1 tsp salt 2 tsp sugar 1/2 tsp black pepper 2 Tbsp sesame oil 1 tsp garlic powder 2 Tbsp fresh ginger, chopped 1/2 cup pear purée 2 tsp chilli […]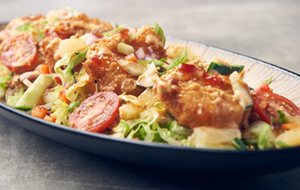 Tamarind Tofu Deep fried crispy tofu pairs well with tamarind sauce made from the sweet and sour fruit popular in Africa and Asia. INGREDIENTS Tamarind Sauce 6 full pieces tamarind fruit 4 cups water 2 cups hot water 1 cup sugar 1/4 cup ketchup 1/8 cup hoisin 1/8 cup vinegar 2 Tbsp potato starch 2 […]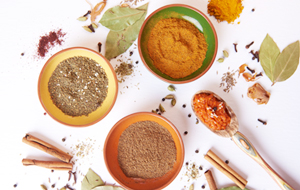 Age-old combinations add depth and kick to any dish Spices are often blends of several seasonings, and the recipes of Chefs Adam Tayfour of Les Saj and Varun Kumar and Anil Kumar of Clay Oven build on rich flavours that age-old spice blends bring to modern tables. These mixtures are versatile and can be used as […]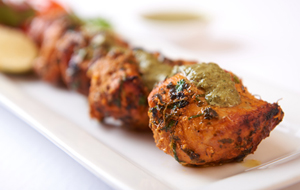 Tandoori Chicken Tikka A long marinade keeps these chicken bites moist on the grill. Coriander, fenugreek and cardamom shine through for deep flavour. INGREDIENTS 1 lb skinless chicken breast, cut into bite-sized pieces 2 Tbsp yogurt 2 tsp chickpea flour 4 cloves garlic, crushed 1 piece ginger, peeled and crushed 1 tsp mild paprika 1/2 […]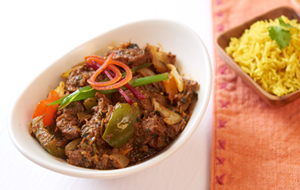 Chefs Varun & Anil Kumar Clay Oven Chefs Varun and Anil present big, bold flavours in their authentic Indian dishes. From biryani and masala to tandoori and thali, customers cross neighbourhood borders to get the fresh, authentic tastes of India prepared just the way they want—mild, medium, hot or extra hot. At the Shaw Park […]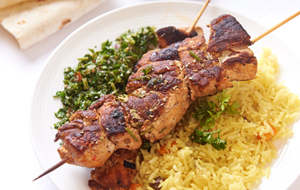 Shish Tawouk Muhammara brings its hint of heat and a little zing (from the sumac) to chicken. INGREDIENTS 1 1/2 lbs boneless, skinless chicken breasts 1 Tbsp garlic, minced 3 Tbsp fresh lemon juice 3 Tbsp extra virgin olive oil 2 Tbsp Greek yoghurt 2 Tbsp tomato paste 1 Tbsp paprika 1/2 Tbsp muhammara paste […]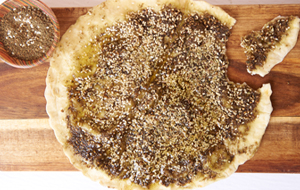 Chef Adam Tayfour Les Saj The saj, a dome-shaped cooking vessel producing a large flatbread of the same name, is the inspiration for chef Adam Tayfour's foray into bringing authentic Middle Eastern and Mediterranean dining to the fast-casual scene in Winnipeg. The tastes of Lebanon and Syria have found a loyal following in St. James […]
Thanh Huong Neighbourhood: West End Address: 534 Sargent Ave Phone: 204-774-8888 Entrées: $7.50-$40 Anthony Bourdain declared Vietnam his first love and its food one of his greatest pleasures of life; a place that "grabs you and never lets you go." The country has a food culture with few culinary inhibitions. Traditional dishes influenced by neighbours China, Laos and Cambodia—as […]
Sukhothai Neighbourhood: Osborne Address: 191 Osborne St Phone: 204-633-6907 Entrées: $11-$17 Sukhothai came on the scene about 20 years ago, thanks to a family that wanted to bring their ancestral home recipes to share with Winnipeg diners. Yet, the vibe is a contemporary one, with décor and service both up to today's standards. Whether diners crave traditional Thai or […]
Saperavi Neighbourhood: Corydon Address: 709 Corydon Ave Phone: 204-416-3996 Entrées: $10-$32 It's the first of its kind in Winnipeg, and on the prairies for that matter. Georgian restaurant Saperavi, run by father-son duo Landis and Christer Henry, opened in 2016. Regions surrounding Georgia, like Eastern Europe and Western Asia, influence the cuisine of the country, so dishes aren't entirely […]