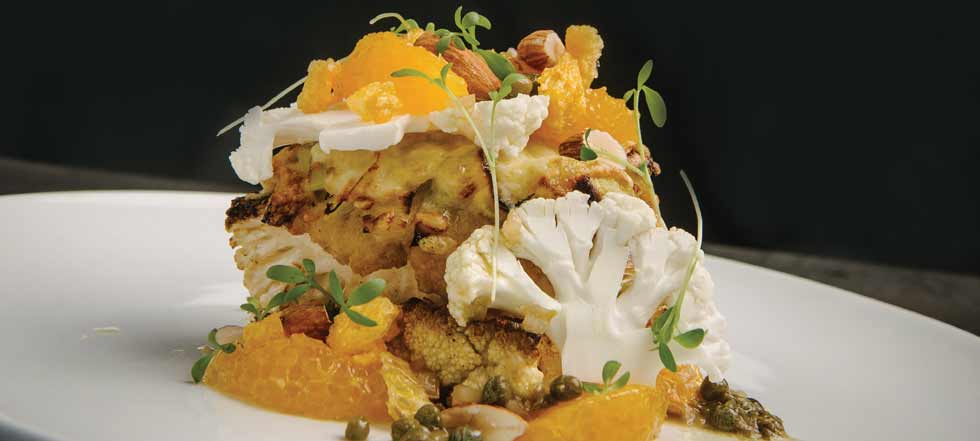 Chef Scott Bagshaw
Enoteca
This vegetable dish is dressed with a panade, a paste used as a binding agent in French cuisine, and a vinaigrette incorporating rich brown butter and briny capers.
INGREDIENTS
Panade
1 Tbsp chopped onion
1 Tbsp butter
1/2 cup cream
salt, to taste
pepper, to taste
grated nutmeg, to taste
1 cup brioche pieces
Brown Butter Vinaigrette
3 Tbsp unsalted butter
1 Tbsp chopped shallots
1 Tbsp capers
1 Tbsp Sherry vinegar
Cauliflower
2 Tbsp chopped leeks
2 1/4" slices of cauliflower
1/4 cup grated Gruyère
6 orange segments
6 dehydrated orange pieces
1 Tbsp toasted almonds
METHOD
Panade
1. Sauté the onions in butter until translucent.
2. Add cream, salt, pepper, nutmeg, and brioche. Mix until incorporated.
3. Blend in food processor until smooth.
Brown Butter Vinaigrette
1. Brown butter by heating until butter colours and emits a nutty aroma.
2. Cook shallots, capers, and browned butter in a pot until shallots are translucent.
3. Add vinegar.
Cauliflower
1. Sauté leeks.
2. Cook both sides of cauliflower until brown. Put on an oven safe pan.
3. Stack cauliflower and top with panade, leeks, and Gruyère. Place in 400°F oven until cheese has browned.
4. Place cauliflower stack on a plate and drizzle with vinaigrette. Garnish with oranges and almonds.
Yield 1 serving