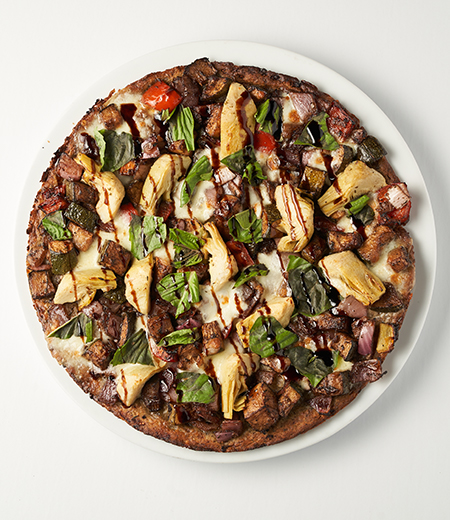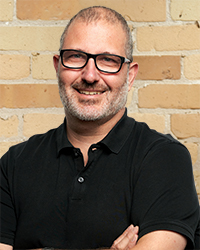 Cafe 22 – Tony Anastasio
The pervasiveness of plant-based diets ensures cauliflower crust is more than a fad, and Cafe 22's on-point execution satisfies the tastebuds as well as diet restrictions. A medley of sweet roasted vegetables and artichoke hearts is sweetened by a drizzle of balsamic glaze, while mild fior di latte oozes atop this veggie delight.
Cauliflower Crust Pizza
INGREDIENTS
1 frozen cauliflower pizza crust (purchased from Cafe 22 or local grocer)
1 cup red peppers, chopped
1 cup red onion, chopped
1 cup zucchini, chopped
1/2 cup artichokes (canned or frozen), drained and rinsed
salt and pepper to taste
1/2 cup balsamic vinegar
1/4 cup olive oil
1 tsp dried basil
1 Tbsp fresh garlic, minced
2/3 cup fresh fior di latte mozzarella or vegan cheese
5 leaves fresh torn basil
1 Tbsp garlic herb oil (see below)
METHOD
Garlic Herb Oil
1. Pour 1/4 cup olive oil into a medium saucepan over medium-low heat.
2. Add 1 clove garlic and cook about one minute.
3. Turn off heat. Add another 1/4 cup olive oil, 1/2 tsp basil, 1/2 tsp oregano.
4. Transfer to container and place in fridge for eight hours or overnight.
Yield 1/2 cup garlic herb oil
Roasted Vegetables
1. In a mixing bowl combine all vegetables, salt, pepper, herbs, oil, vinegar and garlic.
2. Place on a sheet pan and roast at 425°F for 20 minutes.
3. Set aside to cool.
Pizza
1. Preheat oven to 425°F.
2. Lightly oil and place thawed cauliflower crust on pan.
3. Spread prepared garlic herb oil over crust and evenly distribute oven roasted vegetables.
4. Spread fior di latte over pizza.
5. Cook for 20-30 minutes.
6. Slice into 8 pieces and garnish with torn basil leaves. Top with garlic herb oil.
Yield 1 pizza