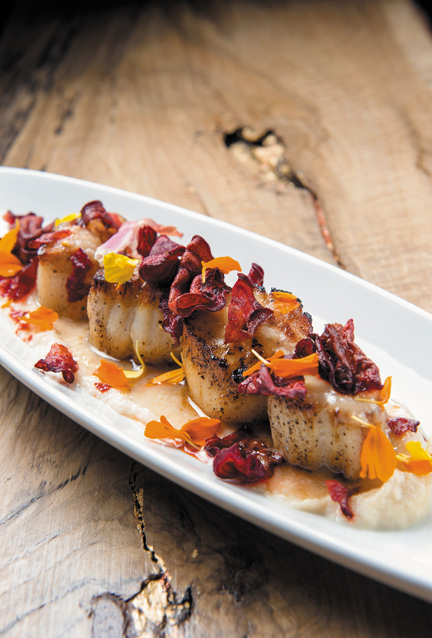 Neighbourhood: Corydon
Address: 532 Waterloo St.
Phone: (204) 667-2439
Entrees: $17-$25
In an industry marked by lavish trends and costly overheads, the small 21-seat dining room at chew seems a deliberate act of rebellion. In fact, everything from its strip mall spot located off the quiet end of Corydon, to the appearance of off-cuts peppered throughout the menu is, in its own way, quietly radical.
Rich chestnut walls bearing housemade preserves and pickles, finished with a quote from culinary philosopher, Alice Waters, have transformed the space. From the moment Chef Kyle Lew appears with a board of warm housemade focaccia and herb-infused bone marrow butter, a sort of unhurried intimacy settles in.
Course after stunning course pours from the kitchen manned by Lew and his wife, Chef Kristen Chemerika: perfectly seared scallops served over an equally impressive saffron cauliflower purée, topped with preserved lemon, follows a fragrant beet salad married with fried Halloumi slices. Pacing is spot-on, chefs transition easily from kitchen to dining room, and in the distance you can just hear the cooing of the couples newborn tucked away in the kitchen. The effect is somehow familiar, like a private meal shared among old friends. It's not uncommon for the last seating of diners on  a Saturday night to share plates and rub elbows over bottles of wine.
Here, every ingredient serves a purpose. Rich gnocchi and earthy duck confit, are beautiful counterpoints to bitter dandelion greens and the inherent sweetness of marjoram. The spiced acorn squash soup is balanced with a baguette of bacon jam. The market-based menu highlights regional flavours, and is subject to change on a whim. Chew's passion for butchery shines in creative applications of overlooked cuts like the ribbons of pig ears served crispy with a tangy chipotle mayo.
The dishes at chew belie a maturity and unexpected depth from two chefs under 30. And, in starting small, they have averted the pitfall of many young ventures: overextending themselves.
Above all, the excitement that chew has for food is not only palatable, but catching. Peek through the windows after 9 pm any given night, and take note of the raucous laughter in the air. Better yet, reserve a seat and get in before the groundswell.
Chew is open Tues-Sun 11 am- 11 pm.