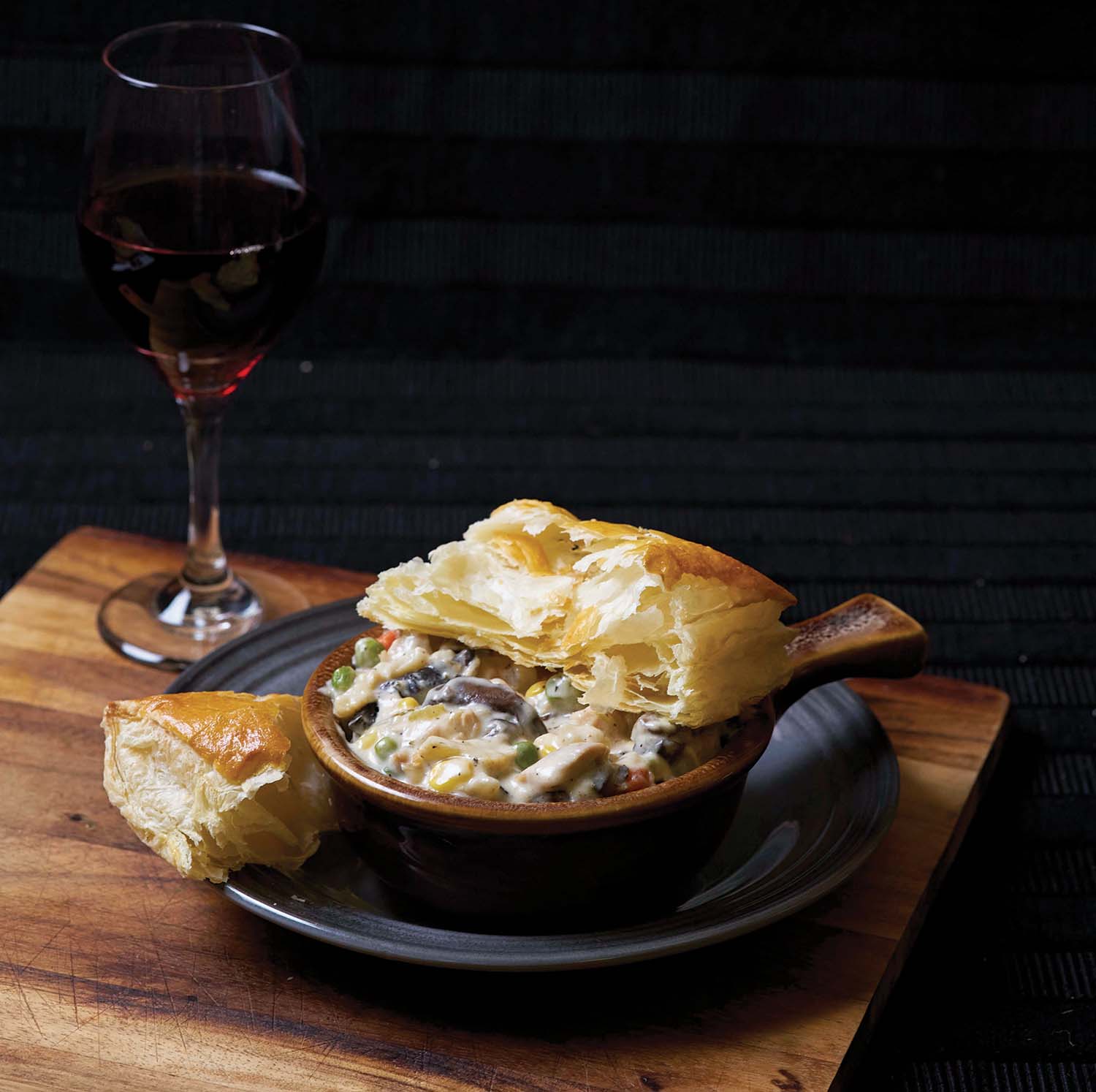 Chicken Pot Pie
Courtesy of Chef Steven Watson – Marion Street Eatery
INGREDIENTS
Filling
1 medium sized roasted chicken
1/2 cup diced onion
1/2 cup diced carrot
1/2 cup diced celery
1/2 cup cauliflower florets
1/2 cup corn niblets
1/2 cup green peas
1/2 cup cremini mushrooms, sliced
1/4 cup olive oil
6 squares puff pastry
1 egg, whisked
Sauce
1/4 cup all purpose flour
2 Tbsp butter
8 cups 18% cream
4 sprigs thyme
2 Tbsp honey
salt and pepper to taste
METHOD
Filling
1. Preheat oven to 400°F .
2. Pull the meat off chicken in large chunks.
3. Toss caulifower in just enough olive oil to coat.
4. Roast for 8 to 10 minutes until cauliflower begins to brown.
5. Heat the rest of the oil in a large pot over medium heat and add onions and carrots. Sauté until onions are opaque, then add celery.
6. Once carrots are firm but not crunchy, add mushrooms, corn and peas. Sauté until mushrooms are soft.
7. Remove from heat. Pour filling into a dish and set aside.
Sauce
1. Melt butter over medium heat.
2. Add flour and stir to combine.
3. Add cream, thyme, honey and stir as it comes to a simmer.
4. Once cream is simmering and thickening, add salt and pepper to taste.
5. Toss chicken and vegetables into your cream.
6. Spoon hot mixture into 6 – 2 cup ramekins.
7. Top with puff pastry cut to completely cover the dish and brush with a whisked egg.
8. Bake at 400°F for about 10 minutes, until pastry is golden brown.
Yield 6 servings