These sinful sippables give new meaning to the words "chocolate bar"
---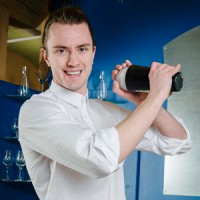 Levon Kutcy
Rudy's Eat & Drink

Ingredient Inspiration
Levon's whimsical creations are inspired by favourite candy combinations. The White Chocolate Campino harkens back to childhood memories of raspberry and cream candies, while Rudy's Chocolate Orange is a grown-up version of the classic Christmas treat. Soda fountain meets cocktail bar for the Guinness Float, which plays with a classic pairing – who doesn't love peanut butter and chocolate?
---
Levon's Choc-tails
Mixology isn't all shot-pouring and ice-shaking. With culinary influences creeping into craft cocktail culture, more bartenders may be finding themselves in the kitchen. These three drinks combine the liquor cabinet with cucina concoctions housemade coulis, orange syrup, and ice cream.
[one_half]White Chocolate Campino
Ingredients
1 oz 2% milk
1 1/4 oz Creme de Cacao
2/3 oz Chambord
1/3 oz Vanilla Vodka
raspberry coulis
white chocolate dipped raspberries (for garnish)[/one_half]
[one_half_last]Method
1. Spoon a dollop of raspberry coulis into the bottom of a martini glass. (Blend raspberries and strain to remove seeds.)
2. Fill cocktail shaker with ice and add in the milk, Creme de Cacao, and chambord.
3. Shake for about 10 seconds and strain mixture into glass. Garnish with white chocolate dipped raspberries.[/one_half_last]
know your cocoa
Crème de cacao is a cocoa bean flavored liqueur, often scented with vanilla. It is different from chocolate liqueur, which is usually sweeter and more syrupy. It exists in two different variations: dark crème de cacao is dark brown, while white crème de cacao is a clear form of the same liqueur. These recipes use white crème de cacao, so as not to dilute the colour of the drink.
---
[one_half]Guinness Float
Ingredients
1/2 oz Creme de Cacao
1/2 oz Frangelico
5-6 oz Guinness
peanut butter chocolate ice cream (housemade)
cocoa powder (for garnish)[/one_half]
[one_half_last]Method
1. Place a few scoops of ice cream into a goblet or large glass.
2. Mix Frangelico and Creme de Cacao and pour over ice cream.
3. Using a spoon to control the pour, float Guinness on top of the drink.
4. Garnish with a sprinkling of cocoa powder.[/one_half_last]
floating along
Crème de cacao and nutty Frangelico simulate the flavour of a peanut butter cup in this indulgent dessert drink. Homemade peanut butter and chocolate ice cream mingles with the Guinness to bring out the natural chocolate and caramel notes in the stout.

---
[one_half]Rudy's Chocolate Orange
Ingredients
1 2/3 oz Creme de Cacao
1/3 oz Blood Orange Vodka
orange simple syrup
thinly sliced orange (for garnish)
chocolate orange garnish[/one_half]
[one_half_last]Method
1. Fill cocktail shaker with ice and pour in the Creme de Cacao, blood orange vodka, and simple syrup.
2. Shake for about 10 seconds and strain into a martini glass.
3. Top with a slice of orange and chocolate garnish. (Drizzle parchment or wax paper with melted chocolate and sprinkle with orange zest. Snap into pieces when solid.)[/one_half_last]
orange you glad
Layers of orange flavour make up this citrusy-sweet drink. Blood orange vodka provides a mellow, sweet base accentuated with an orange-infused syrup. Float a thin slice of orange in the drink for a garnish that imparts a tangy, fresh finish with just a hint of balancing bitterness.
keep it simple
Bartenders sweeten cocktails with simple syrup to avoid undissolved sugar crystals. Make this sweetener at home by heating equal parts white sugar and water with flavouring agents. Orange syrup can be made by replacing part of the water with orange juice, or let your favourite variety of chile pepper steep in the syrup for 15 minutes for chile syrup used in the El Choco Loco (below)

---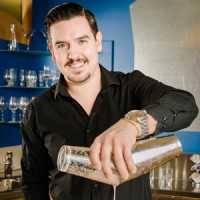 Sean Barringer
295 York

Ingredient Inspiration
Cocoa may be the jumping off point for these lavish libations, but Sean incorporates influential flavours that balance chocolate's signature mouthfeel with tart, bitter, firey, and fruity tastes. The El Choco Loco brings the salty-sweet trend behind the bar, while the Portini takes a typical drink pairing (Port wine with a chocolate dessert) and cuts out the middle man. The Chocwork Orange cuts the creaminess of this white chocolate flavoured drink with a dash of citrusy acidity.
---
Sean's Choc-tails
Classic cocktails have made a comeback in recent years, with hoards of wanna-be Don Drapers bumping the Old Fashioned up to the status of go-to drink. These drinks lean in to the vintage influence, with rediscovered ingredients like egg whites and bitters.
[one_half]Choc-work Orange
Ingredients
1 oz Godiva chocolate liquor
1/2 oz Grand Marnier
1/2 oz Maker's Mark Bourbon
1 oz evaporated milk
3/4 oz orange syrup
chocolate sauce (for garnish)[/one_half]
[one_half_last]Method
1. Freeze chocolate sauce briefly to help keep its form and prevent melting. Squeeze sauce in a thin line around the middle of a martini glass.
2. Combine remaining ingredients in a cocktail shaker full of ice and shake.
3. Strain into glass. Garnish with grated chocolate.[/one_half_last]
milky way
Evaporated milk is the secret ingredient to making this dessert drink decadently creamy and imparting a light sweetness. Made by dehydrating fresh milk through evaporation, this rich, shelf-stable product has been a pantry staple since 1852. Need to use up the rest of the can? Try a Dixie Pearl, Coquito or a Charro – three delicious drinks that highlight this underrated ingredient.
---
[one_half]El Choco Loco
Ingredients
1 oz Patron Cafe
1/2 oz Chocolat Royal
1/2 oz Kahlua
1/2 oz Crème de cacao
chili syrup, to taste
dash Angostura orange bitters
dash Bar 40 umami bitters[/one_half]
[one_half_last]Method
1. Chili syrup: Boil 1/2 cup water, 1/2 cup sugar and 2 quartered Fresno chiles in saucepan stirring frequently. Cool before using.
2. Mix all ingredients in a cocktail shaker with ice.
3. Stir ingredients together. Shaking will dilute mixture too much.
4. Wet the rim of a rocks glass and roll in chocolate salt (mix 2 tbsp kosher salt and 2 tbsp cocoa powder.)Strain drink into glass over fresh ice.[/one_half_last]
better bitter
First used medicinally to help digestion after meals, bitters are now a mixologist's go-to to  add bite and depth to a drink, or to balance sweet, salty and sour flavours. Composed of herbs, spices, fruits, or nuts in a strong alcohol solution, a drop goes a long way. Look for Bar 40 umami bitters to add subtle sweetness and fresh flavour.
fire starter
Chiles pack a big punch,  and chile syrup made from scratch is a perfect way to add some bite to a sweet cocktail. This drink uses Fresno chiles, a South American variety that is less meaty with thinner skin, ideal for adding mild heat.
---
[one_half]Portini
Ingredients
1 oz Taylor 10 Tawny Port
1 oz Crème de Cacao
1 oz egg whites
1 oz grape juice
chocolate-covered grapes (for garnish)[/one_half]
[one_half_last]Method
1. Combine ingredients in a cocktail shaker filled with ice.
2. Shake and strain into a martini glass.
3. Garnish with chocolate covered grapes on a skewer[/one_half_last]
egg-ucation
Egg whites add a luxuriously foamy meringue consistency to mixed drinks. This old-school ingredient is used in cocktails such as Whiskey Sour, Pink Lady, Ramos Gin Fizz or here, in the Portini. Shaking the egg whites ensures that the ingredients emulsify, as the ovabumin protein unravels to form a rich mousse.
---