The winners of the 2014 Ciao! Kitchen Design Competition, presented by Assiniboine Credit Union, show off creative and functional designs perfect for hosting parties of all sorts.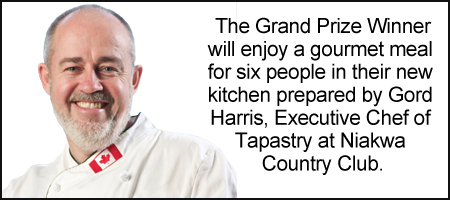 ---
Gra
nd Prize Winner:
Farmhouse Industrial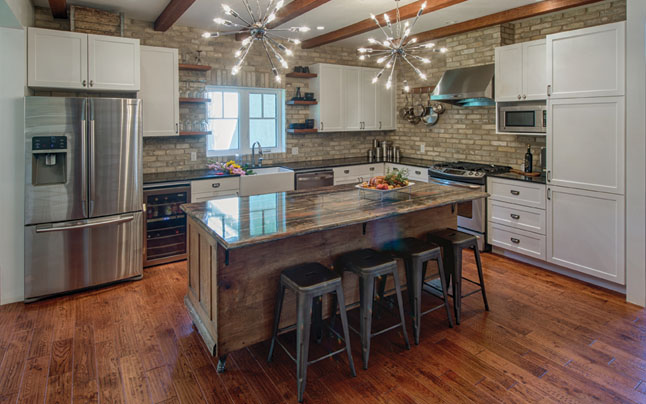 Setting out to build their home on an infill site in Norwood Flats, the owners of this stylish kitchen found themselves challenged to create a space that fit into this older character neighbourhood while still conveying their modern sensibility. These ambitious DIY-ers worked with Harwood Design builders to custom-build a space that blends the new with the old, tying in chic loft elements like exposed brick, stainless steel, and industrial-chic stools with a rustic farmhouse sink, wooden ceiling beams, and antique accents.
This open, spacious room is now the hub of the house. The dramatic central island is made from a reclaimed antique dresser fitted with cast-iron claw feet and a custom print Formica countertop created using a photo of petrified wood. Extra-deep drawers and plenty of cupboard space clear countertops of unwieldy appliances and help make family life more organized, while open shelving around the window shows off chic dinnerware. Recla
imed brick pulled from an old fireplace gives warehouse texture to the classic palette of white and dark woods.
Suppliers: Harwood Design Builders
---
Winner
White and Bright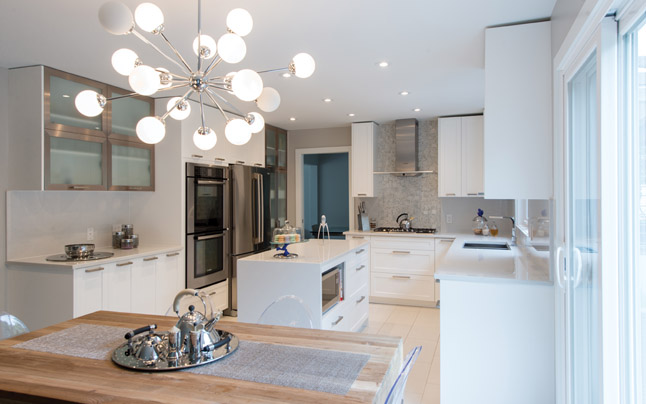 Space for entertaining was a must in this Charleswood kitchen. The homeowners can now host a large Italian family of foodies, without sacrificing storage space or style. The open, airy design offers plenty of counter space, a wide centre island, and kitchen table allowing room for visiting, prepping, and serving.
Floor-to-ceiling cabinets that make use of vertical space, a custom-made island with drawers on both sides, and an open shelf that tucks the microwave out of sight but within reach help efficiently de-clutter while leaving space for helpers. A colour palette of whites and neutrals with stainless steel accents brightens the space, while stylish touches like a modern pendant light and mosiac backsplash give the room a contemporary flair.
Suppliers: Dlux Design and Co.,  Netley Millwork,  Granite by Design,  Tile & Stone Gallery
---
Winner
Tech Chic

Working from the ground up with this new build in Tuxedo, the homeowners behind this sleek kitchen had free reign to create their dream space. Lloyd Sector Architects helped them design an open, impeccably modern kitchen that combines technology, style and function.
Centred around a substantial island, this clean space has plenty of room for cooking or entertaining. Technology is cleverly integrated into the design, from the slim induction cooktop mounted on the counter, with an extraction fan that rises with the touch of a button, to the central vacuum that sucks up debris swept into a vent in the base of the centre island. A TV which can be pulled out and swiveled in any direction, and be seen from any room on the main floor, is cleverly mounted as a dividing wall, separating the kitchen from the living room.
Large windows, rich brown wood cabinets, and removable planter boxes perfect for housing cheery flowers and fragrant fresh herbs inject warmth into the space, making this sleek and welcoming room perfect for a party.
Suppliers: Lloyd Sector Architect,  Cameo Woodworks Ltd.
---
For more photos and to read to complete article, check out the latest issue of Ciao! Magazine here.