The winners of the 2015 Ciao! Kitchen Design Competition, make statements with grand islands and backsplash walls that are functional and timeless.
Custom Cucinas Grand Prize Winner: Quartzite Delight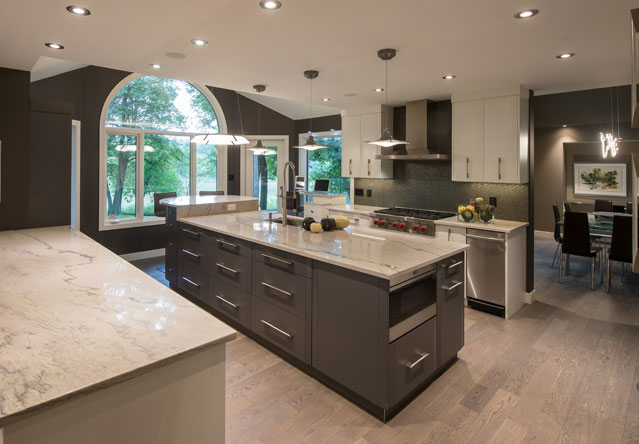 Today's kitchens extend as home office spaces and entertainment hubs. This spacious kitchen in Charleswood boasts its bucolic location with grand river facing windows that bring nature indoors. After several years of planning, the owners realized their dream kitchen with statement making style features paired with well-placed innovations that maximize efficiency.
Counters are covered in white quartzite, tricking the eye as "faux" marble, while offering an easier care surface for messy spills. Removing a wall to the adjacent sitting room, replacing it with a third work space, results in metres and metres of white surface encouraging guests to help without crowding the cook.
When it comes to storage, dozens of drawers and cabinets ensure every utensil, dish, container and car key has its home. The multi-level appliance garage with an automatic on/off outlet allows use without removing anything from the cabinet: a brainy grand-prize worthy storage solution to a problem we've all had since the invention of the toaster.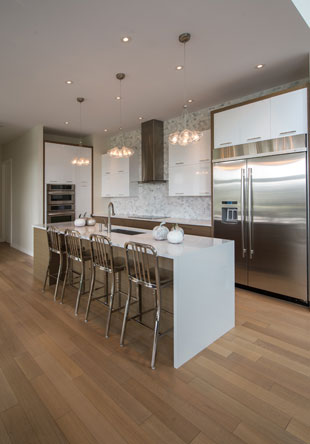 Ultra contemporary design with sparkling accents draws the whole family in without being underfoot. Below: cabinets with flip-up doors save space; additional storage provides easy access for setting the table and bar.
Marble, wood and stone are the natural elements used by DLUX Design & Co to create this sleek, modern space that promotes function for the owners' growing family. These three materials are integrated into the rest of the home, making transitions seamless in this open concept.
What makes this kitchen shine is its sparkle. Chrome chairs, overhanging clusters of glass fixtures, stainless steel appliances, a bright white wrap around island countertop, and a wall of coin sized tiles catch the light, bedazzling all who enter.
Although looks count for a lot, beyond the clean surface lies enough cabinets to store all the staples, snacks and serving ware for this socially active family.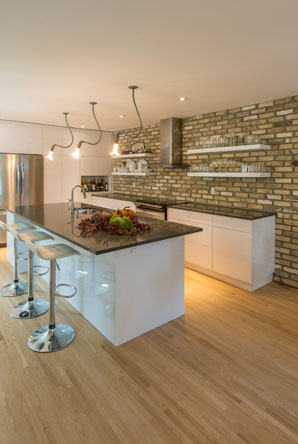 Outdoor lamp fixtures salvaged from an old store sign are turned downward for a practical solution to overhead light. Below: an automated cabinet door concealing the microwave opens and closes with a touch; floor to ceiling cabinet features pull out shelves for easy to reach access.
When faced with nine rooms on the main floor of this Fort Richmond home, new owners began planning a complete overhaul that included repositioning the kitchen in an area formerly occupied by a bedroom and bathroom.
By drawing on their collection of eclectic salvaged treasures and using recycled bricks to create a dramatic feature wall, these DIY-ers introduced unexpected quirky details to a tech savvy suburban home.
All the storage tricks of the trade are used to utilize every crook and cranny, resulting in a high efficiency kitchen in a small space.