new openings, food and wine news and culinary calendar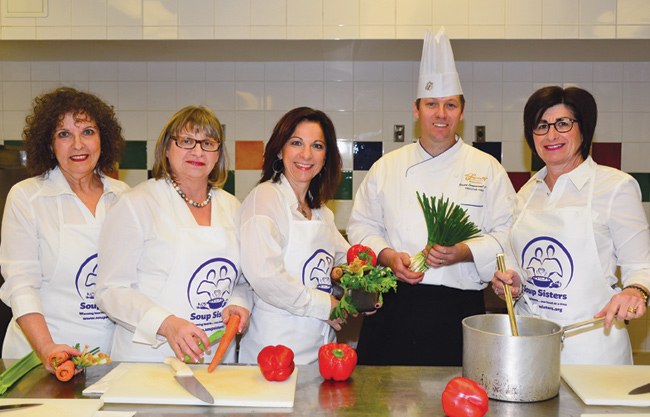 now open
main st mecca
Neechi Foods Co-op Ltd opened in its breathtaking new space last month to much fanfare from local, Aboriginal and food communities. The gutted and upgraded brick building straddles Point Douglas and Lord Selkirk, and houses grocery, bakery, specialty foods shop, art gallery and supply store, meeting space and Come 'n Eat restaurant. The initiative aims to foster North End revitalization. It will provide about 60 new jobs, many earmarked for local youth providing an alternative to social assistance or street gangs. The sunbathed restaurant with a beautiful view of the Main Street strip is run by Talia Syrie of The Tallest Poppy. She's taken cues from grandparents and local growing seasons to create a cozy homestyle menu; le boulé is a hearty Metis dish of meatballs in gravy stew served over roasted root vegetables while blueberry bannock French toast is a tasty reason to rise and shine. 865 Main St, 204-949-1338.—EB
crown jewel
After months of anticipation, Jane's, the opulent anchor restaurant of Red River College's groundbreaking new Paterson GlobalFoods Institute, opened its doors in February. In addition to being a vital training ground for a new generation of chefs, the gorgeous 90-seat fine-dining room, housed in the restored Union Bank Tower, also offers a one-of-a-kind restaurant experience. Diners can watch and interact with students as they execute Jane's inspired menu in the open-concept kitchen; think apple and frisée salad with Benedictine blue cheese and pan-seared wild walleye on zucchini risotto. Casual fare, meanwhile, is offered at the Culinary Exchange, the institute's grab-and-go eatery.
504 Main St, 204-632-2594.—JZ
eat meat!
We have joined the Churrascaria craze with the opening of Carnaval Brazilian BBQ. A sleek, street level lounge and an elegant second floor dining room constitute ambitious restaurateur Noel Bernier's third South American eatery in the East Exchange District. Simply flip your meat card from red to green and commence a thrilling parade of blade wielding gauchos eager to carve rotisserie barbeque for you table side. Highlights include top sirloin, bacon-wrapped chicken, cinnamon-dusted pineapple and piquant housemade pork sausage. 270 Waterfront Dr, 204-505-0945.—EB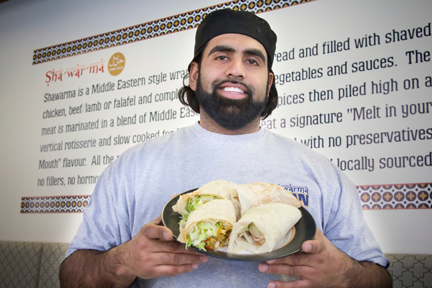 game change
Not one to watch from the sidelines, Obby Khan (pictured) is making new plays at his recently opened restaurant Shawarma Khan. These days you can find the former Blue Bomber chatting with customers and overseeing spit roasting of halal meats in a bright, modern space. Raised on shaved meat in Ottawa, Canada's shawarma capital, Khan recognized an opportunity within Winnipeg to capitalize on his personal brand while sharing his favourite food. Currently Khan is tinkering with logistics of feeding football fans at the new stadium. Can you say shawarma cannon? 225 McDermot Ave, 204-296-6560.—EB
twist on tradition
Helmed by industry vets Edward Lam, formerly of Yujiro and Miyabi, and Dim Sum Garden founding family, Jerry and Jonathan Tung, Yea Dim Sum is challenging perceptions of Asian cuisine. The historic Chinatown building that housed the original Dim Sum Garden, has been transformed into a stunning sleek modern space, replete with white leather banquettes and royal purple accents (no red or gold here). The modernity extends to an exciting menu that draws influence from all over Asia. The array of sumptuous dumplings and spring rolls may look familar, but prepare to be surprised. 277 Rupert Ave, 204-505-0800.—JZ
barista bros
On the hunt for superior latte art for your Instagram feed? Head to West Broadway, where buds Graham Bargen and Thom Jon Hiebert joined forces (and names) to open Thom Bargen Coffee & Tea in February. The sunlit space is the largest among  Winnipeg's new wave of indie coffee shops. Healthy white space showcases beautiful bicycles as art and enough seating for both cultural conversationalists and daydream believers. 64 Sherbrook St.—EB
family matters
Burger season is almost upon us and Gus Vailas knows burgers, thanks to a brawny CV that includes stints as the owner of Daly Burgers and The Burger Place. Now, Gus, along with his son Tony, is serving up finger-licking deluxe cheese burgers at his latest spot, Gus and Tony's at the park. The Vailas' Greek heritage is reflected in the restaurant's crisp blue and white interior as well as throughout its vast menu, which includes signatures such as souvlaki, gyros and Ntako salad. 1-2015 Portage Ave, 204-414-5508.—JZ
food news
soup for the soul
Few things are more comforting than a bowl of soup — just ask Soup Sisters and Broth Brothers, a program that raises awareness about domestic violence. Participants pay $50 to make soup for a local shelter in a professional kitchen under the guidance of a chef. Jeremy Langemann, Executive Chef at the Fairmont Winnipeg, partnered with Soup Sisters for its inaugural Winnipeg event, which yielded more than 300 servings of soup for Osborne House. Email winnipeg@soupsisters.org to get involved.­—JZ
quelle joie!
As of April 1, Bistro Chez Sophie, of recent Ciao! cover fame, has officially taken over the former Sals space on the Esplanade Riel. Chef Stéphane Wild and wife/business partner Sophie will maintain their successful original location at Avenue de la Cathédrale and Langevin Street, which they've operated since 2005. The menu at the new location will boast the same dairy-rich French fare, save for the pizzas. The Wilds are eyeing a June 1 opening date. Talk about building an empire; Bistro Chez Sophie will neighbour Crêperie du Pont, operated by their son Trevor, on the bridge.—JZ
prized pots
The results are in from Festival du Voyageur's Rendez-Vous des Chefs. The annual pea soup competition test-drove a new format this year. The public voted Le Garage Cafe's thick and traditional take with ham its favourite of the nine soups tasted. The second superior soup, Bistro Chez Sophie's warmly spiced silky entry, was chosen by a panel of media and food writers.—EB
great grapes
Wasabi Sabi's dynamite duo, Chef Austin Rice and sommelier-in-training Mich Pambrun, did our city proud at February's Gold Medal Plates culinary championship in Kelowna. While they didn't bag the gold, they did sweep an informal vote of foodie and wino peers. Rice's drive to present nothing less than perfect plates put him overtime in the black box, and out of the running. However, the team's featured wine, Gray Monk, 2011 Gewürztraminer, tied for third place in Best of Show.—EB
feeding a need
Red River College isn't the only post-secondary institution responding to a predicted shortage of hospitality industry professionals. In partnership with Winnipeg Techincal College, the University of Winnipeg has unveiled an18-month diploma program focused on culinary entrepreneurship. Students will learn about everything from business communication and management to food politics. The programs is accepting applications for a July 2013 start date.—JZ
culinary calendar
all the city's a feast
• Apr 1-30: Celebrate everyone's favourite indulgence during Ciao!'s ChocolateFest presented by The Forks Market and sponsored  by Mordens' of Winnipeg. More than 30 of the city's best bakers, chefs and confectioneries are offering up signature chocolate creations ­— sweet, savoury and sippable — for $7 each all month long. The Forks Market is hosting two delicious days of decadent desserts, April 20 & 21 from 1 pm-4 pm. Tasting passports for Tour De Chocolat are just $7, but be sure to arrive early as the popular event routinely sells out. Visit ciaowinnipeg.com or 204-943-4439 for information.
• Apr 2, 9, 16, 23, 30: May 7 Experience the diverse tastes of Mexico, Russia, Australia, Paris and Ireland, no passport required, as part of Assiniboine Park Conservancy's Foodie Series. These educational two-hour seminars feature historical, horticultural and cultural information, as well as expert pairings from Manitoba Liquor Marts. Sessions are held in MLCC test kitchens. Participants must be 18 years or older. Fee: $50. Call 204-927-6070 or emailparkprograms@assiniboinepark.ca for registration and venue info.
• Apr 10: Cuisine and comedy collide for the second year at Gastrocomique! presented by the Winnipeg Comedy Festival. Snag a seat at fusion grill and enjoy a sumptuous four-course meal with libation pairings before comedian John Wing (The Tonight Show, Just for Laughs), brings on the giggles. Tickets: $150. Dinner at 6 pm, for more info and to reserve tickets call fusion grill or The Gas Station Arts Centre at 204-284-9477. 550 Academy Rd, 204-489-6963.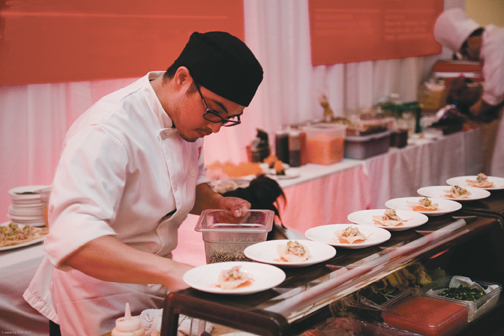 • Apr 13: Food and art will intersect at the Plug In Institute of Contemporary Art's annual fundraising gala (pictured) at the Delta Winnipeg. Enjoy inspired dishes from some of Winnipeg's top restaurants, including deer + almond, Bistro 7 1/4, Carnaval Brazillian BBQ, bid on local contemporary art and cut a rug to DJ Mama Cutsworth. Tickets: $185, available at plugin.ca or 204-942-1043. Delta Winnipeg, 350 St Mary Ave.
• Apr 20:  Those cuckoo for cocoa will want to be in the know about another event devoted to the sweet stuff. The first-annual Chocoholics' Buffet, a fundraiser for Winnipeg's United Way, will transform the ballroom at Gates on Roblin into a chocolate paradise with a 125 sq ft chocolate buffet featuring delectable samples by local bakers, chocolatiers and pastry chefs. Event begins at 6:45 pm. Tickets: $54, available online at     chocoholicsbuffet.eventbrite.ca.
• Apr 28-May 4: Savour the Malbecs of Argentina and Sauvingion Blancs of New Zealand at the 13th annual Winnipeg Wine Festival. More than 515 wines from 135 wineries will be available to sip at three public tastings held at the Winnipeg Convention Centre May 3 & 4. Public tasting tickets: starting at $45, available at Manitoba Liquor Marts and through Ticketmaster, 1-855-985-5000. Proceeds go to Special Olympics Manitoba. Visit winnipegwinefestival.com for info.—JZ
wine news
nectar of the gods
Chocolate and wine are the perfect couple and, happily, wineries are bottling that bliss. In celebration of Ciao!'s ChocolateFest, we asked Winnipeg's wine experts to share their favourite chocolate-infused wines.
• George Andrews of G.J. Andrews describes the Stanley Lambert Choc-a-Bloc ($34) as "dessert in a bottle." This Tawny Port is infused with dark chocolate with notes of cherry on the nose. On the palate, it's smooth without being syrupy.
• De Luca Fine Wines is buzzing about Vino Cocao ($35). This Parisian chocolate dessert wine is available in both Noir and Ivoire. The Noir is a red Bordeaux, with aromas of chocolate cake and Italian cherries on the nose. The Ivoire, made with white Bordeaux, has subtle vanilla notes.
• California's Sweet Sunset Red Chocolate ($15), recommended by Manitoba Liquor Marts, is a versatile after-dinner workhorse with a smooth finish that can be served chilled, over ice or as a topping for fresh fruit and ice cream.— JZ