now open
walk-up crêpes
Ooh la la, the French do it in style! Dining on sweet crêpes at the Crêperie Dupont is the draw, but the view overlooking the Forks and downtown Winnipeg is the secret ingredient. The brainchild of Chez Sophie Bistro owners, this little walk-up crêperie located on the East Plaza of the Esplanade Riel has followers flipping over its thin honeyed pancakes.—EC
already adored
Two fresh new restaurants already have our attention with their distinct tastes and atmospheres. Empanadas at new Corrientes Argentine Pizzeria are baked golden and crusty on the outside with mouth-watering fresh fillings like smoked salmon and local pickerel with feta cheese. 137 Bannatyne Ave, 219-5398. The new Portage Ave eatery Arkadash serves an alluring roasted tomato salad carrying Mediterranean flavours of pomegranate and punctuated by drizzled truffle oil. 268 Portage Ave, 504-2155.—EC
hot shave
New beauty house Hunter & Gunn is geared mostly to men, aiming to bring back the nostalgia of a boys barber shop with straight razor cuts and hot shaves starting at $25. These four tattooed barbers are also passionately community driven—donating a dollar from every service and each product sold to local youth centres, art programs and charities. Free parking available, walk-ins and ladies kindly accepted. 567 Broadway, hunterandgunn.com.—EC
maple makeover
Civita on Corydon has been rebranded as Maple Bistro. The name was inspired by Chef Mark Andrew's love for maple syrup. This new menu features some appetizer dishes that incorporate the sweet Canadian condiment. The wood oven pizzas and mussels are mainstays on the new menu. 691 Corydon, 453-4616.—EC
Italian upgrade
Two side by side simultaneous renovations have given face-lifts to two Portage Ave staples. DeLuca's Specialty Foods enjoyed a hearty re-opening, revealing upgraded grocery store last month. The city's go-to Italian grocery store and fresh food market now has more space, more shelves and more of those savoury Italian treats, snacks and food the city loves. Next door, DeLuca Fine Wines' store now offers a wider selection of varietals, an impressive assortment of wine accessories and a new temperature controlled cellar. 950 Portage Ave, 774-7617.—EC
hot bites
food on the move
From a food truck challenge on Top Chef Canada to the Food Network's The Great Food Truck Race, street-food culture in North America is hotter than ever. An easy way to find up to the minute location info on food trucks is twittter. We checked out some of Winnipeg's food vendors that offer popular eats beyond street meat:
• Custom made baguettes are hollowed out and filled with a wide variety of ethnicities and flavours such as Budweiser barbeque chicken and chickpea curry at Stuff It's fire-engine-red truck. Deep-fried banana peppers, Cajun fried pickles and vegetarian options make this street eatery a hit. Find on twitter @stuffitfoods. Monday to Friday from 11 am to 2 pm on Broadway, 232-1258.—EC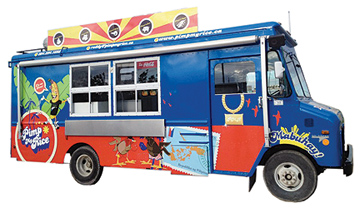 • Winnipeg's first Filipino food truck Pimp My Rice (pictured) has hit the streets celebrating authentic tastes from the Philippines like Pinoy barbeque and is notable for its wafting aromas and its bright cartoon coloured ride. @pimpmyriceinc, pimpmyrice.ca.—EC
• It's all about the wings at Little Bones Wingery. With 27 flavours to choose from including poutine, spaghetti, Near Death experience wings and vegan wings, this truck definitely caters to a niche crowd. 899-2663, @LittleBonesWing.—EC
culinary calendar
lobster festival
• Sep 22: If you love cracking open fresh cooked lobster and eating with your hands, this is the festival for you. Hosted by French theatre troupe Le Cercle Moliere, this 36th  annual Lobster Fest (or Gala des Homards) boasts all-you-can-eat lobster for a fixed price of $149. The night kicks off at 6 pm and also includes salad, dinner rolls, a decadent dessert, two bottles of wine and a night of live music and dancing. All proceeds go toward the French theatre company. Bibs are included. Winnipeg Convention Center, 375 York Avenue, 231-7027, gala@cerclemoliere.com.—EC
global tastes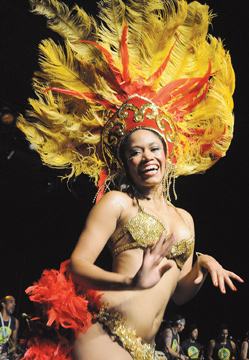 • To Aug 18: The world's largest and longest running multicultural festival Folklorama (pictured)celebrates 46 culture groups through dance, song, food and drink at various pavilions across the city. Tickets: $6 per pavilion or $54 for 12 tickets, 982-6210 or folklorama.ca.
• Aug 1-30: Ciao! magazine's celebrated lunch promotion Taste the World is back with 19 restaurants offering globally focused fare for a bargain $10. Sample tastes from Uruguay like Milanese Sliders or Turkish beef kebobs. Turn to pages 26 & 27 and visit ciaowinnipeg.com for complete list of menus.
local tastes
• Aug 18: This is the 8th year for the annual Supper in the Field hosted by Parkland Tourism. Held in Riding Mountain National Park, savour regional tastes such as bacon-wrapped bison meatloaf, heirloom carrots and wild rice risotto. Specialty wines, beer and coffees available. Riding Mountain National Park, hwy 10, 888-528-6484. For more information visit parklandtourism.com.
• Aug 24-26: The Morden Corn & Apple Festival celebrates its 46th anniversary with its annual Saturday morning parade. Free buttered corn on the cob and chilled apple cider are highlights, along with midway, mud car racing and so much more. Morden, 90 mins south of Winnipeg on Hwy 3. 204-832-2676.
• Sep 7-9: Held during Many Fest and hosted by the Independent Specialty Wine Stores of Manitoba, Tastes of Downtown is a savoury, wine tasting extravaganza. Sip chardonnays and cabs while sampling gourmet foods and cheeses during this wine and food event. Admission is free. Wine tasting tickets: $1. Event held at Memorial Park. Sep 9, noon to 11 pm; Sep 10, noon to 11 pm; Sep 11, noon to 8 pm. For more information visit manyfest.ca.
• Sep 13-14: Sip and swig your way through 115 different ales, stouts and lagers from 22 countries at the 9th annual Flatlanders Beer Festival. This beer tasting event, held at The Convention Centre, supports The Winnipeg Jets True North Foundation, which has already donated over a million dollars to local children's charities this year. For more information and for tickets visit any Manitoba Liquor Mart, ticketmaster.ca or flatlandersbeerfest.com.
• Sep 11: Ben Kramer of Diversity Foods, Tristan Foucault of Peasant Cookery, Mandel Hitzer from deer + almond and Alexander Svenne from Bistro 7 1/4 are just some of the soft-hearted local chefs serving up gourmet dishes at the 2nd annual 100-Mile Dinner (pictured). In support of the Boys and Girls Clubs of Winnipeg, this charity event features an excellent dinner of fresh, regional, locally-grown food found within 100 miles of Winnipeg. Tickets: $125. For tickets call Janellyn at 975-0634.
• Sep 19: Trace the origins of your food from farm to plate during the 3rd annual Manitoba Open Farm Day.  Participate in a self-guided agritourism tour and discover more than 40 fruit, vegetables, cereal crops and livestock in more than 35 Manitoban farms, ranches and market gardens. During this hands-on farm-fresh day farmers will answers questions and sell products directly from their fields. No open toe footwear or pets allowed. For more information visit openfarmday.ca.
____________________________________________________________________________________
fall supper tour
Nothing beats Manitoba's community-driven fall suppers. This autumn travel to any of these towns, churches or community centres for their tasty home-made local suppers:
Sep 8 – Prairie Dog Central, MB
Sep 9 – St. Claude, MB
Sep 15 – Lac du Bonnet, MB
Sep 16 – Warren, MB
Sep 22 – Prairie Dog Central, MB
Sep 23 – Argyle, MB
Sep 29 – Grand Marais, MB
Sep 30 – Carman Fall, MB; Cooks Creek
Immaculate Conception Church, MB;
Miami, MB; Otterburne, MB; Carman, MB
For more information about fall suppers in your area check out travelmanitoba.com under festivals and events.
___________________________________________________________________________________
wine news
Canadian sippers
Celebrate Canada. Invite friends for a backyard regional feast focused around one of our beautiful sunsets and round off the night with one of these locally-sourced wines.
• At DeLuca's Fine Wines Laughing Stock Portfolio 2006 is a Penticton, British Columbia red wine combining five Bordeaux varietals with notes of berries, tobacco, clove and a hint of dark chocolate. ($60)
• The MLCC recommends St Hubertus Riesling VQA ($18) from the Okanagan. This classy Riesling shows delicate floral aromas with hints of honey. Crisp on the palate with a kiss of sweetness, this white ideally paired with spicy cuisine, curried foods or seafood appetizers.
• Student wine makers Niagara College developed a Cabernet Franc VQA ($20) found at MLCC stores, with spicy aromas of green peppercorns and cloves combined with raspberry and barrel notes of brown sugar. Ideal with savoury
BBQ ribs.
• Made on the Niagara Peninsula in St. Catherine's, Ontario, Henry of Pelham Speck Family Reserve Chardonnay 2004 (35$) is medium-bodied and carries rich flavours of custard, cashews and a touch of oak lemon. Found at DeLuca's Fine Wines.