food and retail news


chef shuffle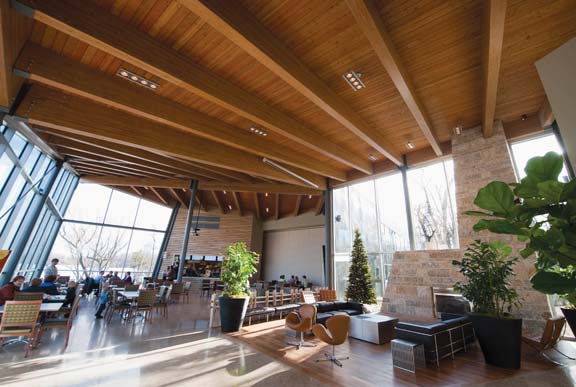 The past months brought regime changes to many Winnipeg kitchens. Here's a run down of who's calling the shots in the back of the house. Heiko Duehrsen relocated from The Gates on Roblin to the newly opened Park Café (pictured) at Assiniboine Park. At Prairie Ink, Chris Tascona, formerly of La Trattoria, has taken over from Gord Harris, who is now back with his former Amici team mates at the helm of Amici at Niakwa (Country Club). The outgoing group from Provence Bistro, led by Shawn Brandson and Chef Neil Higginson, has taken over Promenade Bistro. Renowned Promenade Chef/owner Gojko Bodiroga has retired to the ultimate position in his home kitchen.—EB
big cheese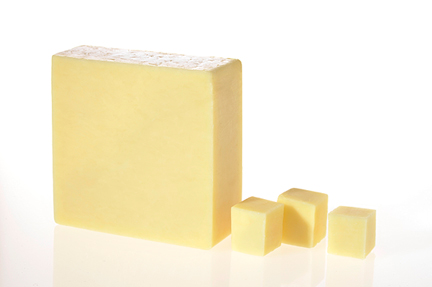 For the sixth year in a row, Bothwell Cheese took top prize for its marble cheddar at the 84th annual British Empire Cheese Show, a prestigious event attracting the world's top cheesemakers. Bothwell's Monterey Jack also took first place at the competition. It's onward and outward for the 75-year-old company. They recently built a spacious 8,000 sq. ft. cheese-aging cooler at their New Bothwell plant.—SP
lofty dining
Sip bubbly and nibble hors d'oeuvres securely on terra firma to ease into Dinner in the Sky, a sky-high, bird's eye view eating adventure coming to Winnipeg this summer. Then buckle up for an elevated (literally) dinner served 150 feet up (and overlooking The Forks and the Canadian Human Rights Museum). Diners will dig into a gourmet meal prepared at a suspended chef's table. Dinner in the Sky runs June 25 to July 1. Dinners are limited to 22 guests per seating. Tickets: $275 each. Call 801-0161 or go to dinnerinthesky.ca.—AM
fresh vintage
Cozy men's curling sweaters, silver brocade pumps, and seafoam-green Formica tables are in stock at new vintage shop, Rhymes with Orange. Men's and women's mid-century clothing and accessories are chicly displayed amongst colourful retro housewares. The boutique is a combined venture of Doug Shand, the retailer behind Vintage Glory, and Erin Thiessen and Stefanie Hiebert of Oh So Lovely Vintage. 223 McDermot Ave, 946-5212.—SP
_____________________________________________________________________________________________________
• Feb 3: Local food is the headliner during the 2nd annual LOCALvore Iron Chef Cook-off. The battle pits teams of high-school students against each other in a regional-cuisine cook-off. They have one hour to create dishes to dazzle a panel of judges. The event includes tastings by local producers to inspire novice chefs to embrace local ingredients. Sturgeon Heights College, 2665 Ness Ave, foodmattersmanitoba.ca.
_____________________________________________________________________________________________________
local winner


Canada's top restaurants 2011
Winnipeg's Deseo Bistro was named one of Canada's best restaurants for 2011 by Where magazine. The country's top-10 restaurants were chosen by food editors across the country. Deseo Chef Scott Bagshaw's innovative tapas and inspired mains have earned rave reviews and a rabid following. Other top Canadian restaurants selected include: Bella Montagna in Victoria; Hawksworth in Vancouver; Calgary's Ox and Angela; Corso 32 in Edmonton; Acadia in Toronto; Ottawa's Back Lane Café; and The Bicycle Thief in Halifax. To read up on all the winners go to where.ca.—RS
now open


dig in
Winnipeg's vibrant food scene burns brighter these days with openings of several new restaurants and expansions of existing restaurants.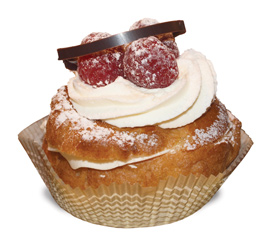 Pastries à la Provence are served fresh from the oven at a new Main Street bakery. France ex pats Nathalie and Gilles Gautier recently opened A l'Epi de Ble, a bakery unapologetically committed to the art of baking with butter and sugar. Here, decadent brioche is the star in many pastries, including glazed rolls filled with candied fruits, epiphanie cakes with almond-cream centres and blueberry swirls. Whipping cream puffs (pictured) also delight. Loaves of crusty breads, including hearty pumpernickel—a recipe from the previous tenant Hartford Bakery— are also baked fresh. Pizza is also served by the slice. 1757 Main St, 334-2526.—EB
The sunny Park Café in the newly opened Qualico Family Centre at Assiniboine Park serves family-friendly breakfasts and lunches, many using regional ingredients. Basil pesto spices up grilled-cheese sandwiches while banana bread pudding with caramel sauce and a hot chocolate make the perfect après skating snack. 330 Assiniboine Park Dr, 927-6001.—SP
What's old is new again at Rudy's Eat and Drink. Located on the main floor of the Manitoba Hydro Place, the retro glam space channels Mad Men with wood slat walls, buttery leather seating and a menu of nostalgic classics. The dining room also gets a modern twist with flat screen TVs. Chef Michael Schafer's (of Sydney's at the Forks) menu features classic dishes like blue-cheese dressed wedge salads, butter-spurting chicken Kiev and peppery steak Diane executed with precision and flair. 375 Graham Ave, 421-9094.—SP
It seems wherever you go these days, you're not far from Stella's Café & Bakery. In December, Winnipeg's beloved café opened its fifth location at Winnipeg's new airport. Stella's is open from 5:30 am to midnight, offering a full menu to travellers; or pick up a classic club sandwich from the restaurant's kiosk, open 24/7. James Armstrong Richardson International Airport, 2nd floor, 779-1415. —AM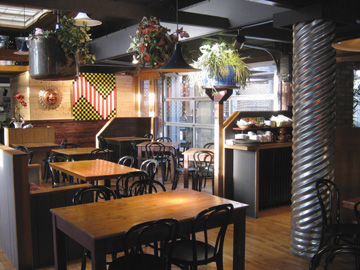 After closing for three years, veteran restaurateur Basil Lagopoulos has returned with Bistrot by Basil (pictured). The revived dining room is a welcome sight to regulars who have been pining for the triumphant return of the Osborne Village institution. The building had been devastated by a flooding from a water-main break. 137 Osborne St, 452-2745. —SP
_______________________________________________________________________________________________________________________________
Meet the latest options for men's feet—Winnipeg-based company Jose & Markham's inaugural line of sophisticated, modern footwear. Local entrepreneurs David Lewis and Wade Salchert have joined Mexican partner Cesar Bauz to design and distribute a collection of hand-manufactured shoes and boots for stylish gentlemen. The swish line includes models like The Centurion (pictured). The shoes have been selling like hotcakes since jose-markham.com launched last October. The Exchange District showroom doubles as an inventory warehouse. Open Saturdays. 73 Princess St, 1-888-872-0701.—EB
_______________________________________________________________________________________________________________________________
strike a pose
Yogis have been practicing patience awaiting the opening of Yoga Public. The 20,000 square-foot building is owned by Ida Albo and Rick Bel (operators of Ten Spa). The new space has four studios, including the city's largest hot yoga studio and the country's first TRX suspension training centre. Fifteen certified yoga instructors are all double threats. They're also trained therapists (occupational, physio or massage). More than 100 classes, in a variety of yoga styles and levels, are offered each week. 280 Fort St, 947-9642.—AM
culinary calendar


gourmet galas
• Feb 11 & Mar 24: The Winnipeg Symphony Orchestra hosts Dinner & a Concert, evenings of music and food, catered by Bergmann's on Lombard and served at the concert hall. On Feb. 11, the music of Michael Jackson inspires an all-American menu. On Mar. 24, a French feast preceeds a concert by opera singer Dawn Upshaw. Tickets: $85 or $60 for concert ticket holders. Centennial Concert Hall, 555 Main St, 949-3999 for tickets.
• Feb 17 & 18: Winnipeg hosts its own Mardi Gras this month. Held at the Winnipeg Convention Centre, the event features a wine lounge and Southern-inspired snacks like freshly shucked oysters, peel-and-eat shrimp and a Louisiana favourite—alligator fritters. Check out any of the four themed bars including the Southern Comfort Bar. Come in costume and get beaded. The party runs from 6 pm to 2 am both nights. Tickets cost $16. Winnipeg Convention Centre, 375 York Ave, 1-855-985-5000 for tickets.
• Feb 18: Celebrate Manitoba's French-Canadian roots at Le Bal du Gouverneur, a multi-course, Manitoba regional cuisine feast hosted by the Festival du Voyageur. Tickets: $125. Fort Garry Hotel, 222 Broadway,
237-7692 for tickets.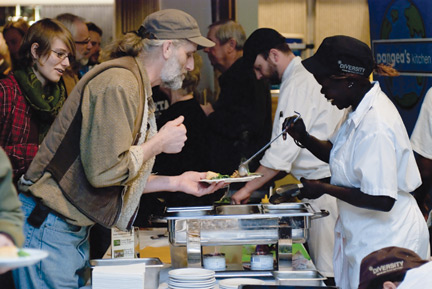 • Feb 23-25: Organic food displays, workshops, and discussions about local sustainable eating are at the heart of the Growing Local Conference (pictured). The event is hosted by food security charity Food Matters Manitoba. Tickets: conference pass $135, single-day $75. Marlborough Hotel, 331 Smith St,
943-0822 for information.
• Mar 9: Celebrate "the spice of life" at the 9th annual Gala Dinner of Culinary Inspirations in support of the Canadian Hemophilia Society. Each course of the five-course menu is prepared by a guest chef. This year's chefs include: Raymond Czayka of the Kildonan East School culinary arts program; Jerome Case, Executive Chef at Delta Winnipeg; Mary Jane Feeke, owner of Benjamin Gourmet Foods; Kelly Andreas of Shooters Family Restaurant; and Chef Rob Thomas of Next Level Event Creation and Catering and Breakfast Television fame. Tickets: $125. Delta Hotel, 350 St Mary Ave, hemophil@mymts.net, 775-8625.

wine news


romantic tipples
Pop the cork on another Valentine's day with a special bottle to enhance romance. Here are some of the top picks for bubbles from Winnipeg's top wine experts.
• La Boutique del Vino recommends an Italian Prosecco that won't break the budget. Carpene Malvolti Brut Prosecco ($19.99) is crisp and refreshing with notes of green apple, citrus and pear.
• Open a bottle of Domaine Chandon Brut Classic NV ($29.99) and make some memories with this bubbly from California. This Kenaston Wine Market pick has apple and pear notes, hints of citrus spice and whispers of almond and caramel.
• Traditional fermentation creates the bubbles in 61 Franciacorta Rose ($28.21), an inspired blend of hand-harvested pinot noir and chardonnay from Lombardy, Italy. Available at Manitoba Liquor Marts, the vintage boasts long-lasting bubbles and an intense salmon colour.—RS