new openings and food and retail news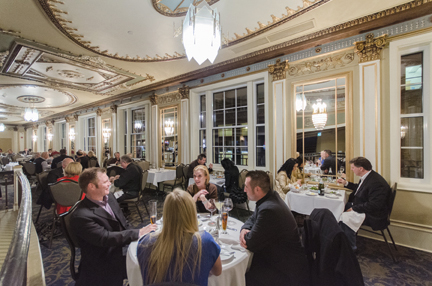 food news
call it a comeback
After sitting shuttered for 25 years, Winnipeg's historic Metropolitan Theatre has re-opened as The Metropolitan Entertainment Centre. A $20 million facelift spearheaded by Canad Inns transformed the nearly century-old building into a modern multipurpose facility that retains its opulence, thanks in no small part to the thoughtful restoration of heritage elements including ornate mouldings. In addition to being a welcome new venue for everything from conferences to concerts, The Met is also a fresh face on the downtown dining scene. Executive Chef Rick Cole has created a contemporary casual menu that seamlessly translates to the Met's impressive dining rooms, including the grand Lobby and Promenade Lounges. Simple dishes, such as a red wine poached pear salad, are beautifully executed; the elegance of the space is mirrored on the plate. We're looking forward to enjoying dinner on the rooftop patio come spring. 281 Donald St, 204-594-9494.— JZ
bon soir
Owner/pastry chef Cam Tran's Café ce Soir has all the makings of a neighbourhood hot spot. The West End space provides a welcoming, cozy hangout and Tran's scratch-made French signatures are the ultimate in comfort food. Expertly seasoned beef bourguignon is hearty and flavourful, while the café's popular quiche Lorraine is sinfully rich and creamy. You'll want to save room for the sweet stuff; Tran recieved his pastry training in France and his too-good-to-share desserts are decadent works of art. 937 Portage Ave, 204-414-SOIR.—JZ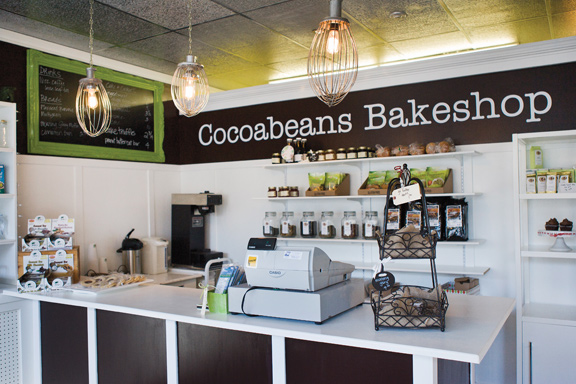 gluten-free heaven
Celiacs rejoice — no longer are cupcakes off-limits. Every last delicious morsel baked at Cocoabeans Bakeshop is certified gluten-free. The former Sweet Impressions location in St. Boniface is where owner and baker extraordinaire, Betsy Hiebert, decided to set up shop after outgrowing her basement commercial kitchen. Hiebert has a loyal following, which includes the Winnipeg Jets. She scored a gig supplying goods to the team via word-of-mouth after trainers determined their elite athletes run better on gluten-free fuel. (The Jets are partial to P'nut butter oat bars and  quinoa bread.) Other popular treats include a luscious chocolate walnut torte made with creamy coconut milk and dairy-free chocolate ganache. 268 Tache Ave, 204-918-5313.—BZ
21st-century taco
Winnipeg's newest fresh-thinking taco joint, Modern Taco Company, certainly serves a modern taco. Gluten-free corn tortillas made fresh in house, then packed with inventive filling combinations inspired by Chef Rob Thomas' travels through Mexico, the Caribbean and South America. Think pulled jerk chicken layered with caramelized pineapple and cilantro. 612B Academy Rd, 204-487-3010.— JZ
tre visi's twin
River Heights has gained a dining gem with the recent opening of Tre Visi Café in the spot Spuntino formerly inhabited. The second location of the highly regarded Italian restaurant features a tasteful, contemporary dining room and a pared-down menu. Try Chef Giacomo Appice's renowned pillows of gnocchi bathed in pesto cream sauce and new dishes, like a clever take on caprese salad made with roasted tomatoes and red peppers dressed in verdant basil pesto. No reservations. 926 Grosvenor Ave,     204-475-4447.—EB
food news
icy cool eats
Possibly the coolest (literally) restaurant to ever open in Winnipeg was, at press time, set to pop up Jan 26 on the ice where the Red and Assiniboine rivers connect. This temporary 20-seat, fully licensed eatery is the brainchild of architect Joe Kalturnyk of RAW Gallery and Chef Mandel Hitzer of deer + almond. Until Feb 13, Hitzer will be partnering with other local chefs such as Scott Bagshaw, Adam Donnelly, Aaron Epp, Ben Kramer, Eric Lee and Alexander Svenne to create a series of five course, $85 prix fixe menus. Each collaborative menu will be offered for three days, with three seatings per night. Weekends will bring brekkie by The Tallest Poppy. For tickets to this unique fusion of place, space and taste stop by deer + almond at 85 Princess St, 204-504-8562.—EB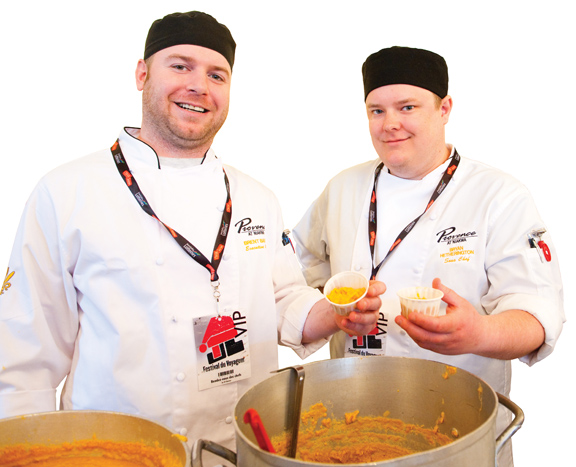 best bowls
Top chefs and connoisseurs of French Canadian fare unite at Festival du Voyageur's highly anticipated annual Rendez-Vous des Chefs (Pea Soup Competition). On Feb 24 chefs from local bistros such as Resto Gare, Gibraltar Dining Corporation and Le Garage face off to find out whose pot of pea soup will take the title bestowed by public tasters and a panel of local food writers. Free (with festival admission), 1 to 4 pm. Gibraltar Dining Corporation will also be offering three-course French-Canadian meals for $15 from 11-8 pm daily throughout Festival du Voyageur. Maison du Bourgeois in Fort Gibraltar, 204-237-7692.—EB
out on the town
Faithful Ciao! followers no doubt have Dine About Winnipeg already marked on their calendars. From Feb 2-12, this annual hot dining event invites foodies to take a culinary tour of Winnipeg and enjoy prix fixe three course meals for $28 and $36 at a record 36 of the city's best restaurants. See page 32 for menus.—JZ
fond farewells
It's the end of an era. Kelekis Restaurant, a longtime North Main institution, closed its doors January after more than 75 years in business. Winnipeggers flocked to pay homage to the Kelekis legacy after the family announced last December 88-year-old Mary Kelekis wanted to retire. The home-style diner pioneered food trucks and take-out in the city and became famous for its shoestring fries, hearty burgers and hot dogs.  Over the years, Kelekis has attracted athletes, movie stars and famous Canadian politicians, like former Prime Minister Pierre Trudeau, many of whom were honoured on the wall of fame.— BZ
The city said goodbye to another local institution in January. The Paddlewheel restaurant, a longtime fixture of The Bay's downtown store, closed its doors on Jan. 24 as part of ongoing renovations. The iconic cafeteria-style eatery served clubhouse sandwiches, crinkle fries and Jell-O cubes to generations of Winnipeggers. The Paddlwheel will live on forever on celluloid; visionary local filmmaker Guy Maddin immortalized it in his acclaimed 2008 surrealist documentary My Winnipeg. —JZ
retail news
making it up
Part coffee shop, part exhibition venue, part retail space, MAKE Coffee + Stuff is a novel new addition to the Corydon Avenue strip. Not only is it a place for rising local fashion and environmental designers to showcase and sell their wares, it also allows the public the unique opportunity to engage with both art and artist over an espresso in a cool, minimalist environment. Since its soft open in December, MAKE has hosted three shows with more to follow. Visit makecoffee.ca or, better yet, drop in for a coffee to find out more about upcoming installations. 751 Corydon Ave, 204-414-0101.— JZ
wine news
favourite French bottles
From Bordeaux to Champagne, wine is as synonymous with France as the Eiffel Tower. Winnipeg wine experts share their favourite French bottles.
• The Cave de Rasteau La Domeliere ($18.95) is smoky and savoury with red fruit, herbs and black pepper. Available at Manitoba Liquor Marts, this budget-friendly beauty goes best with veal, braised lamb or strong cheese.
• Calabria Market and Wine Store recommends a bottle of bubbly from Champagne Gonet – Sulcova ($43-$53), a Champagne house based in Epernay, France. If you're planning on popping a cork on Valentine's Day, a rose Champagne pairs well with chocolate-enrobed strawberries, raspberries or cherries.—JZ
culinary calendar
dining dates
• Feb 1: Winnipeg high school and college students will put their culinary abilites to the test in the third-annual Localvore Iron Chef Cook-Off.  Hosted by Winnipeg Technical College, the event will see 13 teams execute the original recipes they created using at least five local ingredients. The event starts at 8 am and is open to the public. Winnipeg Technical College, 130 Henlow Bay, 204-943-0822 or foodmattersmanitoba.ca  for information.
• Feb 14, 26; Mar 12: The MLCC's ongoing Foodie Series educates on everything from wine pairings to beer tasting. On Valentine's Day, treat tastebuds and learn what sweet wines go best with decadent desserts. Cost: $45. 7-9 pm. Madison Square Liquor Mart, P-1600 Ness Ave. On Feb 26, it's California dreams of Zinfandel, while Mar 12 will take participants on a world beer tour. Cost: $35. 7-9 pm. Grant Park Liquor Mart, 1120  Grant Ave.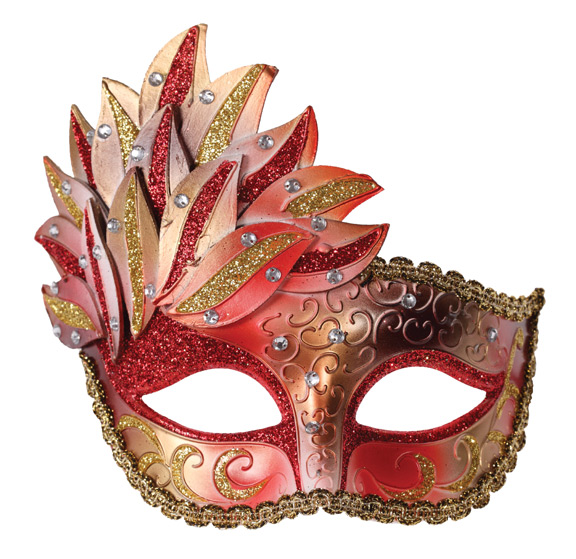 • Feb. 15 & 16: Party like they do on Bourbon Street at Winnipeg's very own Mardi Gras. Held at the Winnipeg Convention Centre, the event boasts a red-hot menu of Southern comfort food. Tuck into Louisiana specialities like gumbo, alligator fritters, shrimp Creole and, new this year, crayfish  — or mud bugs, as they call 'em down in N'awlins. The party rages from 6 pm-2 am nightly. Tickets cost $16 and attendees must be over 18. Winnipeg Convention Centre, 375 York Ave, 1-855-985-5000  for tickets.
• Feb 16: The latest installment of Winnipeg Symphony Orchestra's Dinner and a Symphony series, catered by Bergmann's on Lombard, takes its inspiration from Russia. Prokofiev's ballet score for Romeo and Juliet yielded a menu that includes a Smirnoff-spiked strawberry consommé and a beef tenderloin kiev. Tickets are $89 or $60 for concert ticket holders. Centennial Concert Hall, 204-949-3999.
• Feb 16: Enjoy the culinary riches of Manitoba's French-Canadian heritage at Le Bal du Gouverneur, a multi-course, regionally influenced spread hosted by Festival du Voyageur. Cocktails are at 5:30 pm. Tickets are $125. Fort Garry Hotel,
222 Broadway, 204-237-7692
• Feb 21 & 22: Enjoy a uniquely French-Canadian experience at Soirée du Bourgeois, an evening of traditional cuisine and entertainment presented by Festival du Voyageur and Gibraltar Dining Corporation at the historic Fort Gibraltar. A three-course meal and a one-day pass to the festival are included. The event is 6-8 pm nightly and cost is $55. Maison du Bourgeois, 866 St. Joesph St, 204-237-7692 for information and reservations.
• Feb 22: Warm up with more than 100 featured whiskies at the inaugural Winnipeg Whisky Festival, a fundraising event for the Manitoba Sports Hall of Fame. General tastings open from 7-9:30  pm. Tickets: $225 each or 10 for $2,000. Fairmont Winnipeg, 2 Lombard Pl, 204-925-5736.
• Mar 1 & 2: More than 30 workshops on a variety of subjects like local resources, farming, edible landscaping and fair trade will inspire discussion at the sixth annual Growing Local Conference, hosted by food-security charity Food Matters Manitoba. Conference pass: $140, single-day $80. Marlborough Hotel, 331 Smith St, 204-943-0822 for more information.
• Mar 13: Taking cues from the well-known fable, The Child Nutrition Council of Manitoba's Stone Soup Fundraiser, will see local suppliers and chefs come together to make soups to raise awareness about child nutrition. From 11-1:30 pm, the public can enjoy a hot bowl of soup at the Manitoba Hydro Place lobby. Donations encouraged. Funds raised go to CNCM. Visit childnutritioncouncil.ca for more information.