allez cuisine –
Red River College's new Paterson GlobalFoods Institute revives Main Street's heritage Union Bank Tower
By Erin Bend
While it may not be the brainchild of an industry vet, it's quite possible 2013's hottest new dining room will be a state-of-the-art training ground for a band of rookie cooks.
Ciao! toured Red River College's Paterson GlobalFoods Institute (PGI) with School of Hospitality & Culinary Arts Dean Keith Muller January 8, just as students were settling into their new digs in a more than century-old space.
Built in 1904 and vacant since 1992, the building was a true diamond in the rough. In 2009, RRC commenced a restoration and renovation project executed by Prairie Architects Inc. that added 40,000 sq. ft. bringing the building's total space to 90,000 sq. ft.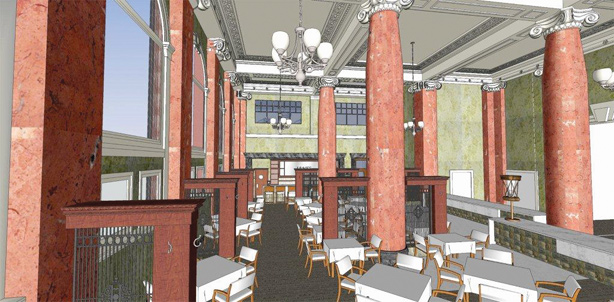 Most impressive is the lofty 105-seat dining room which anchors the building, housed in the former bank hall. Called Jane's, after Jane Paterson, the vaulted space features grand columns, moulded ceilings, marble floors (restored with stone salvaged from within the building) and stunning iron elevator doors repurposed as room dividers. Ornate and opulent, Jane's atmosphere could rival that of any fine dining establishment in town. One almost forgets it's a classroom first, in fact, the only totally integrated learning operation in Canada.
A sleek open kitchen lines the south side of the room, providing diners with a clear view of the action. Instructors are also observing and evaluating food and service. Jane's is one of two on-site eateries; the other is Culinary Exchange,  a casual spot operated almost entirely by Culinary Arts and Hospitality Management students (a kitchen manager and event chef cover off down time).
Unlike the previous Notre Dame campus' Prairie Lights Restaurant, which operated for short stints throughout the year, students now learn in two consistent restaurant environments. A third intake of students has been added for May, thus supplying a continuous stream of cooks to restaurant-classrooms, increasing the student body by 30 per cent to about 300. There are plans to increase enrolment to 400 within two years.
"Predictors for the year 2025 show a shortage of 4,000 people in the hospitality industry, and that's just for Winnipeg," Muller explains.
This campus is RRC's first to offer student housing; it's also the only residence in a converted historic building of such significance. Residences for 92 adds vibrancy to the community, not to mention dining options: the Culinary Exchange is operational to feed residents (and the public) 7 am to 7 pm Monday though Friday.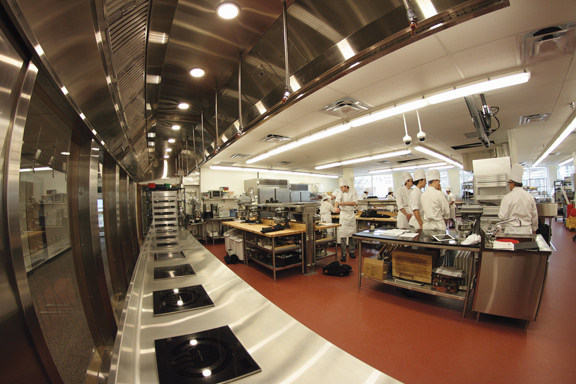 Like RRC's other recent expansions, including its award-winning Princess Street campus, this restoration has preserved historic integrity while seamlessly integrating clever, modern design elements. Recycled glass windows wrap around the structure freely emitting natural light and providing a two-way view. Students can look onto Old Market Square while rolling out pastry, while passersby can peek at second-year students executing lunch rush with tandoor oven, woks and pizza ovens of the Global Foods kitchen. These industry standard tools and cutting edge features, such as the sleek mixology lab and banks of cool-to-the-touch induction burners, have catapulted this facility into competition with any North American institution.
Interior rooms benefit from natural light reflected by light canons and emitted through ceiling tiles. Heat from numerous classroom ranges gets recycled and redirected to maintain building temperature.
Students aren't the only ones to benefit from the new digs. Neighbourhood partnerships with theatre and other arts groups and venues are rooting. The theatre district location presents obvious dinner-and-show possibilities.
This campus is poised to become a culinary catalyst for the whole food community, providing professional sommelier programming, a venue for chef's table dinners and a accessible, public food learning hub. General interest evening and weekend programming begins this month with seminars on pairing wine with chocolate,  Champagne and sparkling wines, and food and wine harmony. We'll toast to that!
For more information on eating and learning at the Paterson GlobalFoods Institute visit rrc.mb.ca