Bounty hunters…
Explore and eat your way across Eastern Manitoba

by Erin Ben
In early May we set off with a simple objective: to eat a path across Eastern Manitoba. It was somewhere between an impromptu edible foraging tutorial over a pot of dandelion root tea and a conversation with a city-trained chef intent on redefining rural diners that the cliché-ridden truth struck: the people living on this land of milk and honey are the salt of the earth.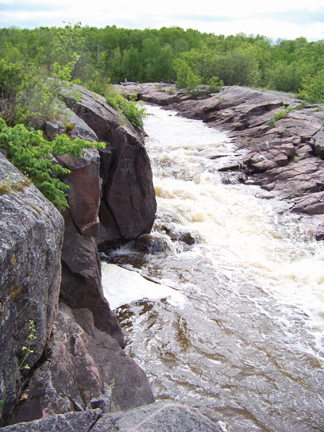 Wide, windswept terrain snaked with sparkling tributaries is met at the horizon by seemingly endless sky. The wild wind that reaches you, after blowing over miles and miles of openness, is evocative and stirring. Here, can-do creatives with progressive pioneer spirit put down roots and put up hen houses. Farm-fresh eggs are de rigueur; most folks are raising a couple pigs for slaughter too.
Pack your appetite, curiosity, an empty cooler, boots and a camera and come away with us on an edible East Manitoba adventure.
Depart Winnipeg eastbound on Dugald Road to Elma (East Hwy #15 for 70 km). Here, adjacent a gas station you'll find Spicy Radish Cafe (67077 Hwy #15, 1-204-348-2496). Chef Shannon Stebelko's 28-seat spot focuses on classic diner food with a fresh flair; think barbequed chicken, red onion and Bothwell jalapeño jack grilled cheese sandwiches washed down with a tall glass of house-brewed lemon iced tea. Expect fresh-baked bread and just-picked produce.
The young Red Seal chef's culinary journey made stops in Winnipeg, where she was schooled at Red River College and mentored by Bernard Mirlycourtois (at Mirlycourtois) and Makoto Ono (at Gluttons). A budding family and demand for fresh food in Elma brought her home, where she thrives sharing her prairie food and know how.
With a bit of advance planning you could be under Stebalko's tutelage in a preserve workshop at nearby Moon Gate Bed & Breakfast (left on Hwy #406 N after Elma, travel 5.6 km turn right at #61105, call 1-204-348-2473). At this picturesque spot on the Whitemouth River a former egg grading station retrofitted with upcycled materials and a geothermal energy system houses a spacious teaching kitchen with a river view. Stebalko guides participants through sourcing local, in-season produce and the full preserving process, be it jams, jellies, pickles or salsas.
Follow the Whitemouth River east to Whiteshell Provincial Park (insert driving commands) to rendezvous with veteran guide Adrian Storimans of Wild Harmony Canoe Adventures for an adventure tailored to skill level (WHCA operates throughout the region, call 1-204-348-7122). Whitemouth's series of rapids and falls thrill as the river flows to its confluence with the Winnipeg River at Whitemouth Falls near Seven Sisters Rapids.
Bring your natural gardening questions and trunk space to Stonelane Orchard (Hwy #1 W from the Whiteshell, left at
Hwy #12 S, left on Loewen Blvd 4.5 km E, call 1-204-371-8581). Local gourmands may be already acquainted with its cornucopia of neat-o pesticide-free produce, such as heirloom tomatoes, Russian blue potatoes and ground cherries from St. Norbert Farmers' Market or CSA Manitoba. For the uninitiated, you'll find certified agronomist Kim Shukla and husband Richard Whitehead with hands in the dirt, tending to a more than 50 varieties of fruits and veggies and a nursery of trees, shrubs and vines, including unique varieties such as vine kiwi, Westcott apricot and Pembina plum. Also free range chickens and garden shop on-site.
The city of Steinbach (4.5 km W on Loewen Blvd) offers some fine gourmet foods shopping. Prairie Oils & Vinegars Tasting Room (Unit 3-145 Main St, Steinbach, 1-204-326-6457) offers an extensive array of imported oils and vinegars to try and buy. Taste 18-year-old aged balsamic vinegar and robust, award-winning extra-virgin Napa Valley olive oil, touted for its beneficial polyphenols.
At Nature's Farm Pasta shop located at the manufacturer (5 Life Sciences Parkway, Steinbach, 1-204-326-5509) peruse pretty gourmet pastas, all made with Canadian durum wheat and free-run eggs in small batches. Classic noodles and innovative flavours, such as beet and squid ink, are for sale alongside other great Manitoba foodstuffs like honey.
On the way back to Winnipeg you'd be wise to make a short detour through the dairy belt to New Bothwell's Bothwell Cheese plant shop (23.5 km on Hwy #52 W, 25 km on Hwy #206 N, 1-204-388-4666). Since 1936 master cheesmakers have been crafting award-winning cheeses with fresh, local milk. Bothwell's traditional and gourmet cheeses are favoured by chefs and home cooks province-wide, its marble cheddar has taken top marks at the British Empire Cheese Competition six years running. Take advantage of the opportunity to stuff your cooler with value-priced, award-winning cheeses, including foodie favourites  like horseradish cheddar and quintessential Manitoba poutine topping,  squeak'rs (cheese curds).

For further information on what to do and see in Eastern Manitoba, visit travelmanitoba.com and easternmanitobatourism.ca.