East Coast Eats: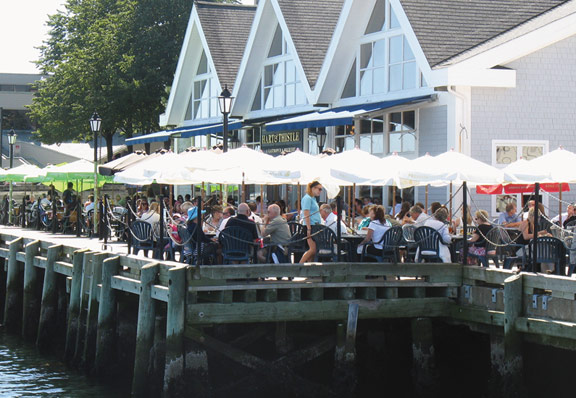 Posh pub fare, global influences and a strong locavore philosophy redefine Canada's coast cuisine
by Gillian Leschasin
The crack of a bright red shell; a spray of juice; and the delight of digging out meat armed with a sharp pick.
When you're a land-locked prairie girl tucking into a freshly caught 1 lb crustacean on Prince Edward Island—bib, melted butter and all—you've gone to heaven.
There is something very viscerol, rugged and let's face it, exotic about a traditional lobster feast in the Maritimes.
But like Manitoba cuisine, which is sometimes unfairly pigeon-holed into perogies, pickerel and bison, there's more to Maritime food than clam chowder and lobster tails, as I quickly  discovered on a trip to P.E.I. and Nova Scotia.
The region is a culinary hot spot where classic seafood will forever have its place but nouveau cuisine, like posh bar fare, globally influenced dishes and a strong locavore philosophy are all embraced and celebrated by bright and bold chefs.
Pub Fare Redefined
At the Rum Runner Inn in Lunenburg, N.S., local seafood is the star in many of Chef Katherine Eisenhauer's ethnic-influenced mash ups. With the romantic waterfront as a backdrop, jumbo shrimp is served with modern flair.
A cool and creamy cilantro, Asagio cheese and lime dip counterbalances the warm zip of jalepeño-infused red cocktail sauce.
Japanese influences are also popular in local ale-house cuisine. Rum Runner's spicy salmon fish cakes get heat from dollops of wasabi mayo.
A rice noodle salad sprinkled with sesame seeds, julienne carrots, red peppers and greens replaces the standard iceberg salad and embraces Asian flavours.
Over at the Hart & Thistle, a trendy gastro pub and brewery overlooking Halifax harbour, posh pub food is also standard practice. Here, you'll find luxurious scallop and shrimp linguine loaded with fresh seafood and tossed in a perfectly executed tarragon brandy cream sauce.
Rustic and Refined
At Charlottetown's Pilot House Fine Food & Spirits, refined, elegant food juxtaposes seemlessly against a rustic setting.
Housed in a heritage building with exposed brick and worn wooden beams, fresh, in-season ingredients are the foundation for renowned Chef Guy LeClair's insightful dishes.
Classic dishes get unexpected East Coast flourishes here. Bruschetta is served on a toasted baguette covered with a garden-fresh blend of chopped plum tomatoes, basil, garlic, pesto, olive oil and a loonie-sized parcel of tangy goat cheese. This classic Italian appetizer is enhanced with generous silky pieces of sweet P.E.I. lobster.
The decadence continues with mouth-watering entrees. Spice-rubbed blackened salmon reflects local Cajun/Acadian heritage. Each piece of moist, pink Atlantic salmon offers a quick blast of heat. The fire is dampened by a decadent brandy cream sauce with tender morsels of lobster, steamed garden vegetables and a bed of basmati rice.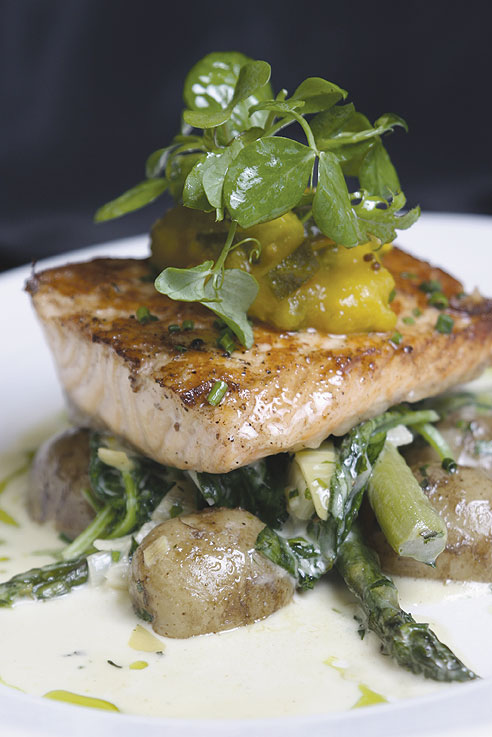 Going Local
At Chives Canadian Bistro in Halifax, the region's finest ingredients are spotlighted in the gourmet masterpieces at this casual, yet polished award-winning restaurant. Much like Winnipeg's fusion grill, Chives' menu is based on seasonal ingredients available from local producers.
Chef/owners Craig Flinn and Darren Lewis connect diners with producers by listing farms on the menu.
Staff are well versed in the stories behind the food.
During my visit, the server deftly describes the operations at Wood 'n Hart farm in Colchester, N.S., where the restaurant sources lamb and farmed Arctic char.
At Chives, the Arctic char (pictured), which is served with silky white wine and chive cream sauce, is an instant new classic. A farm-fresh mélange of beets, baby potatoes, parsnip, zucchini and broccoli provides pops of colour, crunch and earthiness to each bite.
Coming Home
My cuisine adventure to P.E.I. and Nova Scotia exposes another truth: the talent of Canadian chefs, whatever region they come from, is limitless.
And the same passion for regional cuisine that drives the stars of Winnipeg's local food scene, drives East Coast chefs too.
Whether they're serving grilled bison brochettes in Manitoba or lobster bruschetta in P.E.I., Canadian regional cuisine is being redefined one native ingredient at a time.