Restaurant of the year:
Pizzeria Gusto
Ciao! magazine's annual awards for producer, retailer and restaurant of the year celebrate the creative use of regional ingredients

by Jen Zoratti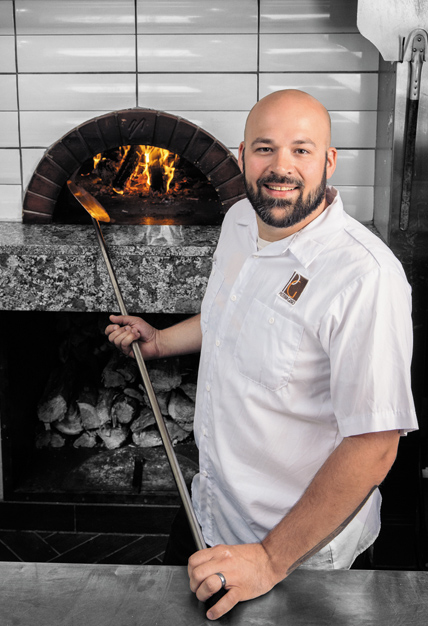 Since opening five years ago, Pizzeria Gusto has earned a glowing reputation for its artful yet approachable interpretations of Italian classics. Pizzas are treated like blank canvases for experimentation, with inventive toppings such as pear, fig jam and arugula announcing a departure from the traditional. It's not just pizza that challenges expectations with its flavour combinations. Wood-fired cauliflower drizzled in mint yogurt is but one example of the creative, stunning starters.
What makes Pizzeria Gusto's flavours stand out is its use of fresh, local ingredients. Chef Eric Lee, who's been at the helm of the kitchen at the River Heights hot spot for the past two and a half years, is to thank for that. The gregarious, energetic 35-year-old has nurtured relationships with a host of local producers, including Neva Hydroponic Farms, Harborside Farms, Peak of the Market and Braman's Greens. Lee eagerly anticipates tomato season all winter long, when he can craft his caprese salads with juicy beefsteaks from Greenland Gardens. On the day of Ciao's visit, he had just received a goat and a pig from Zinn Farms.
The provenance of food is important to Lee. He believes ethical sourcing contributes to a restaurant's integrity. "It's is a responsibility thing," Lee says. "Why get tomatoes from Mexico when I can get them from Ste. Anne?" He puts in tremendous time and energy to build partnerships.
It's for these reasons Ciao! magazine has chosen Pizzeria Gusto as its Good Food Manitoba Restaurant of the Year.
The self-effacing chef is humble when it comes to taking credit for Pizzeria Gusto's forward-thinking menu, praising instead his team of talented young chefs. He is a proud papa bear when he affectionately talks about 'his kids,' marvelling at their curiosity, confidence and knowledge. When Lee attended the culinary program at Red River College in the late '90s, celeb chefs and restaurant reality shows had yet to dominate cable. Today, thanks in part to the glamorous exposure offered by Food Network, being a chef is tantamount to being a rock star. Culinary school is attracting a new breed of student: artistic, finger-on-the-pulse types who bring that energy into the kitchens they work in. Pizzeria Gusto is a prime example.
Lee himself is a product of the old school and, without food TV to guide him, learned the ropes of the industry by getting in on the ground floor as an 18-year-old dishwasher at Earls. He is a tenacious guy with a strong work ethic, attributes he owes to his high school years at St. John's-Ravenscourt. He views himself as a tradesman, not an artist.
Upon graduating from RRC in 2001, Lee spent his twenties working all over the world. He spent two years in Toronto restaurants under the acclaimed Oliver & Bonacini umbrella. Before that, he did a stint on a sweet potato farm in Australia. That experience and the unique insight it offered kindled his appreciation for food producers.
It was a formative year working as a sous chef at an eco-tourism resort in the Bahamas, however, that shaped his eat-local ethos. Lee was challenged by the resort's problematic sourcing arrangement. Food had to be brought in from the country's capital, Nassau, which was not only expensive but meant that produce and meat had to survive a six-hour boat trip with limited refrigeration. He began seeking the advice of locals, asking them what they ate and what he could find near by. The options were inspiring. He started experimenting with fish like mahi-mahi on a new menu designed to keep costs down. Lee learned an all-important lesson: working within limits yields true creativity.
Three-and-a-half years spent working in Halifax offered more education on sustainability. He lights up when he speaks of scallops so fresh they would practically still be alive when they hit the plate. Although Lee loved Halifax, he and his wife decided to move back to Winnipeg to begin their family; the couple has a young daughter and a baby on the way. Back home, he landed a plum gig at The Fairmont that allowed him to hone his management skills.
It wasn't long before he got a fateful call from Pizzeria Gusto owner Bobby Mottola. A coffee meeting led to a job offer and Lee seized the opportunity to run his own kitchen and execute his vision.
The past two and a half years have been nothing short of a dream for the motivated chef. Lee has plenty of freedom to try new things alongside a team he trusts. Best of all, he is able to draw from all facets of his well-rounded training.
The coming months will see more opportunities for continued success. Lee will be the executive chef at Mottola's newest venture: a 140-seat restaurant in the lobby of the Alt Hotel, which is being built across the street from the MTS Centre. The as-yet-unnamed eatery, slated to open in fall 2014, has a sizzling concept: a pan-Pacific, Latin-Asian fusion, popular in cities across the United States.
While Lee is excited to begin prepping for his new role, which will include research trips to Asia and Mexico, he is also looking forward to developing future menus at Pizzeria Gusto.
We can't wait to see what he comes up with next.
Below are four recipes from Chef Eric Lee of Pizzeria Gusto and can be found in the latest issue of Ciao! magazine.
Beet and Goat Cheese Agnolotti


Earthy beets, verdant peas and sunny citrus notes burst with summery flavour and colour in this light pasta dish.

Caprese Salad


Peppery arugula adds a bit of bite to fragrant basil pesto, elevating this fresh and flavourful summer classic.

Cavolfiore


Smokey wood-fired cauliflower and salty olives mingle with cool, mint-spiked yogurt sauce.

Polpetinni della Nonna


These brawny bites of beef, pork and veal are flavourful enough to be served solo.