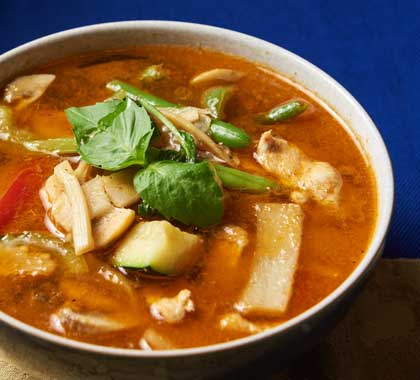 Country Style Curry
This aromatic cream-free dish is Siam Thai's spiciest curry.
INGREDIENTS
Curry with Chicken
1 1/2 cups sliced chicken breast
3 Tbsp vegetable oil
1 tsp salt
2 kaffir lime leaves
2 cups chicken stock
2 Thai eggplants, sliced
1/3 cup bamboo shoots, sliced
1/3 cup green beans
1/3 cup red pepper, sliced
1/3 cup green pepper, sliced
2 stems Thai basil
Curry Paste
5 dried chilies
1 tsp sliced galangal
1 tsp sliced lemongrass
1 tsp sliced kaffir lime leaves
1 Tbsp sliced garlic
1 Tbsp sliced shallots
1 tsp coriander seed
METHOD
Curry Paste
1. Using a mortar and pestle, pound all ingredients into a paste.
Curry with Chicken
1. In a pot, fry curry paste over oil until fragrant. Reduce heat and add chicken, frying until cooked.
2. Add chicken stock and remaining ingredients except Thai basil. Let it boil until vegetables are cooked to preference.
3. Garnish with Thai basil.
Yield 2-4 servings