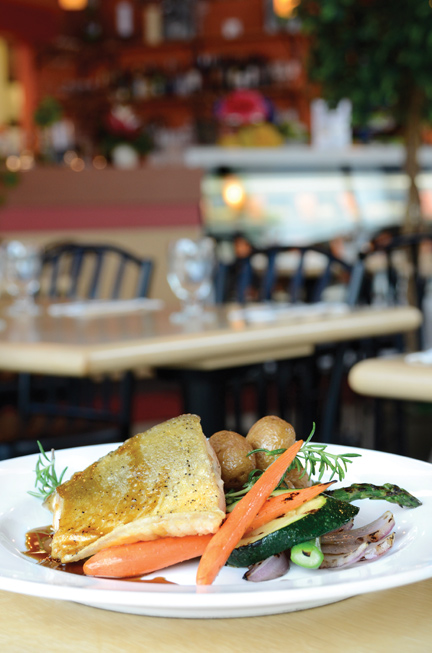 Neighbourhood: Downtown
Address: 505 St. Mary Ave
Phone: (204) 284-4661
Entrees: $14-$30
Chef Barbara O'Hara's sweet cakes, tortes, tarts and treats are not sinful.
The real sin is being forced to order just one.
Since opening 5 years ago, Dessert Sinsations Cafe has broken countless wills and destroyed diets a plenty.
Blame Chef Barbara and the three, magnificent rows of her sugar-spun artistry on display inside the dessert case. Her creative whimsy and unsurpassed technical ability, not to mention oodles of chocolate, cream, sugar and butter, have earned her the unofficial title 'Queen of Confections.'
Meet the maker inside the sunlit, 50-seat eatery in the heart of downtown. Simple and elegant blond-wood furnishings, nature prints, topiaries and bowls of fresh citrus fruit bring the outdoors inside.
Truth be told, Dessert Sinsations serves more savoury than sweet, including breakfast, lunch and dinner.
Here, familiar, scratch-made dishes achieve new heights with a playful twist or delightful dose of Manitoba ingredients.
Like the decadent desserts, the chef's savoury menu does not shy from the rich side.
Lobster poutine gives Canadian comfort food new life in this diet-be-damned dish. A nest of shoestring potato and yam fries is home to buttery morsels of lobster and mozzarella melting together beneath a ladleful of herbaceous dill hollandaise sauce. Each bite oozes over-indulgence.
Fresh-from-the-garden dill appears again,  blended with honey in the sticky and addictive dipping sauce, a companion to Rich's chicken fingers. Tender poultry strips receive the classic British pub treatment—coated in curry-laced batter and fried to crisp perfection. A tarty pickle and corn on the cob are colouful sides that pack crunch.
Remarkably tender and juicy, a lamb burger patty glistens with smoky barbeque sauce. (The house sauce, made from a family recipe, is a closely guarded secret.) The brawny, two-fisted burger is topped with feta, caramelized red onions, fresh basil and tomato and cradled between lush romaine lettuce. Mint and basil aïoli-slathered buns complete this satisfying, multiple napkin affair.
The pure flavour and melt-in-your-mouth texture of Arctic char is enhanced by a multidimensional sauce. Notes of citrusy yuzu extract and warm brown butter tango on the tongue.  A medley of roasted turnip, beet and carrot provides an earthy counterpoint to this delicate fish.
A cup of locally roasted Black Pearl Coffee cures the fine-food coma in time to make the crucial 'what-should-we-have-for-dessert?' decision.
The Chef herself has lost count of the epic sweets in her repertoire. She keeps things fresh—in the pastry case and her recipe box—by switching up the sweets menu and always creating new desserts, including ones using fresh rhubarb cut from her own garden.
The compact tiger bar is a delectable treat. Let sweet white, and dark Bernard Callebaut chocolate and peanut buttery goodness melt on your tongue. When the last bite is devoured, wipe the chocolate from your lips, go home and atone for your sins.
Dessert Sinsations Cafe is open Mon-Wed 7:30 am-10 pm, Thu & Fri 7:30 am-midnight, Sat 8 am-midnight.