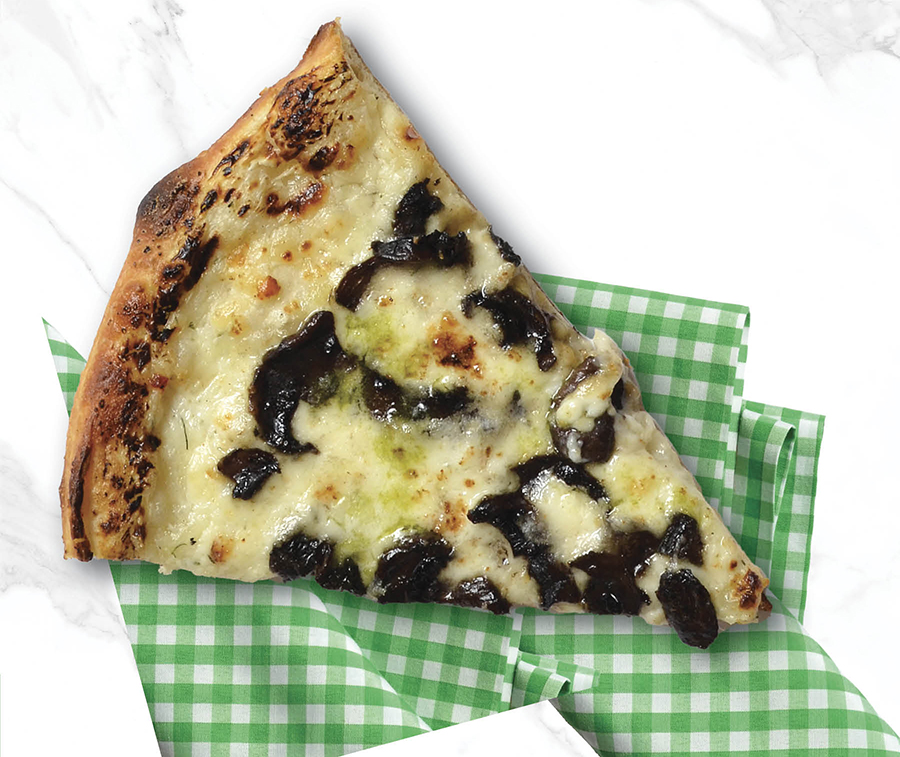 Drunken Mushroom
Courtesy of Chef Sean Smith – Cibo Waterfront Cafe
INGREDIENTS
Dough
2 1/2 cups high protein flour
1 tsp kosher salt
1 cup warm water
1/2 tsp dry active yeast
2 tsp sugar
Roasted Garlic Bechamel
3 1/2 cups milk
8 cloves garlic, roasted
1 cup butter
1 cup flour
1 1/2 Tbsp kosher salt
2 tsp cracked black pepper
1 cup whipping cream
Yield 4 cups
Drunken Mushrooms
5 1/8 cups sliced cremini mushrooms
1/2 cup white wine
1/2 tsp porcini powder
2 cloves garlic minced
1 tsp kosher salt
2-3 Tbsp olive oil
Cheese Blend
1 1/2 cups mozzarella, shredded
1/2 cup smoked provolone, shredded
Garnish
Chive Emulsion
1 Tbsp chives
1 tsp Dijon mustard
1 cup Canola oil
1 tsp Maldon sea salt
garlic oil
METHOD
Dough
1. Combine warm water, yeast and sugar in a bowl. Let yeast bloom for 10 minutes.
2. Combine flour and salt and bloomed yeast mixture in mixing bowl and mix on low until flour is fully blended.
3. Switch to medium speed and mix for 7-8 minutes, until dough appears smooth in bowl.
4. Let rest in the bowl for about 10 minutes, until it has risen by 50% then transfer dough onto lightly floured counter and rub it with a little olive oil.
5. Cut dough into two portions and form into two smooth dough balls.
6. Place on parchment lined baking sheet with space between to allow for rising. Drizzle olive oil over each dough ball and cover loosely with plastic wrap.
7. Place in fridge for 24 hours to ferment.
8. When ready to use, transfer dough to lightly floured work surface, with flour dusted hands.
9. Stretch dough, working from the outside inward to get an even thickness and keep from tearing.
10. When it becomes a 6″ circle, pick up the dough and gently hand stretch by letting it hang loose from your hands and letting gravity help stretch it until it is about 11".
11. Place the formed disc on a pizza pan for the oven.
Yield 2 dough balls
Roasted Garlic Bechamel
1. Create a roux by melting butter and mixing in flour.
2. Cook roux, stirring gently for 2-3 minutes.
3. Slowly add milk, while whisking until all the milk is combined.
4. Add salt, pepper, garlic and continue to gently cook for another 15 minutes.
5. Add whipping cream, and blend with emulsion blender until smooth.
Drunken Mushrooms
1. Add olive oil to sauté pan and then mushrooms.
2. On medium heat, cook until the mushrooms have released their water and it is mostly evaporated.
3. Add garlic, wine, porcini powder and salt.
4. Cook until wine is mostly evaporated.
Cheese Blend
Mix together and use half for each pizza.
Chive Emulsion
1. Place chives, mustard, salt and half the canola oil in high powered blender.
2. Blend on high speed until combined, then slowly add remaining canola oil to emulsify.
Pizza Assembly
1. Preheat oven to 500°F, with pizza stone in oven.
2. Build pizza on floured pizza peel, to load onto pizza stone in the oven or on a pizza pan.
3. Spread 1/4 cup of bechamel over stretched crust.
4. Top with cheese blend.
5. Add 1/2 cup of mushrooms.
6. Transfer onto preheated pizza stone/oven.
7. Bake for 10 minutes, until the crust and the bottom of the pizza gets a little browned.
8. Finish each pizza with a small drizzle of the chive emulsion, a pinch of Maldon Sea salt and garlic oil brushed over the crust fresh out of the oven.
Yield 1 pizza