Top 5 Feasts For Eyes
Some say that food is art. Others consider art food for the soul. These savvy local restaurants take a holistic approach, offering diners a double dose of culture.
Located atop the nations's oldest public art gallery, Storm Bistro has refined the art of moules et frites with a robust roasted red pepper sauce. Winnipeg Art Gallery, 300 Memorial Blvd, 204-948-0085.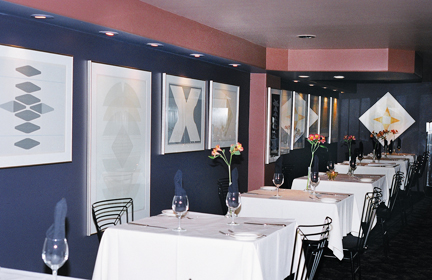 At Corydon Avenue eatery Cafe La Scala (pictured), chow down on signature pork dumplings bathed in sweet chili cream sauce amid a prolific collection of Tony Tascona prints. 725 Corydon Ave, 204-474-2750.
The prosciutto and fig pizza at Prairie Ink Restaurant & Bakery salutes creativity with an inspired combination of texture and flavour mimicked by the stunning work of Manitoba artists on the walls. This fall, look for the work of Charles Johnston and Rita Nayar. Grant Park Shopping Centre, 1120 Grant Ave, 204-975-2659.
The two levels of South Osborne's Deseo Bistro are always adorned with the art of friends and employees. Currently, Danny Reed's ink, pen and feather works whet appetites for playful plates like sweet and sour anise-laced chorizo and figs. 696 Osborne St, 204-452-2561.
Cafe Carlo displays pieces by Winnipeg artists and has an intimate interest in creation, as Executive Chef Dave Hyde is a painter himself. Pan-fried pickerel is artfully enhanced by a brown butter vinaigrette with parsley and just a hint of garlic. 243 Lilac St, 204-477-5544.