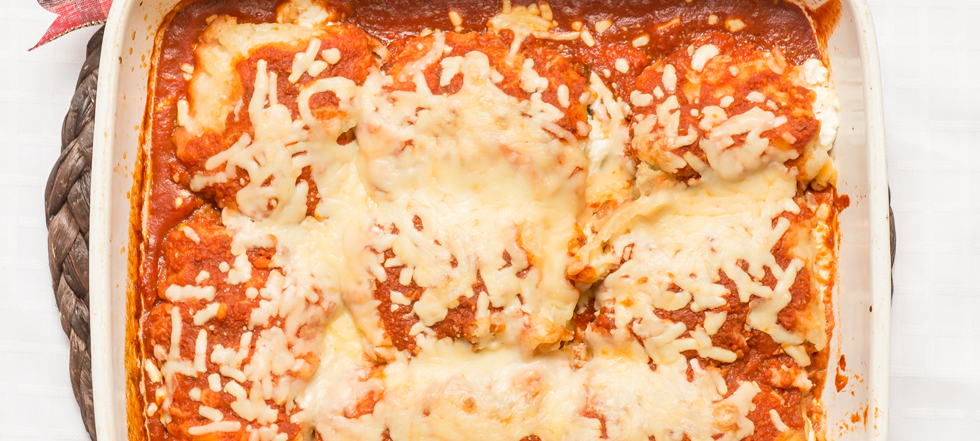 Chef Michele Di Fonte
Monticchio
Fluffy and light battered eggplant encapsulates creamy ricotta
Ingredients
2 large eggplants
1/2 cup flour
1 Tbsp olive oil
1 cup ricotta cheese
1 clove of garlic, minced
1 cup pecorino romano or parmesan
pinch of salt and pepper
1/3 cup whole basil leaves
1 egg
5 cups tomato sauce
1-2 cups mozzarella, shredded
Method
1. Remove skin from eggplant and cut lengthwise into 1/4″ slices.
2. Sprinkle eggplant with salt on both sides and let stand for 1 hour. Press moisture from eggplant and blot dry with paper towel.
3. Coat eggplant slices in flour. On medium heat, cook in olive oil for 3-4 minutes, turning when brown. Drain excess oil on a paper towel lined plate.
4. To make filling, mix ricotta, garlic, parmesan, salt, pepper, basil and egg.
5. Place a spoonful of ricotta mixture onto each eggplant slice and roll.
6. Coat dish with 2 1/2 cups tomato sauce and arrange eggplant rolls seam side down. Top with remainder of sauce and mozzarella. Bake for 20-25 min at 375°F, until cheese is melted.
Yield 5 servings