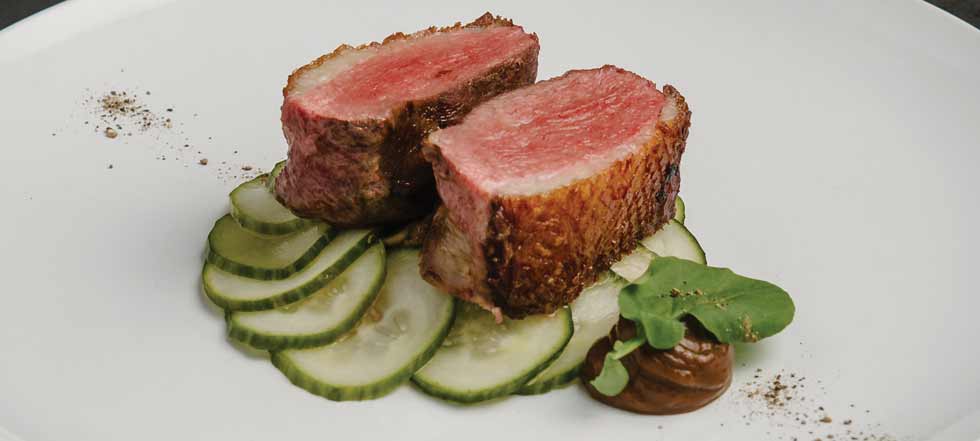 Chef Scott Bagshaw
Enoteca
Charred lemon adds a kicky, funky edge to this dish. Black garlic can be found at gourmet food stores like De Luca's Specialty Foods.

Ingredients
Pistachio Curry
1/8 cup chopped onion
1/8 cup chopped carrot
1 clove garlic
1 Tbsp curry paste
fish sauce, to taste
1/2 cup pistachios
Charred Lemon
1/2 onion, chopped
1/2 cup lemon juice
4 cloves black garlic
1 Tbsp sugar
Duck
1 magret duck breast, scored
pickled cucumber slices
cress, to garnish
sea salt, to garnish
Method
Pistachio Curry
1. Sauté onions, carrot, and garlic until brown.
2. Add curry paste, fish sauce, and pistachios. Purée in a blender with 1 cup water until smooth.
Charred Lemon
1. Sauté onion until blackened. Add lemon juice, black garlic, and sugar.
2. Purée in food processor.
Duck
1. Cook duck breast, skin side down, over medium heat. Finish in a 400°F oven for 8 minutes.
2. Remove duck from oven and let rest on a wire rack for 7 minutes before slicing into 4 pieces.
3. Place a dollop of pistachio curry on a plate. Line the curry around the edge with pickled cucumber slices. Top with two pieces of duck.
4. Place a dollop of charred lemon on the side of the plate. Garnish with cress and sea salt.
Yield 2 servings