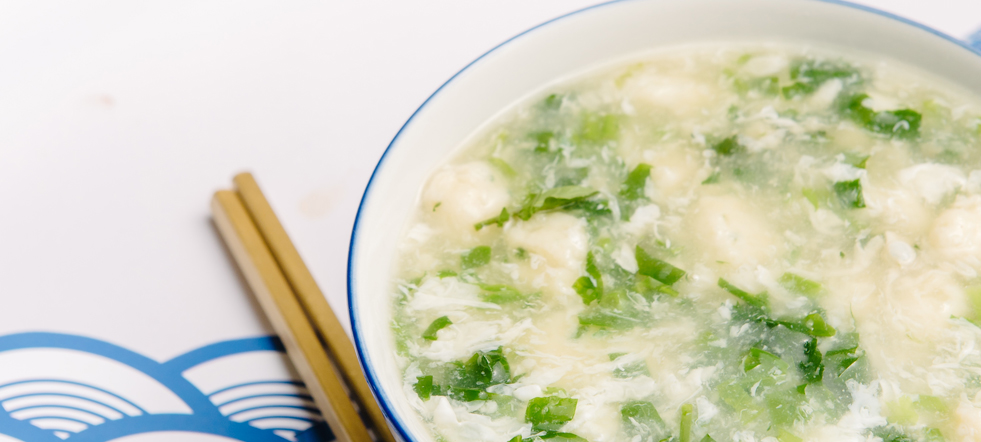 Chefs Hu Guoguang and Pan Yewen
North Garden Restaurant

Small touches like shreds of fresh watercress and the addition of dried tangerine peel make this soup light and verdant.
INGREDIENTS:
Fish Mousse
2 cups ground pickerel
1 tsp dried shrimp, finely chopped
1 tsp Chinese sausage, finely chopped
1/2 tsp dried flounder fish powder
1/4 tsp dried tangerine peel, finely chopped
2 Tbsp cilantro, finely chopped
2 Tbsp green onion, chopped
1 1/2 tsp salt
1/2 tsp sugar
1 tsp sesame oil
1 tsp pepper
2 tsp potato starch
5 Tbsp water
Soup
4 cups fish or chicken broth
1 bundle watercress, chopped
salt and pepper
2 tsp starch
3-4 drops sesame oil
METHOD:
Fish Mousse
1. Put all ingredients except water in a mixing bowl. Stir in one direction until the mixture is firm and sticks together, adding water bit by bit whenever the mixture becomes too hard and sticky.
Soup
1. Bring broth to a boil.
2. Using a spoon, scoop fish mixture into evenly sized balls and add to broth. Cook for 3 min, until balls float to surface. Add watercress, salt and pepper to taste. Add starch to thicken the soup and a few drops of sesame oil, to taste.
Yield 4 servings