Newcomers devour nutrition and food preparation lessons




at Share Our Strength's Cooking Matters program.
By Andrea Danelak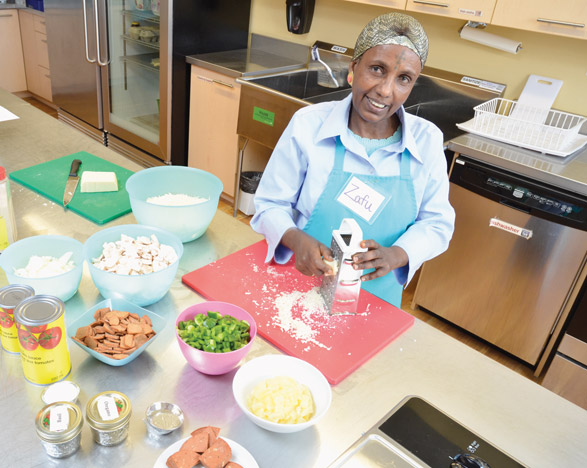 Using hand gestures, Zafu Legesse demonstrates the vast quantity of salt she used to pour on her food.
"We use too much salt in Sudan," she says of the country from which she immigrated in 2005. "Too much salt is not good for a woman of my age. Now, I use just a little bit of salt."
Legesse, who is Ethiopian, learned the dangers of salt at the Cooking Matters program at Winnipeg's Immigrant Centre. It is one of a handful of organizations that benefit from Share Our Strength Winnipeg, a non-profit organization striving to end hunger. For almost two decades, this group of restaurant industry professionals has come together, to raise money for local organizations that educate families on healthy, affordable eating.
The Immigrant Centre's Nutrition Services program meets that mandate. It is designed to  empower newcomers of all age, at risk families and youth to make good food choices and build life-long habits.
Share Our Strength's Cooking Matters Program is an introduction to cooking and nutrition basics that includes an English learning component. Participants learn how to plan and cook inexpensive, healthy meals they can make at home. Low-fat carrot cake, barley-lentil soup and whole-wheat pizza are some favourites.
Indeed, one of the primary reasons Legasse joined the program was to learn how to achieve and maintain good health as she grows older. "Fat is no good. Oil is no good," she says, while fingering through Health Canada's food guide.
Like Legesse, Tessy Izunwanne and her family have benefited from the Cooking Matters curriculum. She has learned how to read nutrition labels, something the Nigeria native never knew before. "There is a lot of information about food in Canada," she says. "In class, they told me that when I buy something, I should always read the label."
That information has already proved useful. She used to buy a certain brand of juice with a label that promised "100 per cent juice." Izunwanne assumed the drink was a nutritious purchase—until program staff pointed out the high sugar content.
 "In class, they told me that when I buy something,
I should always read the label."
The cooking classes and nutrition education are bolstered with grocery store tours. Staff accompany students to the store and show them how to maximize their shopping trips. "Because of their help, I don't spend as much," says Izunwanne.
Legesse and Izunwanne have learned to steer away from common processed foods laden with preservatives.
"I have benefited from the program very much and my children have really adjusted (to Canadian food)," says Izunwanne, who has already recommended the Immigrant Centre to her friends. "The first day I went there, they said, 'This place is open for you.' They're very nice, always ready to help with anything."
On April 10, Share Our Strength's Taste of the Nation event brings together dozens of the city's finest restaurants and beverage companies to ensure programs like the Immigrant Centre's Nutrition Services continue.
"They'll be bringing their A-game," says event chair Eric Schon of the businesses, who are donating their time and talent to the tasting event.
At Share Our Strength's Chef's Dinner on April 15, at Breezy Bend  Golf & Country Club, guests will enjoy an eight-course gourmet meal with beverage pairings.
Chefs, restaurants and suppliers share their strength, donating the time, food and resources that enable one hundred per cent of ticket sales to aid local anti-hunger associations.
Between Taste of the Nation and Share Our Strength's Chef's Dinner on April 15, Schon estimates that Share Our Strength Winnipeg will raise more than $125,000, adding to the $1.34 million it has already amassed over the past 18 years. "Everybody wins with Share Our Strength," he says. "It's all about ending childhood hunger."
For information about Share Our Strength's Taste of the Nation Winnipeg and the Chef's Dinner, visit strength.org/winnipeg. For information about the Immigrant Centre and its services, visit icmanitoba.com.