Berry Believers –


Humble shelterbelt finds new purpose as Manitoba's miracle berry.
By Erin Chatelain
The small potent orange sea buckthorn berry, that has existed on the prairies for more than eight decades, is shaking up the world of Manitoba agriculture and catching the attention of farmers, scientists, chefs and health-conscious consumers. Buzz-berries such as açai, goji, blueberries and blackberries seem to have the world's attention and have their foot in the door as a fail proof way to eat well, but the sea buckthorn berry may not be far behind.
The healthful sea buckthorn fruit has been touted by Dr. Oz twice as a weight-loss supplement, and at the Beijing Olympics sea buckthorn was the energy drink of Chinese athletes. This functional food, containing more than 200 bioactive compounds, is a puree poised to keep people able-bodied. Just one tablespoon offers a days worth of minerals, enzymes, antioxidants, amino acids, essential oils and serotonin. A dose of this medicinal puree will also help ward off the common cold with its momentous vitamin C content-twelve times the amount of one orange.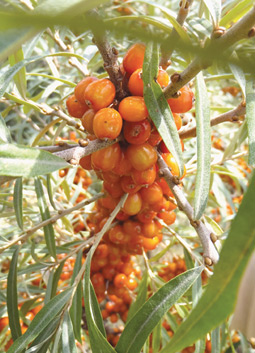 Sea buckthorn berries have been utilized for thousands of years in their native lands, Siberia and the Himalayan Mountains. The berries are the active ingredient in many creams, purees and oils, and the secret is now catching on here in Manitoba. This acclaimed 'miracle berry' has actually been growing as a hearty and frost resistant shelterbelt on the prairies since 1930, and is still being used as such today. Its health benefits and harvest secrets have also just recently been discovered here in Manitoba, where the bright berry is convincingly being utilized effectively as a wellness warrior.
Every great idea comes from someone who has a passion, and a lot of faith. Meet Mila Maximets, one passionate Russian expat who introduced using Manitoba's sea buckthorn berries as a form of health care and sought out to create a product that is tasty, beneficial and raw.
In Russia, Maximets grew up on a ritual dose of sea buckthorn puree each morning, and also used sea buckthorn oil to treat cuts and burns. Once in Winnipeg with imported sea buckthorn oil from her homeland, Maximets started using it in soap she made to give as Christmas gifts. Once friends and family tried and raved about the skin-smoothing berry soap, Maximets was encouraged to retail it locally. Following successful sales in local shops, she was invited to share her sudsy wares at the 2010 Green Lifestyle Show at the Winnipeg Convention Centre. At the trade show, the soap maker connected with a health food rep in the know who empowered Maximets with the knowledge that sea buckthorn was already growing in Manitoba. Her Solberry product grew new legs overnight.
In 1990, a Canadian engineer Colin McLoughlin returned home from a trip to Asia where he'd noticed sea buckthorn in everything from food products to cosmetics. He praised the plant and encouraged prairie farmers to grow it. Ten years later, farmers were discouraged by the results; the fruit trees were hearty but the venture was far from lucrative. After Maximets met with the few concerned Manitoban sea buckthorn farmers, and scientists at the Food Development Centre (FDC) in Portage la Prairie the discussion to actualize a profitable sea buckthorn product began.
This pea-size berry has a seed that can break your teeth, and is defended by 5-inch long thorns. It is processed as a puree and has a bitter, unfamiliar sour taste. Just as the berries grow on their branches, this product is natural and raw, and contains no additives, nor water. Harvest consists of farmers freezing branches in a large cooler at the orchards. Frozen berries are then manually separated from branches and leaves, and are shipped to the FDC for the first part of the deseeding process. Once free of their tiny grain, they are blended into a thick bright drink complete with light pulp.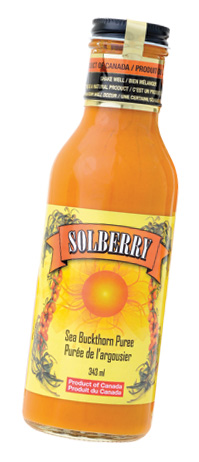 "The growers had orchards but no market for their berries," Maximets states. All these partnerships helped pluck this berry off its branches and officially created Solberry, the company in April 2011. Two people run this small Solberry company, CEO Mila Maximets and secretary Robert Lewyc.
Today, three Manitoba sea buckthorn orchards, the FDC and Solberry work together on this region's newest buckthorn products.
"I love this berry, it beams with health and it's loaded with so many vitamins and nutrients," says the sea buckthorn champion, explaining that she saw great value in Canadians utilizing the miracle fruit hearty enough for our northern climate. Maximets bridged the marketing gap that buckthorn orchards were facing, by partnering with more than 23 local retailers, one in Saskatchewan and two in Alberta, to share this burgeoning berry with Western Canada.
Solberry has already ventured into even newer territory, creating an extensive new line of sea buckthorn products from Manitoba crops. Soaps, moisturizing cream, body oils, a herbal leaf tea and a Solberry vegetable protein bar are some of the beneficial goodies promising to nourish and sustain our bodies and our skin. Encompassing an entire range of benefits, this fertile berry is a valuable resource now coming to light with the diligent efforts of Manitoba's cherished sea buckthorn devotees.
For Winnipeg retailers visit solberry.ca.
Click

here

for a recipe that includes
Solberry Sea Buckthorn puree by Chef Lorna Murdoch of fusion grill,
Duck with sea buckthorn demi-glaze.