---
Fearless, young entrepreneur Pam Kirkpatrick hangs out her cake-shaped shingle in the city's arts and culture neighbourhood, building a business as creative as it is sweet.
By Arvel Gray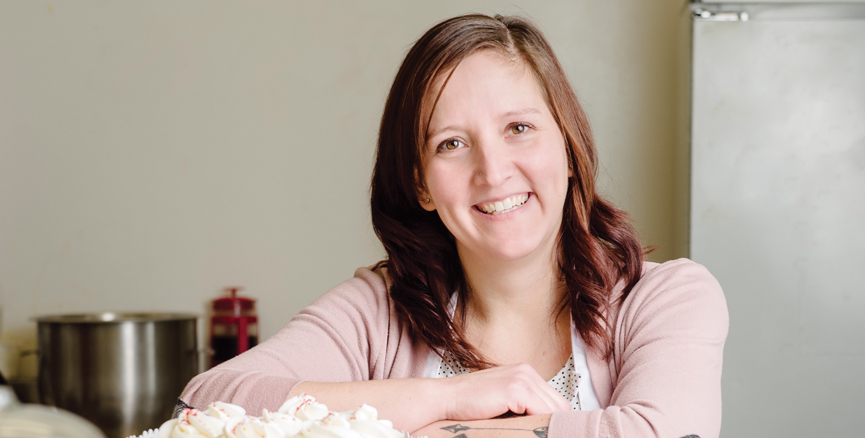 On a frigid winter afternoon, the black lacquered doors at 85 Arthur Street push open, letting in a swath of icy air. A mother and her daughter pause in the warmth of the shop, drinking in the sweet, buttery fragrance of sugar cookies and the intoxicating aroma of chocolate cupcakes freshly retrieved from the oven. They ooh and ahh over baking cases lined with gluten free lemon slice and caramel pecan bars, and a dreamy, double layer cake cloaked in pink buttercream roses, and finally decide on a selection of rumball-sized cakettes – a mix of cake and buttercream dipped in white and milk chocolate – a signature staple of this boutique bakery.
This family scene seems like a novelty in the midst of the ultra-hip, arts focused Exchange District, and this is what makes Cake-ology so special. The small, sweet shop is more than a bakery: it is a community cornerstone that appeals to a range of customers from every area of the city, another building block in the revitalization of Winnipeg's downtown neighbourhoods.
Pam Kirkpatrick, the brains, heart, and hands behind Cake-ology, opened the bakery five years ago after learning the restaurant trade as a chef in local establishments. After the birth of her first child, the rigor of restaurant hours were no longer appealing, and she decided to concentrate on her love of baking.
"I was hitting 30, and there was a niche market," says Pam. "Friends and sisters and brothers were getting married and needed cakes for showers and social events. Their children needed birthday cakes."
Business boomed, prompting her to rent kitchen space from a former employer, Fude, on Osborne Street, and build her customer base. Soon it was time to take the fledgling business to the next level and open her own shop, relocating to the historic downtown core, where Kirkpatrick signed the lease on a vacant 600 square foot bakery two and a half blocks from Portage and Main.
Cake-ology opened in April 2009. Almost immediately, the wafting scent of cake drew out eager customers. "The first year was crazy," she recalls. "People started falling out of the buildings in the spring, eager for fresh air, and then the Fringe Fest started." Patrons snatched up cupcakes so fast that they were still hot – demand was so great that Kirkpatrick couldn't cool them fast enough to keep the icing from melting.
____________________________________________

""Patrons snatched up cupcakes so fast that they were still hot."
– Pam Kirkpatrick
____________________________________________
In the beginning, the tiny kitchen produced a variety of baked goods, but Pam soon realized that she and a staff of two couldn't sustain a large product line. A switch to concentrating on a selection of cupcakes and slices for the walk-in trade as well as custom order cakes for weddings, birthdays, and other special occasions ensured that the bakery was able to offer a high standard of quality for every product.
It may seem unconventional, but less really is more for this cake-loving bakeshop. A handful of standard cake flavours topped with a variety of fondants or buttercreams provide a strong base for bespoke designs fueled by muses as diverse as photos, a piece of fabric, or even a child's toy. Kirkpatrick recalls one of her favourite projects, a replica of the Nonsuch made for The Manitoba Museum. The three foot long marble cake took two days to bake and decorate, a concoction of a fondant covered hull, gum paste masts, and buttercream waves.
Creating a destination bakery hasn't been a cakewalk. The location offers little parking and many clients live in the suburbs. Fostering relationships has been key to the shops success, and Kirkpatrick's ability to bring a community together has been an asset. At start-up, neighbouring businesses received sample packs of her baking. She has participated in fundraisers like the United Way's Baconfest, the St. Norbert Farmer's Feast and Taste of the Nation – where she wowed the crowd with mini red velvet donuts glazed in sugar. She also uses her website and blog to engage customers and market her wares (gluten free business along has increased by 100 per cent over the last few years).
All this growth is translating into a shop expansion in the works at the time of this interview. A partnership with long time client and neighbour, Bodegoes, will allow for a much needed shop renovation, opening up the floor plan to carve out a spot where the process of icing cookies or dipping chocolate can be showcased. Some of her products will be sold at Bodegoes' satellite locations in Cityplace and the baseball stadium.
Pam's social media savvy has led to another new partnership as well. She met Lisa Dyck of Cornell Crème online and knew that her top quality ice cream a perfect pairing for cake. The shop expansion will allow Cake-ology customers to try out a dozen scoopable ice cream flavours, with irresistible fresh-made cookies on hand for ice cream sandwiches and waffle cones made on site.
Partnerships like these show that Kirkpatrick's community building is good for her business and her hungry customer base. In a market loaded with big players and stiff competition, this little bakery has cut itself a thick slice.
Click below to view recipes from Pam Kirkpatrick of Cake-ology