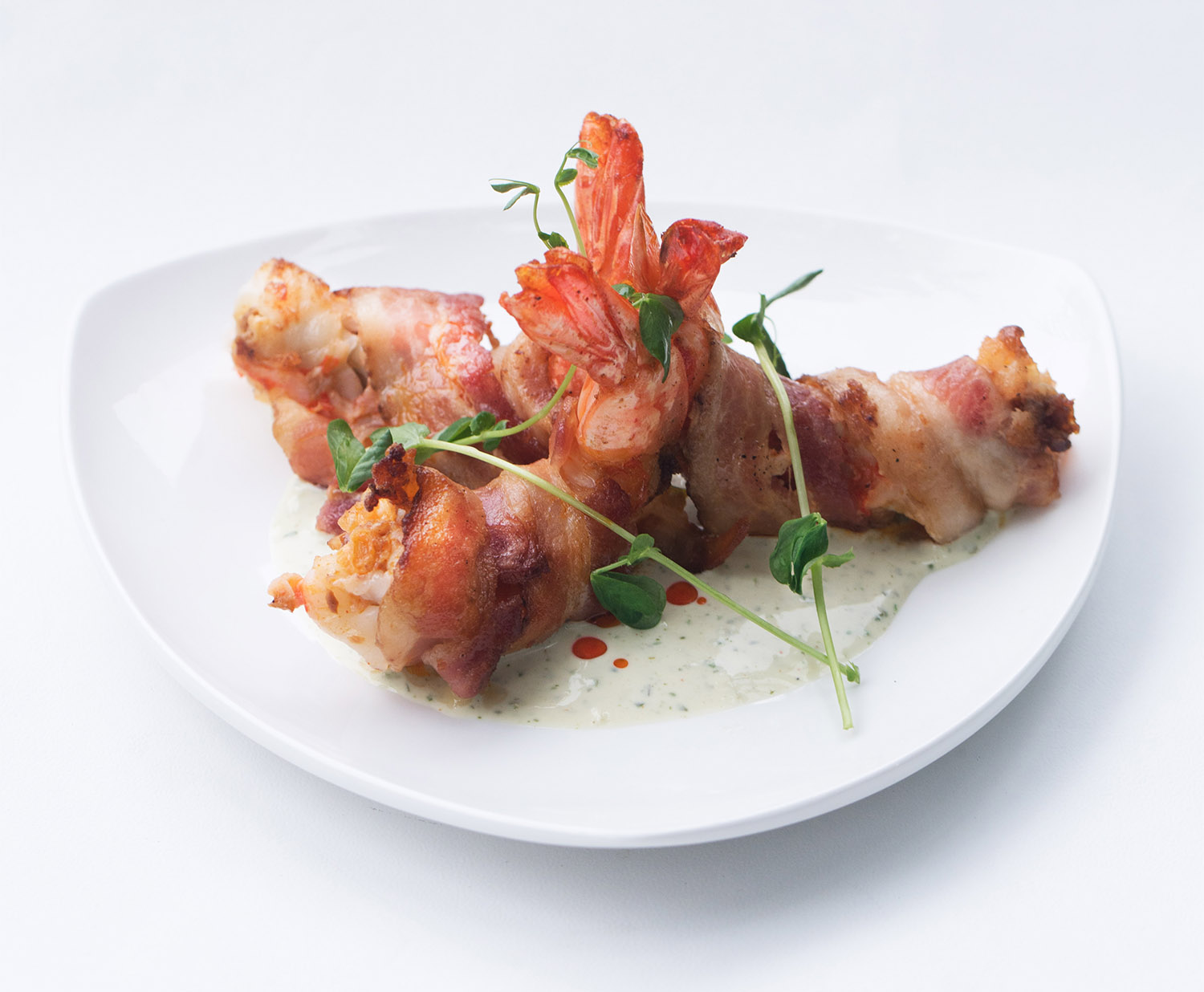 Bacon-Wrapped Jumbo Prawns
Courtesy of Chef Sean McGillivray – Inferno's
INGREDIENTS
Prawns
12 pieces jumbo prawns
12 slices thick-cut bacon
Stuffing
1 cup chorizo
1/2 cup goat cheese
1/2 tsp oregano
1 Tbsp chopped green onions
Dressing
1/4 cup pumpkin seeds
1 Tbsp Dijon mustard
1/4 cup finely chopped cilantro
1 cup olive oil
2 Tbsp vinegar
salt and pepper to taste
METHOD
Stuffing
1. Remove chorizo from casing and crumble into small pieces.
2. In a pan, cook chorizo over medium heat until the oils separate from the meat, stirring often.
3. Let the chorizo cool then add goat cheese, oregano and green onions.
Dressing
1. Toast pumpkin seeds in the oven at 350° for 8 minutes.
2. In a food processor, rough chop pumpkin seeds. Add mustard and cilantro.
3. With the food processor on high speed, slowly pour olive oil into the mixture.
4. Finish with vinegar, salt and pepper. Texture should be creamy but not too thick.
Assembly
1. Clean and devein prawns.
2. Using a paring knife, butterfly flesh, keeping the meat intact.
3. Spread 1 Tbsp of stuffing into each prawn and press back together.
4. Wrap each prawn with bacon from tail to head, covering all open areas.
5. In a pan, sear bacon-wrapped prawns on both sides until bacon fat is rendered.
6. Finish in the oven at 350° for 6 minutes.
7. Spoon dressing into shallow dish. Add prawns on top.
Yield 4 servings