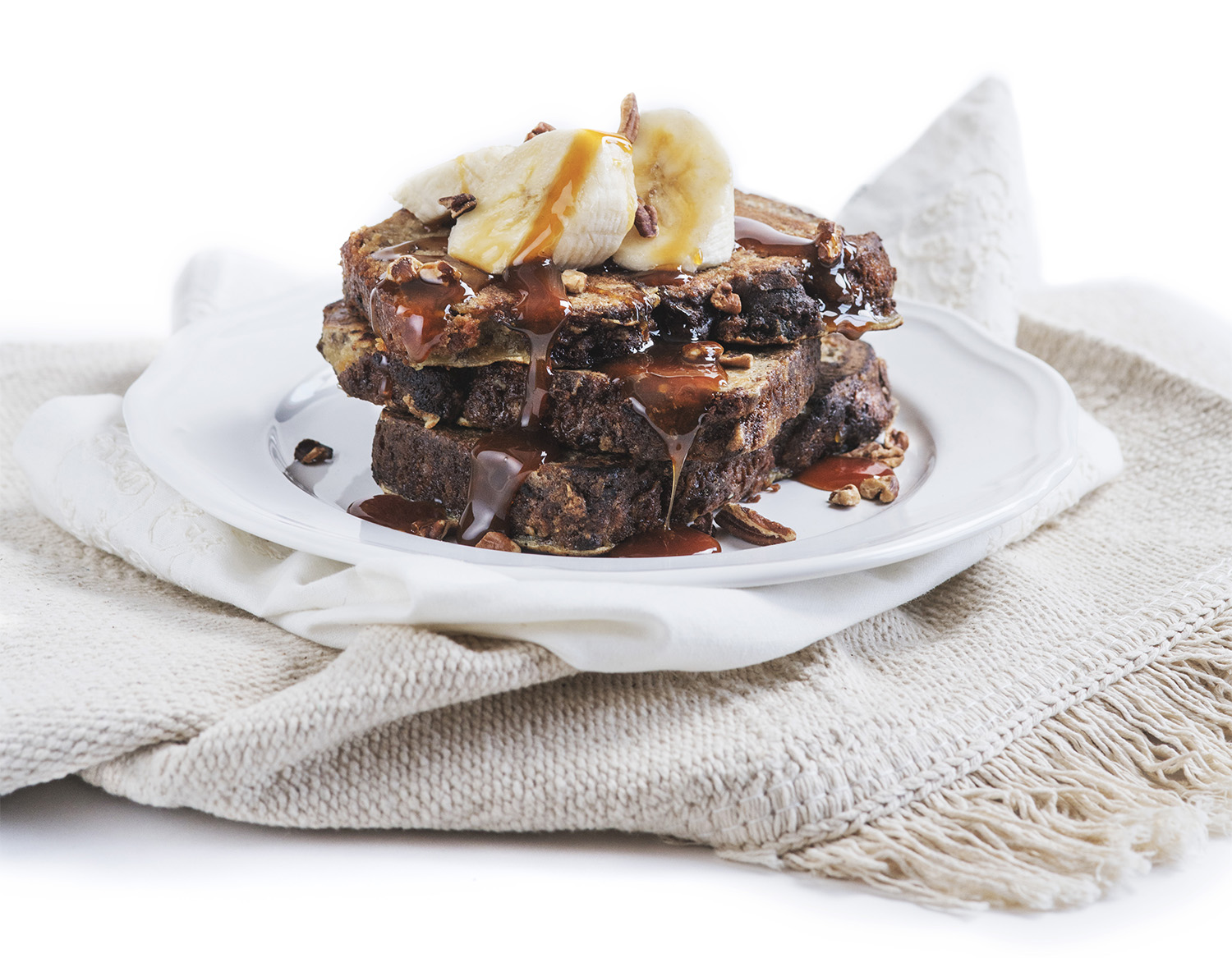 Banana Bread French Toast
Courtesy of Mark Hogan – The Original Pancake House
INGREDIENTS
Cinnamon Sugar Topping
2 Tbsp sugar
1 tsp cinnamon
Banana Bread
1/2 cup melted butter
1 1/2 cups white sugar
2 eggs
1 tsp vanilla
2 1/4 cups flour
1 1/2 tsp baking soda
1/2 tsp cinnamon
1/2 tsp nutmeg
1 cup sour cream
2 cups ripe bananas (roughly 4 bananas)
OPTIONAL 1/2 cup chocolate chips or walnuts
Topping
icing sugar
pecan pieces
caramel syrup
French Toast Batter
Whisk in a shallow bowl:
2/3 cup milk
2 large eggs
1 tsp vanilla
1/4 tsp ground cinnamon
pinch of salt
METHOD
Topping
1. Preheat oven to 350°F. Butter loaf pan and create a sling with parchment paper.
2. In a large bowl stir together melted butter and white sugar. Add eggs and vanilla. Mix well.
3. Combine flour, baking soda, cinnamon and nutmeg. Add chocolate chips or walnuts if desired.
4. Stir into butter mixture.
5. Fold in sour cream and mashed bananas.
6. Spread evenly in a loaf pan.
7. Sprinkle top with cinnamon sugar topping.
8. Bake for 50 – 60 minutes.
9. Cool for 10 mins before removing loaf to wire rack to cool completely.
10. Slice banana bread (10 slices).
French Toast Batter:
1. Lightly butter griddle on medium-high heat. Dip banana bread into egg mixture soaking both sides. Transfer to hot griddle and cook until golden approximately 3 to 4 minutes per side.
2. Arrange on plate and dust with icing sugar. Top with pecan pieces and caramel syrup.
Yield 3 servings